Did you know? Christmas day doesn't have any big religious or cultural significance in Japan; it's actually a normal working day with people spending their time at the office. Oshogatsu (New Year's) is the time people travel to enjoy the company of their loved ones, enjoy traditional foods and visit their local shrines. Considered to be one of their oldest national holidays, New Year's is one of the best times to travel to Japan. You'll be able to experience traditional Japanese culture and maybe even see snow!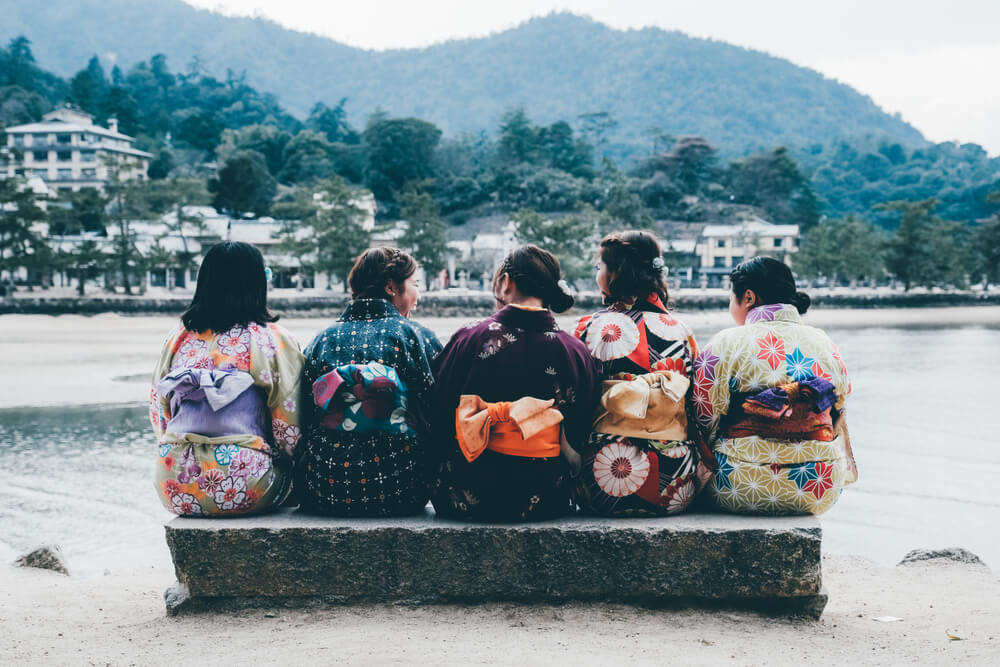 With Tomato Travel's Christmas offer, you can travel together with friends and family at a discounted rate, potentially saving up to $400 per person*. The more people you book for your Japan tour, the more you all save!
Traditional Japanese New Year's Foods
How do the Japanese celebrate New Year's in Japan? Well, New Year's Eve, called Omisoka, is regarded as a time to clean and prepare for the New Year. Families will usually gather to clean their houses, prepare decorations, and cook traditional foods like osechi and ozoni.
Ozoni comes from the time of the samurai and is a mochi based soup, and is considered to be a very auspicious meal to eat on New Year's Day.
Osechi is a traditional Japanese food that can be traced back to the Heian period (795AD-1185AD) when people believed they would receive bad luck if they cooked within the first 3 days of the new year. Every osechi dish is made in advance and consists of simmered, dried and pickled dishes that represent a different fortune, like fertility, health, or happiness.
Before you tackle the osechi or ozone dishes, it's a Japanese tradition to eat toshikoshi soba on New Year's Eve. The long noodles represent a long and happy life, so don't cut them! The longer they are, the better for you. Make sure you finish your bowl too, otherwise, you're inviting bad luck for the New Year.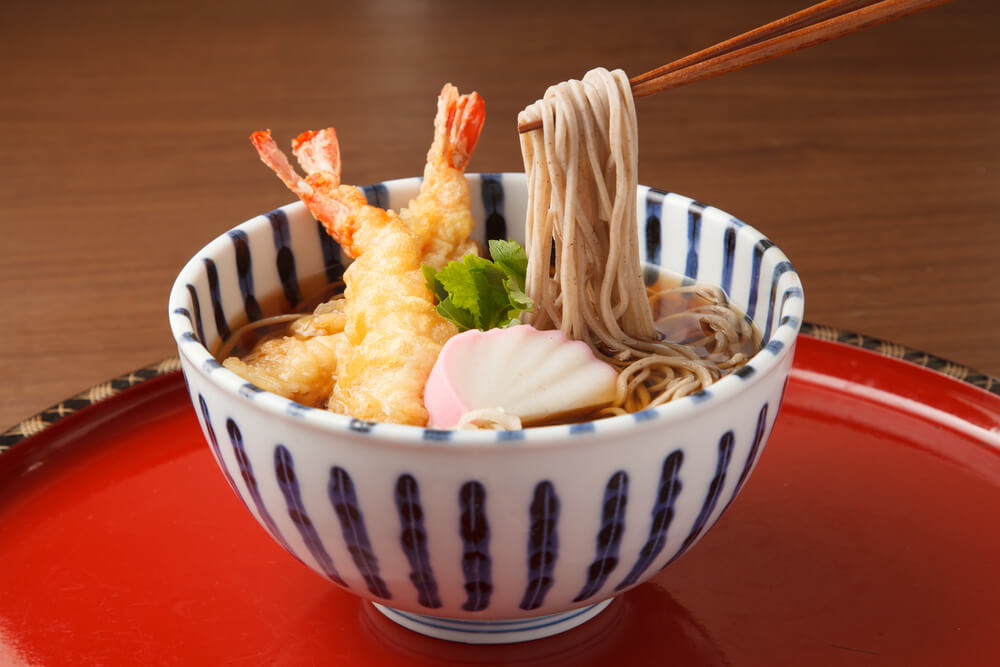 Welcome the new year with a delicious bowl of Toshikoshi soba (New Year's Eve noodles).
Welcome the New Year with a Song Battle
During Omisoka many families will watch the long-time running NHK program Kohaku Uta Gassen (Red and White Song Battle). It first started in 1959 and consists of two teams, red and white, battling in a music competition for four and a half hours. Being included is a high honour, and competitors are usually made up of Japan's most successful artists. The Japanese can be very enthusiastic, so head to an izakaya to watch this memorable event on your Japan tour.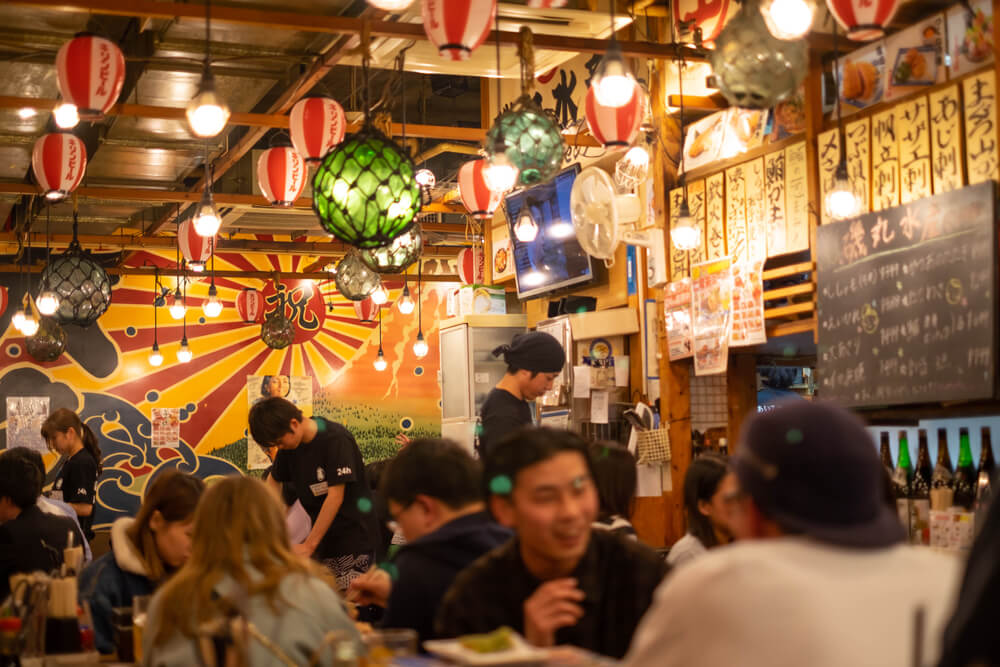 Izakayas have a fantastic atmosphere and the Japanese are very welcoming. Izakayas have a great variety of food too, making them a good stop on your Japan trip!
New Year's in Tokyo has Something for Everyone
If you're looking for something different, head to Oji station in Tokyo where the annual Oji Fox Parade happens. According to legend, a long time ago some Inari (Fox Gods) dressed as humans and prayed at the Oji-Inari Shrine. Nowadays it's a unique Japanese tradition for people to gather wearing fox masks, or paint their faces, and parade down the street towards Oji-Inari Shrine. You do need to register to participate in the parade, but watching is just as fun.
Fireworks are not common during New Year's in Japan, but Tokyo Tower will change its lights at the stroke of midnight. A crowd will be there to count in Oshogatsu, with many bars and restaurants to aid the party. Even if you have no plans for your New Year's Eve, there are izakaya and karaoke bars everywhere that will usually have a countdown at midnight to make your night stand out.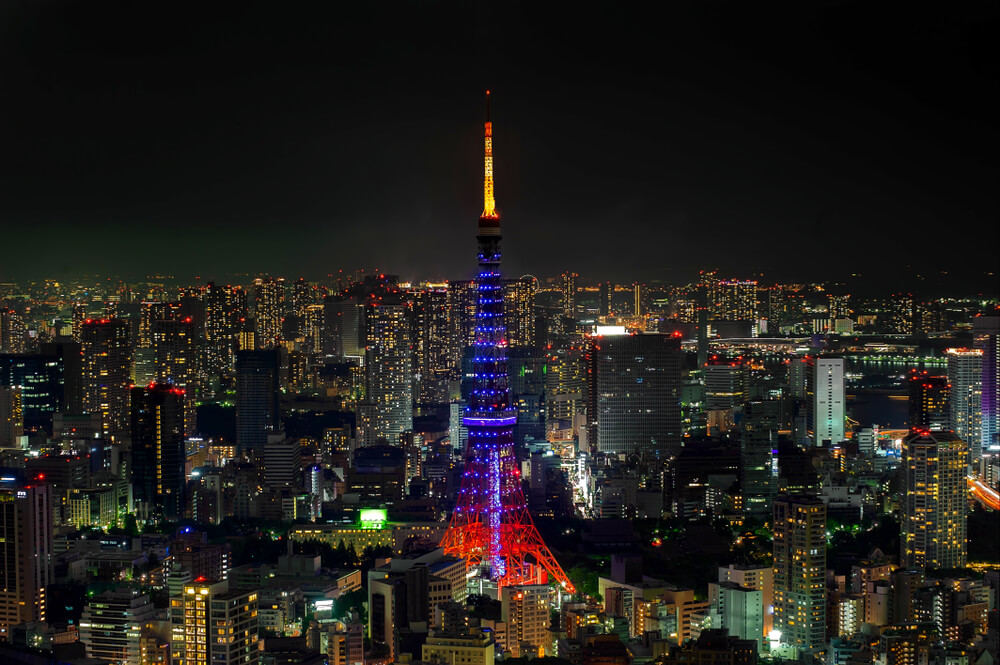 Visit Tokyo during New Year's and you can see Tokyo Tower lit up at night in an array of colours.
The First Day of the New Year
With the rise of the sun comes a brand-new year and ways to celebrate Oshogatsu in Japan. Watching the sunrise is a special event in any country, but especially in the Land of the Rising Sun. The first sunrise has its own name, Hatsuhinode, and it's Japanese tradition to visit a beach, mountain, or viewpoint to make the first prayer of the year while watching the sun emerge.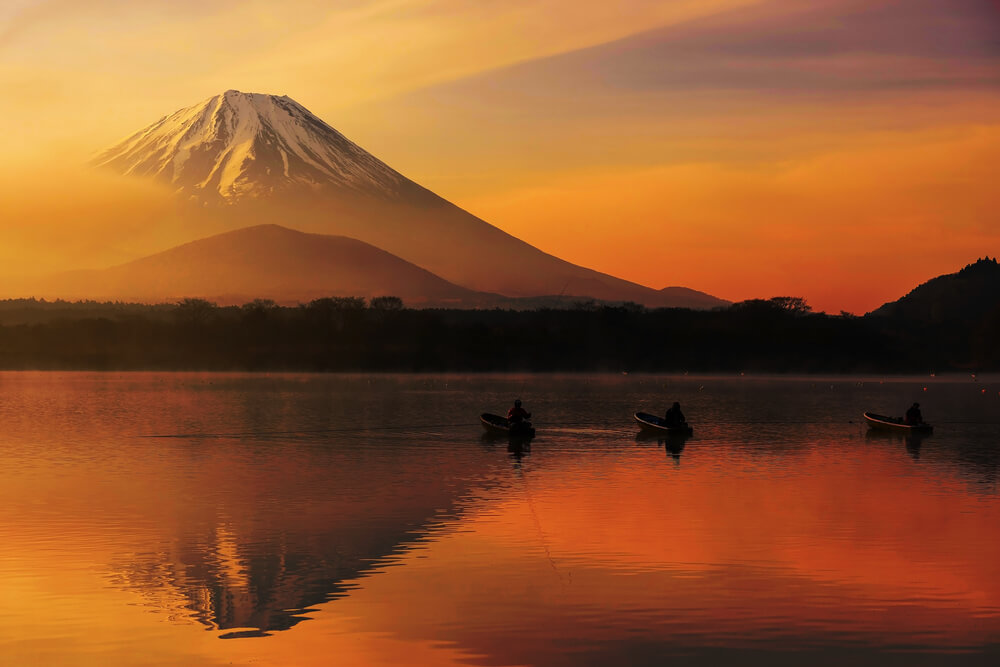 If you can, time your Japan tour so you're at Mount Fuji for Hatsuhinode, as viewing Fuji's sunrise is considered to be particularly lucky.
After watching the sunrise, continue on your traditional Japanese tour and partake in Hatsumode, the first visit to a shrine or temple after the New Year. Where to go? Well, each temple and shrine usually has a different God or wish, so it's best to research the area where you are for what is best suited to you or head to your nearest temple to watch this cultural Japanese event.
Going to Hatsumode is very popular, and some shrines and temples may have a long line. Many temples or shrines will hand out hot amazake, a sweet drink made from beans and fermented rice, to help combat the cold.
Know Your New Year's Talismans
At Hatsumode, you'll also be able to buy your own traditional Japanese charms such as an omamori or daruma. An omamori is a lucky talisman and you can choose from a variety, including safety, health or good luck. Don't open the sealing or it will lose its effectiveness. The daruma is a doll modelled after Bodhidharma, the monk who founded Zen Buddhism. They are usually empty, so you can write a wish and place it inside, then colour in one eye and make your dream come true within a year! Once your wish comes true, colour in the other eye.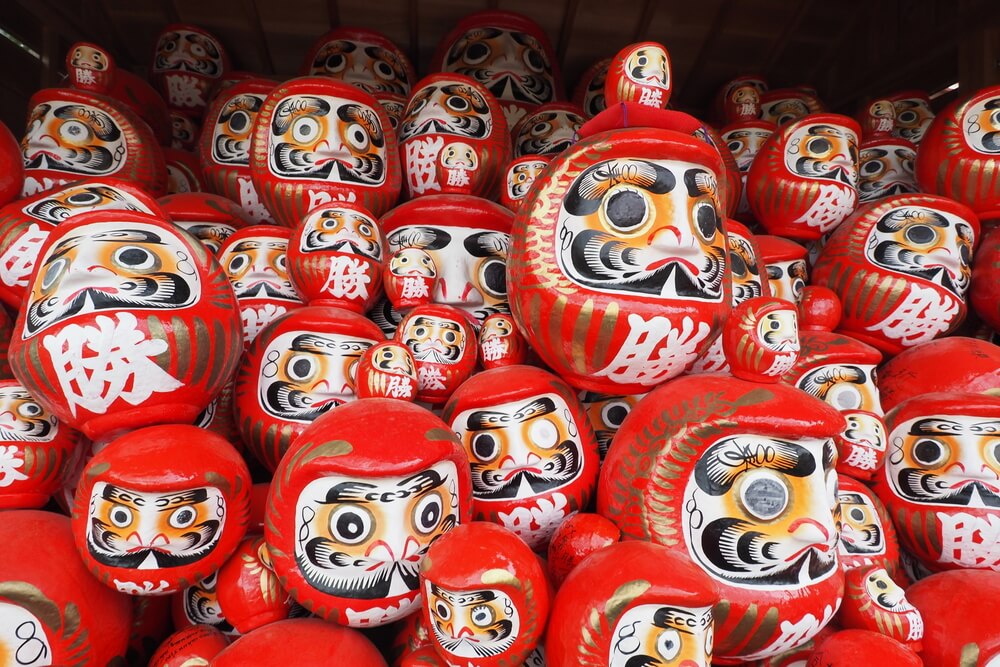 Daruma dolls come in all different shapes and sizes. These daruma all have both eyes painted, which means their owner's wishes have come true!
If your wish doesn't come true within a year, your daruma should be burnt. At Hatsumode, many temples will have a purification burning where you'll see last year's daruma being tossed. Buddhist temples will also complete a Joya no Kane, where they ring their bell 108 times to represent the 108 temptations taught in Buddhism. When the bell has been rung, the purification is complete and you can start your New Year in Japan with a fresh slate.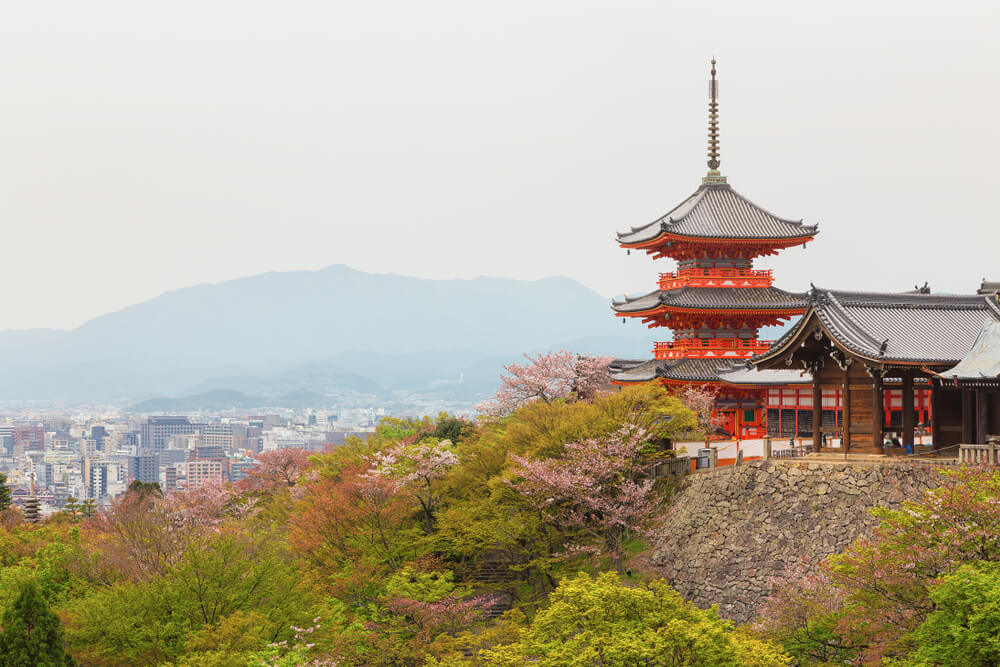 If biking is a love of yours, try our Tour de Kyoto and see impressive views like this! The more people you book, the bigger the discount.
Spending time together during Christmas and New Year's is important to everyone, and we at Tomato Travel acknowledge that. That's why we've announced our Christmas Sale, our Christmas gift to you! If you book 1 to 3 people, you'll receive a discount of $100 per person. If you book 4 to 7 people, your discount increases to $200 per person. And if you book more than 8 people, you'll save $400 per person. Amazing! We believe unity is important, so we are more than happy to help you on your Japan tour.
You can connect with us online or you can call us on 1300-680-057 to talk to one of our friendly reservations team members about our Christmas save deal or any of our inclusive tours.
Sign up to our newsletter to get the latest news on all our hot offers like our Christmas special, and to stay in touch on Instagram and Facebook for tips and blog updates. For travel agents, feel free to follow us on Linkedin.
*The promoter is Tomato Travel. Promotion commences on 2nd of December, 2019, and closes at 11.59pm AEST 5th January, 2020, unless sold out prior. The tours applicable for this promotion are any Tomato Travel tour package that includes airfares. Products that do not include airfares are not applicable. Price is per person. Flights depart from Sydney and Melbourne airports. For departures from Brisbane, Adelaide and Perth a surcharge will apply. The airlines will be decided by Tomato Travel based on availability. Upgrade for premium airlines is per person.
The promotional discount is as follows: book 1 to 3 passengers and receive a discount of $100 off per person; book 4 to 7 passengers and receive a discount of $200 off per person; and book 8 passengers or more and receive $400 off per person. Please note that all passengers must be on the same booking, but may be departing on different tours, different dates and from different departure cities within Australia. Deposit must be paid (or booking form must be completed) by the deadline to be entitled to the promotion.
Additional passengers may be added to the booking at any time during the promotional period to be applicable for the discount. If the number of passengers added to the booking increases the numbers so that a higher rate of discount applies, this discount will be applied to both new and previous customers provided they are all under the same booking. This may result in a refund for passengers already booked who have paid in full. Passengers added to the booking outside of the promotional period will not be entitled to a discount, and no further discount will apply to existing passengers. If passengers wish to cancel after being confirmed on a booking, the normal cancellation fees will apply. If only some, not all, of the passengers cancel after being confirmed and the number of passengers on the booking decreases so that a lower rate of discount applies, that discount will be applied to the remaining passengers, even if it is outside of the promotional period. This may result in an outstanding balance to be paid by the remaining passengers.
Tomato Travel will not be responsible for any incorrect, inaccurate or incomplete information communicated in the course of, or in connection with, this promotion if the deficiency is occasioned by a cause outside the reasonable control of Tomato Travel.