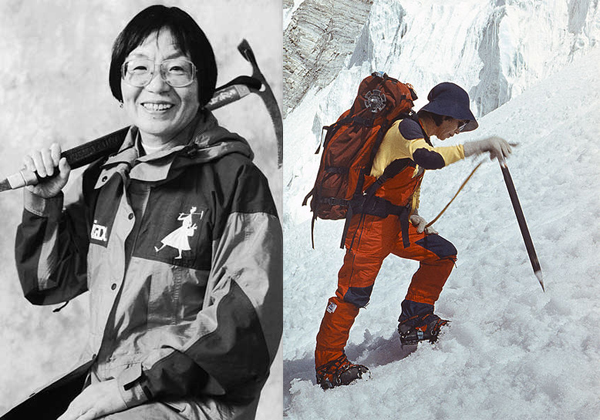 [Pictured Junko Tabei self portrait and hiking up Mount Everest. Picture taken from: https://www.mountainiq.com/best-female-mountain-climbers/, 22 May 2019]
With strong willpower and strength, Junko Tabei pushed herself for something she loved and enjoyed doing: climbing.
Junko Tabei (22 September 1939 - 20 October 2016) was born in Miharu, Fukushima and grew up there with her family. She loved her life in Fukushima and had a strong sense of love for the local community. When she was 10 years old she went on a school climbing trip to the stunning mountain ranges in Nikko National Park, Mount Nasu and Mount Asahi. It was then that she fell in love with climbing and connected with nature in a meaningful way. Junko's journey began here to conquer some of the toughest expeditions within Japan and the world.
You too can walk in the footsteps of this incredible woman and create your own healthy travel experience.
Connect with nature to find peace and happiness on our Traditional Japan by Rail tour that stops by Nikko. Extend your stay in Nikko in order to have your own climbing expedition on Mount Nasu and a fulfilling Japan experience.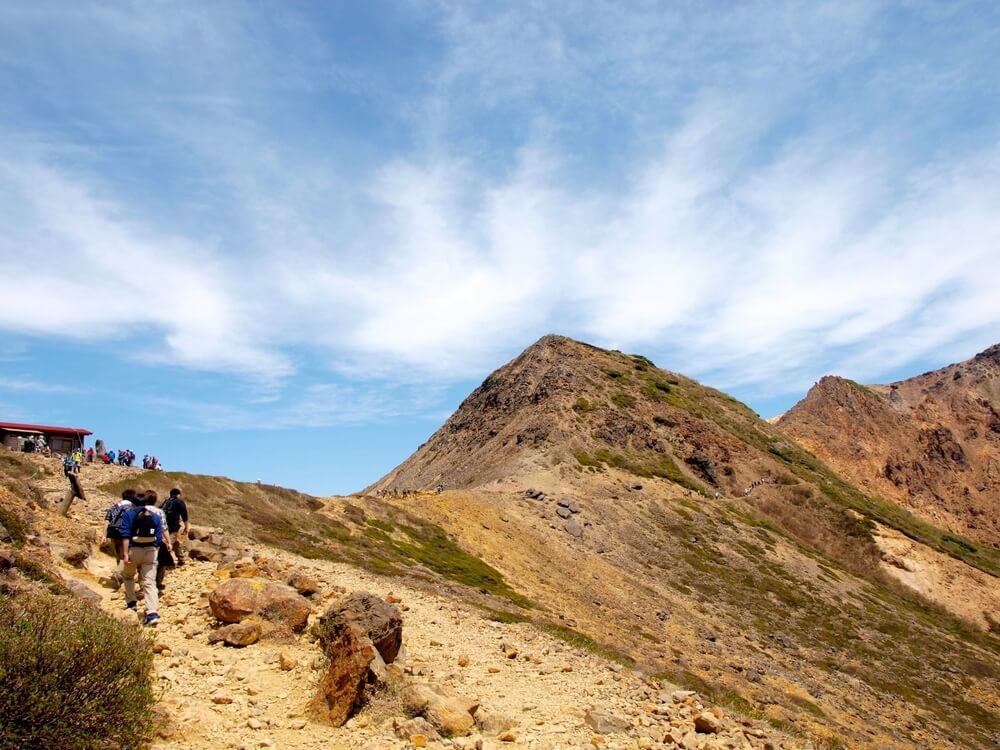 [Pictured: Local climbers climbing up Mount Nasu]
---
Mount Yaru and the Northern Alps Expedition
In 1961, Junko climbed the Northern Alps of Japan, including one of Japan's hidden secrets Mount Yari. Mount Yari is the fifth highest mountain in Japan standing at 3,180 metres high and is located on the border of Omachi and Matsumoto in Nagano Prefecture and Takayama in Gifu Prefecture. Mount Yari is a mountain that tests your ability and willpower. It is one of the astounding Japan landscapes you can visit on our Mt Fuji and Japan Alps Tour with flights.
Junko's recommendation for a healthy travel experience and tour of the Northern Alps is to gather a group of people together with an English speaking tour guide to summit the outstanding Mount Yari. She believed that resting was important after a long day of climbing so it is best if you stay at Yarisawa Lodge before you climb further into through the mountainous Northern Alps to discover nature in a meaningful way.
[Picture taken from: https://www.japantimes.co.jp/culture/2018/10/13/books/mountain-high-junko-tabeis-adventures-top-world/#.XYsGHUYzaUk, 13 October 2018. Pictured: Junko Tabei standing in front of Mount Yari around 1961]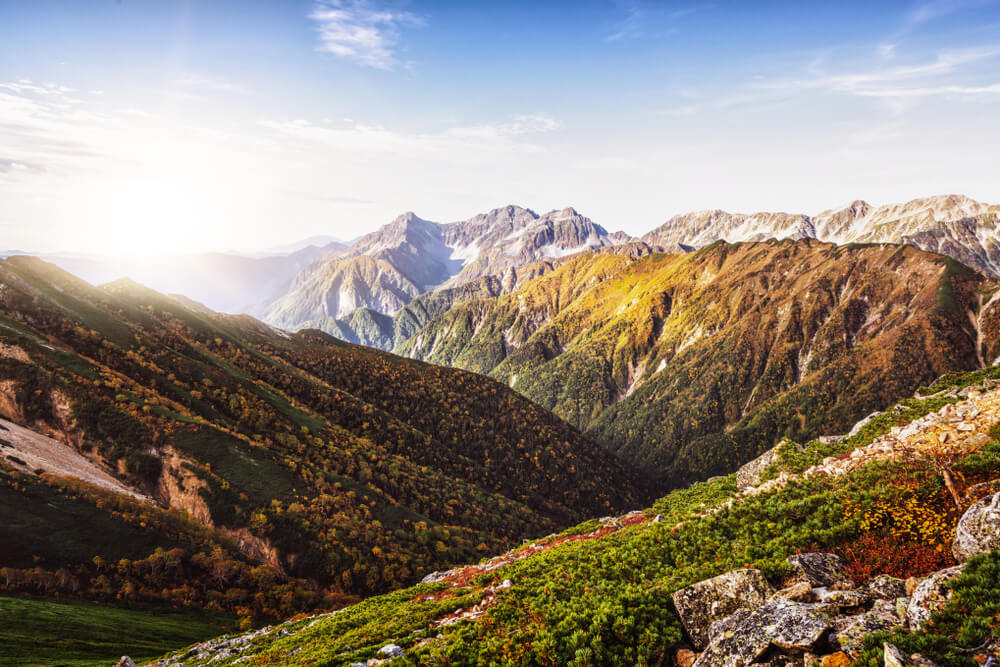 [Pictured: Panoramic view of Mount Yari]
By 1970-75, Junko had an overwhelming urge to create a team of women to attempt the challenging Mount Everest summit. Their team was called the Japanese Women's Everest Expedition. Junko gathered many sponsors and after a long training period they began their expedition in early 1975 when they travelled to Kathmandu.
Disaster struck when Junko was caught in a severe avalanche at 6300 metres, and lost consciousness for six minutes. However, she miraculously survived this ordeal and was more determined that ever to make it to the summit. Twelve days after the avalanche, on the 16th of May 1975, with her guide, Ang Tsering, she became the first ever woman to reach the summit of Mount Everest.
Junko quoted that:
"The final ascent was a step-by-step struggle, but when I arrived I didn't have an overwhelming sense of achievement. It was more relief. I couldn't believe the climb was finally over and I had to go down instead of up".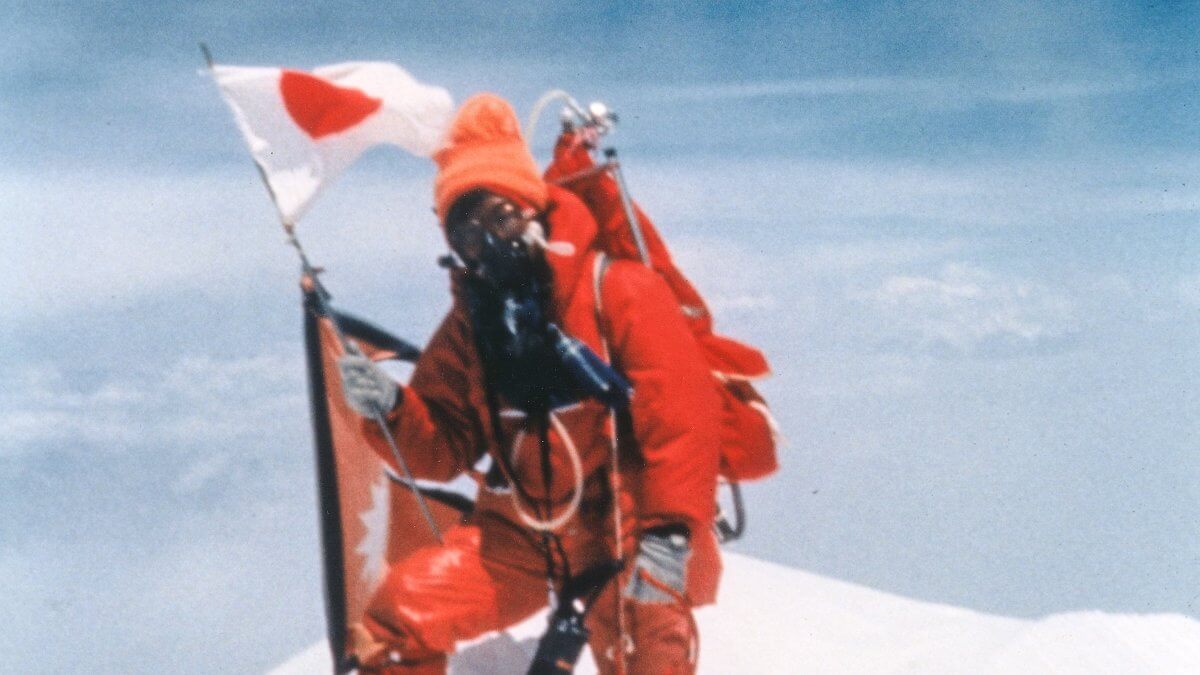 [Picture taken from: https://www.outsideonline.com/2131091/obituary-junko-tabei-first-woman-summit-everest, Pictured Junko Tabei standing at the top of Mount Everest, 25 September 2019.
An extraordinary and world renowned achievement!
---
Mount Fuji Expedition
In July 2016, Junko conquered Mount Fuji with a group of students from Tohoku that were affected by the 2011 earthquake and tsunami. Together they hiked for hours on rough and rocky roads but with encouragement from Junko they reached the steep summit. At the time she was suffering from cancer although she taught the students various life lessons with the main message being that "your life is not over, you need to use your willpower to keep going on and fight every hurdle in life".
Junko's climbing program to this day allows many students from all over Japan to climb Mount Fuji and connect with nature in a spiritual way. Junko's legacy has inspired many young people, communities and people from all over the world to climb and experience their own expeditions.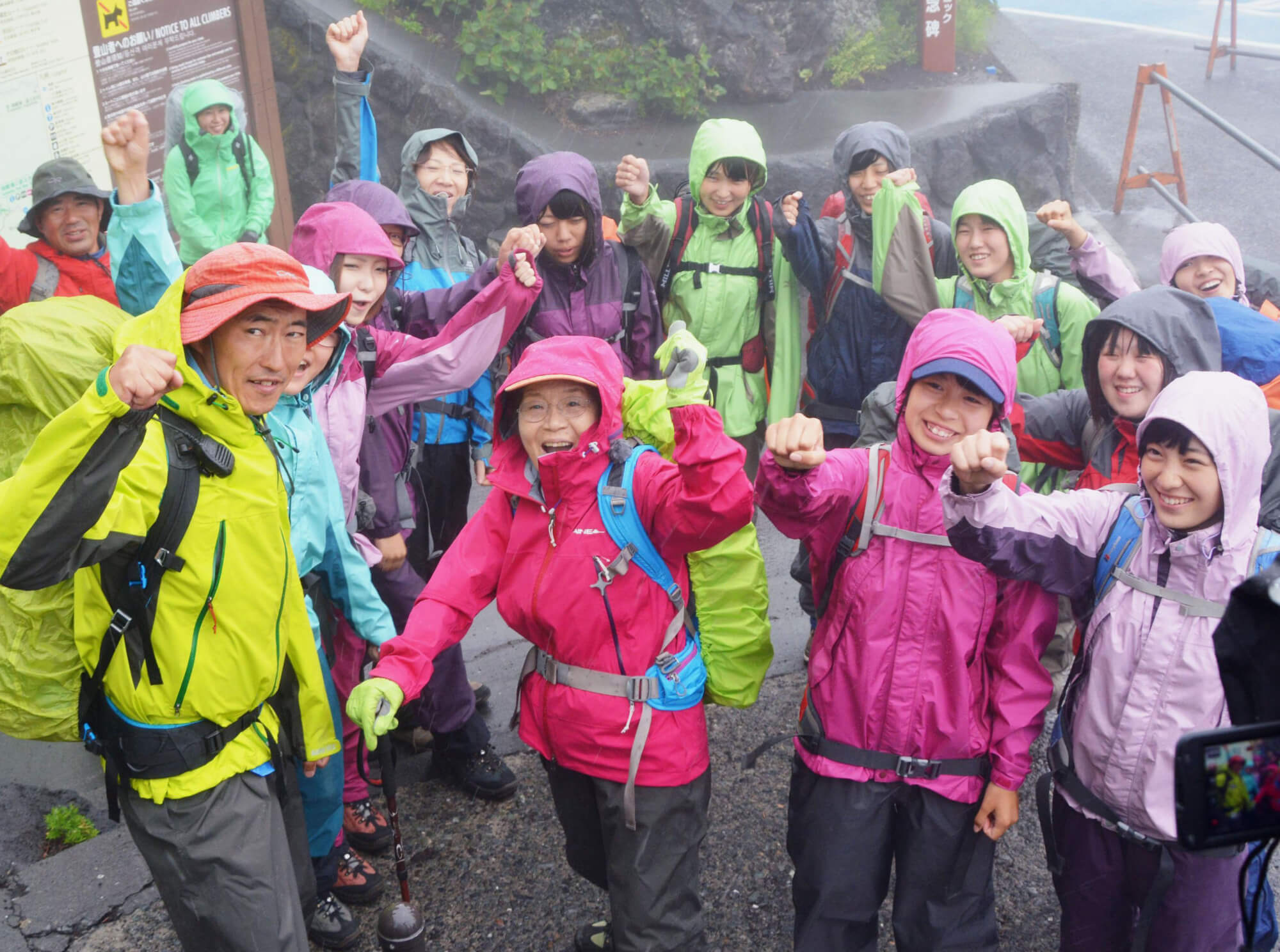 [Picture taken from: https://www.japantimes.co.jp/news/2016/10/22/national/junko-tabei-first-woman-climb-mt-everest-dies-77/, 25 September 2019, Pictured Junko and Japanese students at Mount Fuji summit]
So why not conquer Mount Fuji yourself?

Hike up the rocky inclines of Mount Fuji with Tomato, take in the natural air and see some of the most beautiful views you have never seen before! We have every Mount Fuji fanatic covered from head to toe, no matter what challenges come your way, our tour guides will show you Mount Fuji's hidden secrets.

Like Junko, our reliable and competent guides will be there to support and encourage you on your journey to take in the amazing views from Mount Fuji's 8th Station on our Mount Fuji and Japan Alps Tour with flights.
---
Want to climb some of Japan's toughest mountains just like Junko Tabei?
We hope you have gained courage from Junko to climb these mountains, because we sure have! If we've sparked your interest in climbing some of Japan's best kept secrets, and some of its most iconic landmarks, make sure you visit our website to check out our full range of Active hiking tours. If you'd rather chat to one of our friendly staff, you can call us on 1300-680-057 or email us at info@tomatotravel.com.au for further information and we'll gladly do everything we can to help.
Stay tuned for future blogs!
Tomato Travel Blogger | 2019