Our biggest travel deal yet has almost come to a close! That's right, our special Fly Free* travel promo finishes up this month on the 10th November.
Still haven't booked your Japan holiday yet? Don't worry – there are still seats left on our selected Japan tours.
During our Fly Free travel offer, you can choose between our Highlights of Japan tour, the Traditional Japan by Rail tour, or the Japan Discovery tour to get free return international flights to Japan.
Each of our special tours on offer features a different touring style and length, so there's sure to be something to suit your needs and budget.
Family holiday? Couples escape? Solo getaway? Friends vacation? Read on below to find out which tour suits your travel style best, and all about the best places to go in Japan.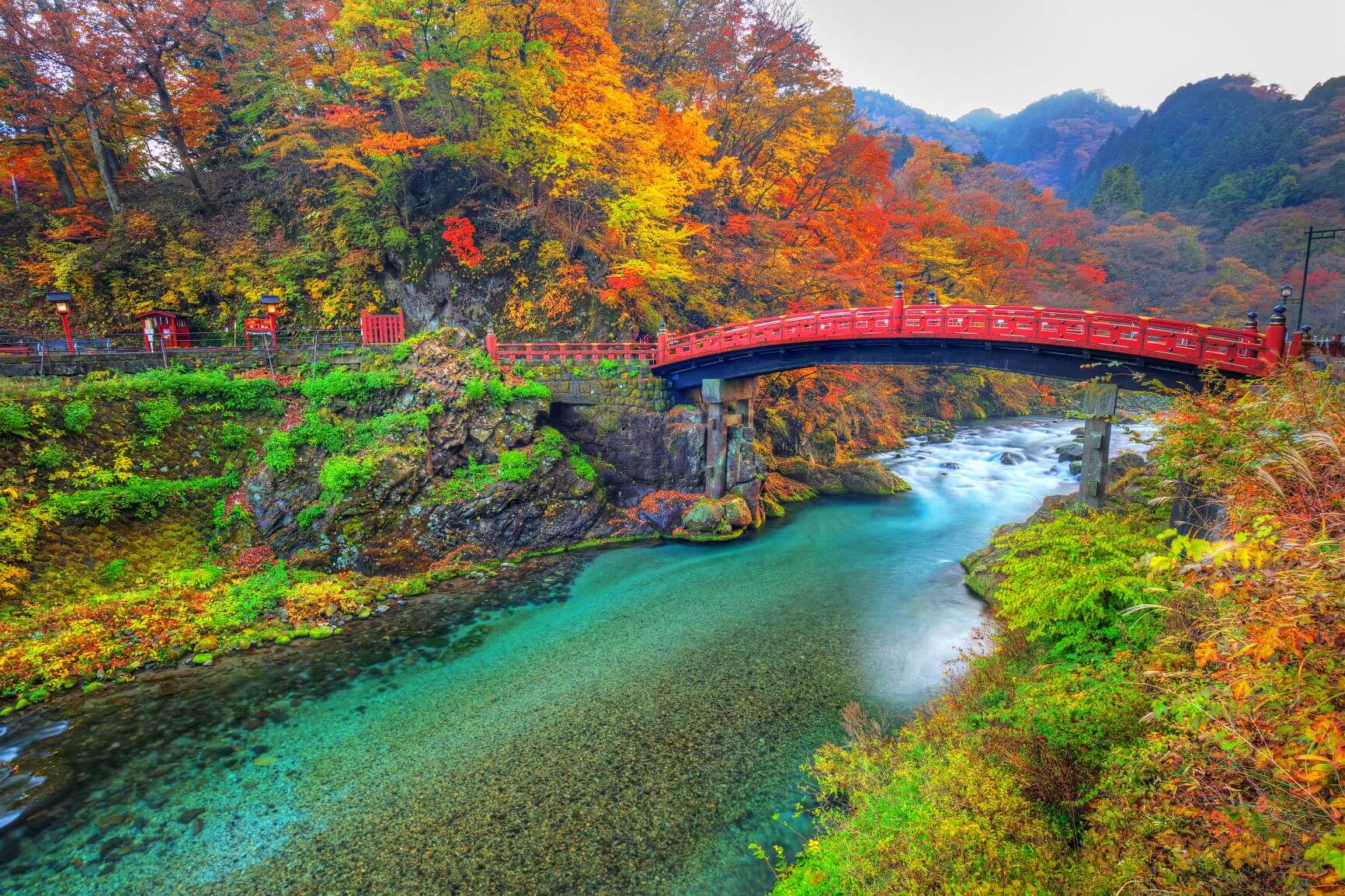 Wondering what the best places to see in Japan are? The Shinkyo Bridge in Nikko is one of Japan's most photogenic spots, especially for autumn travel.
Mount Fuji
Instantly recognisable, globally renowned, and even more impressive in real life than any photo can do it justice, Mount Fuji is the ultimate symbol of Japan.
Mount Fuji (or Fujisan, as the mountain is known in Japanese) stands at 3776m above sea level, and is so large that it actually bisects Shizouka and Yamanashi prefectures (both of which are adamant that their view of the mountain is the best).
The view of Mount Fuji from Arakurayama Sengen Park in Yamanashi prefecture.
Worshipped since ancient times, Mount Fuji has also been the subject of countless poems and artworks.
The Highlights of Japan tour takes in Mount Fuji on the way from Hamamatsu to Tokyo, and includes a relaxing cruise on Lake Ashi.
What could be better than sipping a hot drink on the prow of a ship sedately sluicing its way across the waters of Lake Ashi, with Mount Fuji in the background?
If you want to see the famous Mount Fuji for yourself, then book the Highlights of Japan today and get free international return flights.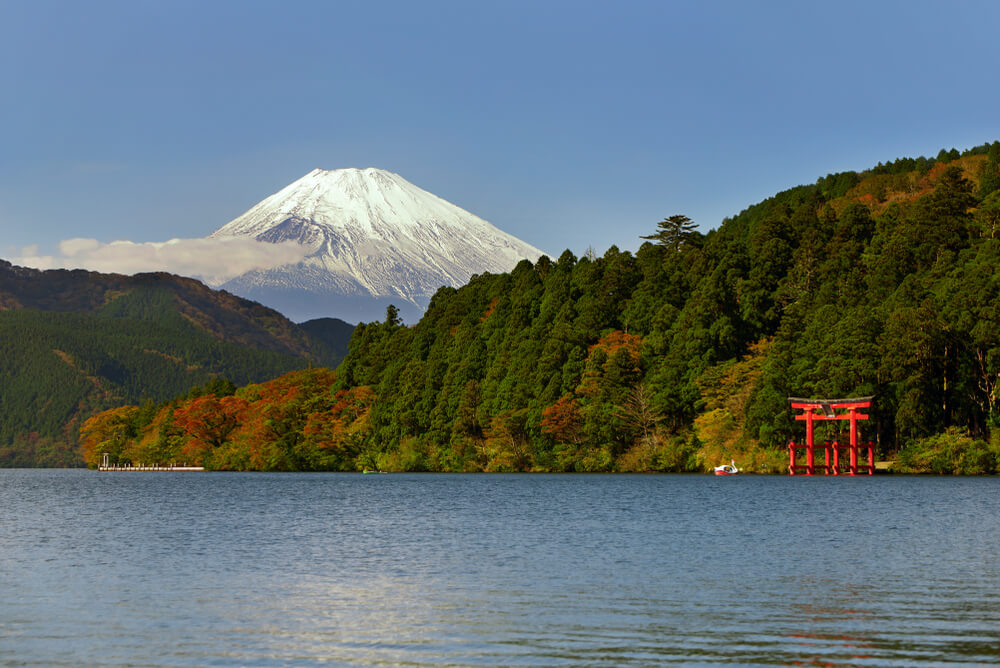 Though sometimes hidden behind clouds, you can see magnificent views of Mount Fuji from Lake Ashi on a clear day.
Nikko Toshogu Shrine, Nikko
Our Traditional Japan by Rail tour takes in a day trip from Tokyo to Nikko, but this gorgeous town also makes for a great overnight stay if you have the time.
The ornate Nikko Toshogu Shrine is both a beauty to behold and an important historical cultural property; while the areas's postcard perfect natural scenery is so stunning it will make you want to start writing haikus about it.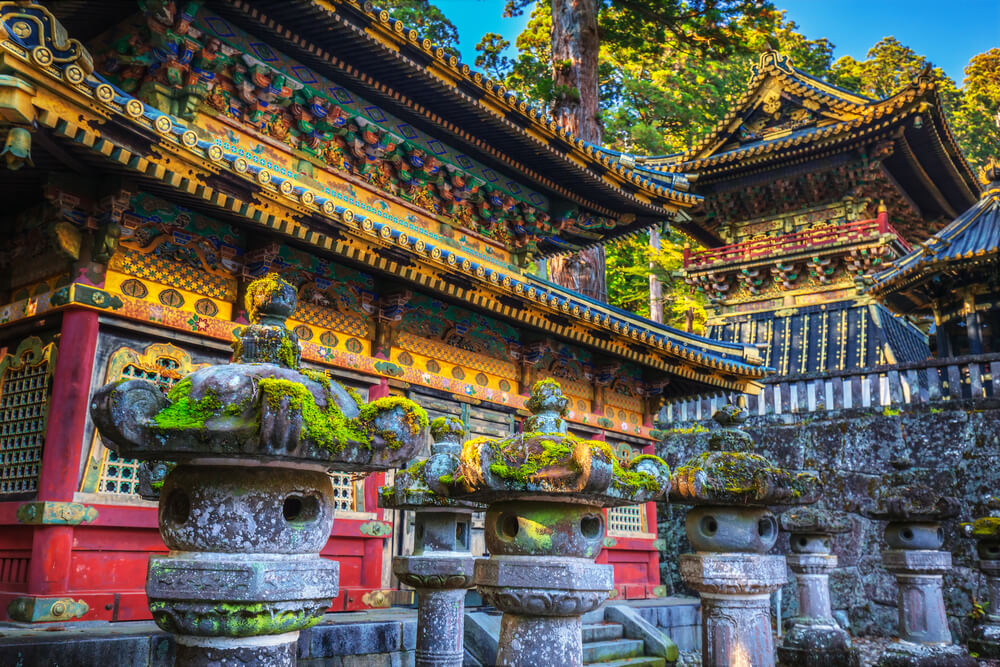 The meticulous detail and lavish decorations of Nikko Toshogu Shrine have helped to make this a must-see Japanese landmark.
The Nikko Toshogu Shrine has a special historical and cultural importance, as it is the final resting place of Tokugawa Ieyasu, the first shogun of the Edo period. It is also the most lavishly decorated shrine in Japan, with elaborate wood carvings and a jaw-dropping amount of gold leaf.
As well as the famous shrine and its grounds, the Traditional Japan by Rail tour also visits Kegon Falls, which is one of Japan's "three best waterfalls".
Given its proximity to Tokyo, Nikko makes for a refreshing getaway from the towering skyscrapers of the nation's capital.
If getting off the tourist trail to see a more traditional side of Japan is more your style, then book the Traditional Japan by Rail tour today and get free international return flights.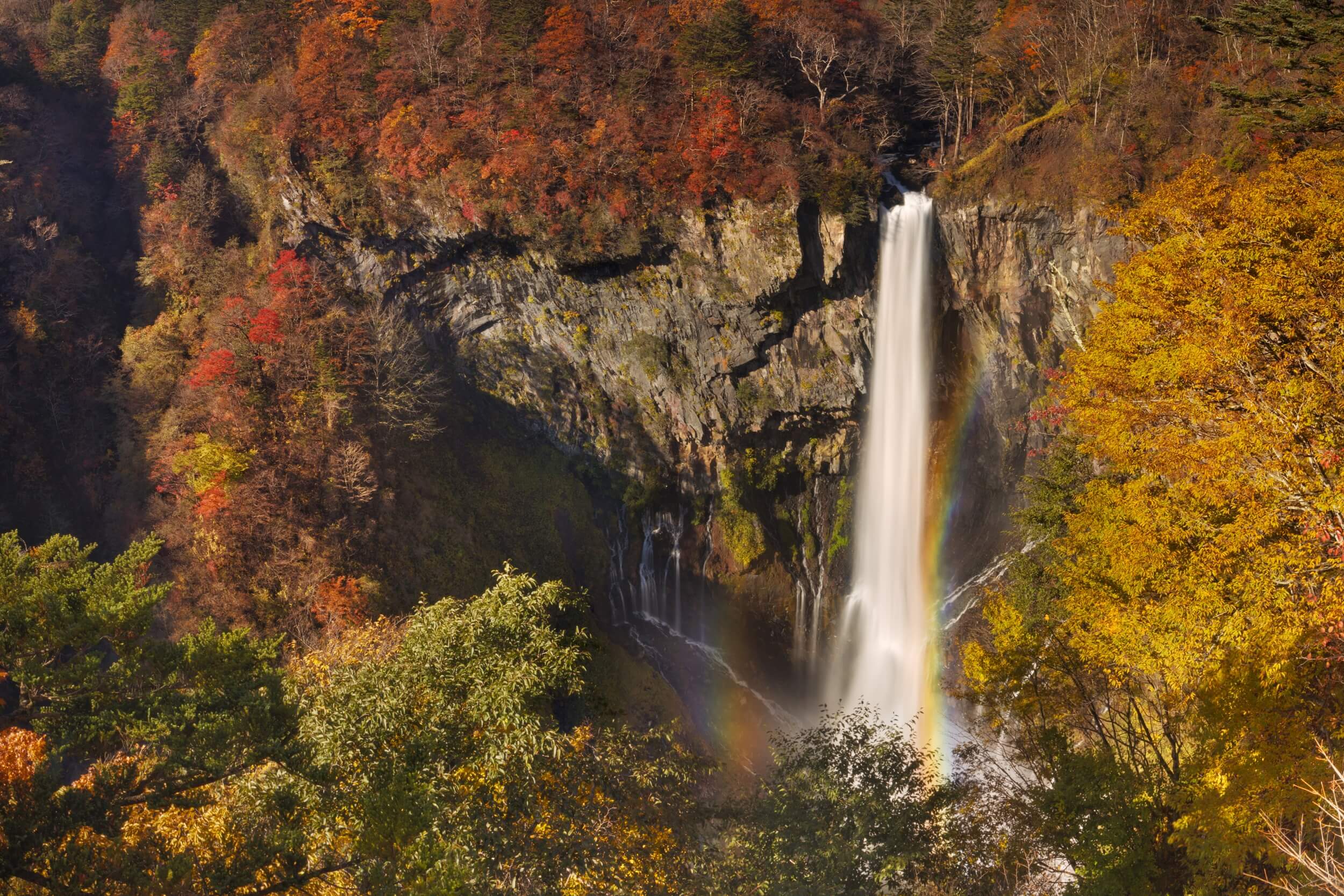 Kegon Falls is Nikko's most famous waterfall, and is also one of the best places to view autumn colours in Japan.
Kenrokuen, Kanazawa
The name 'Kanazawa' translates to 'the marsh of gold', and it's here in this beautiful city where you can try a gold leaf covered ice cream!
But Kanazawa's undisputed main attraction has to be Kenrokuen, which is one of Japan's "three best landscape gardens", and is said to be the most stunning of them all.
It was designed and created by the Maeda clan over three centuries as a privcate park, but was finally opened to the public in 1874.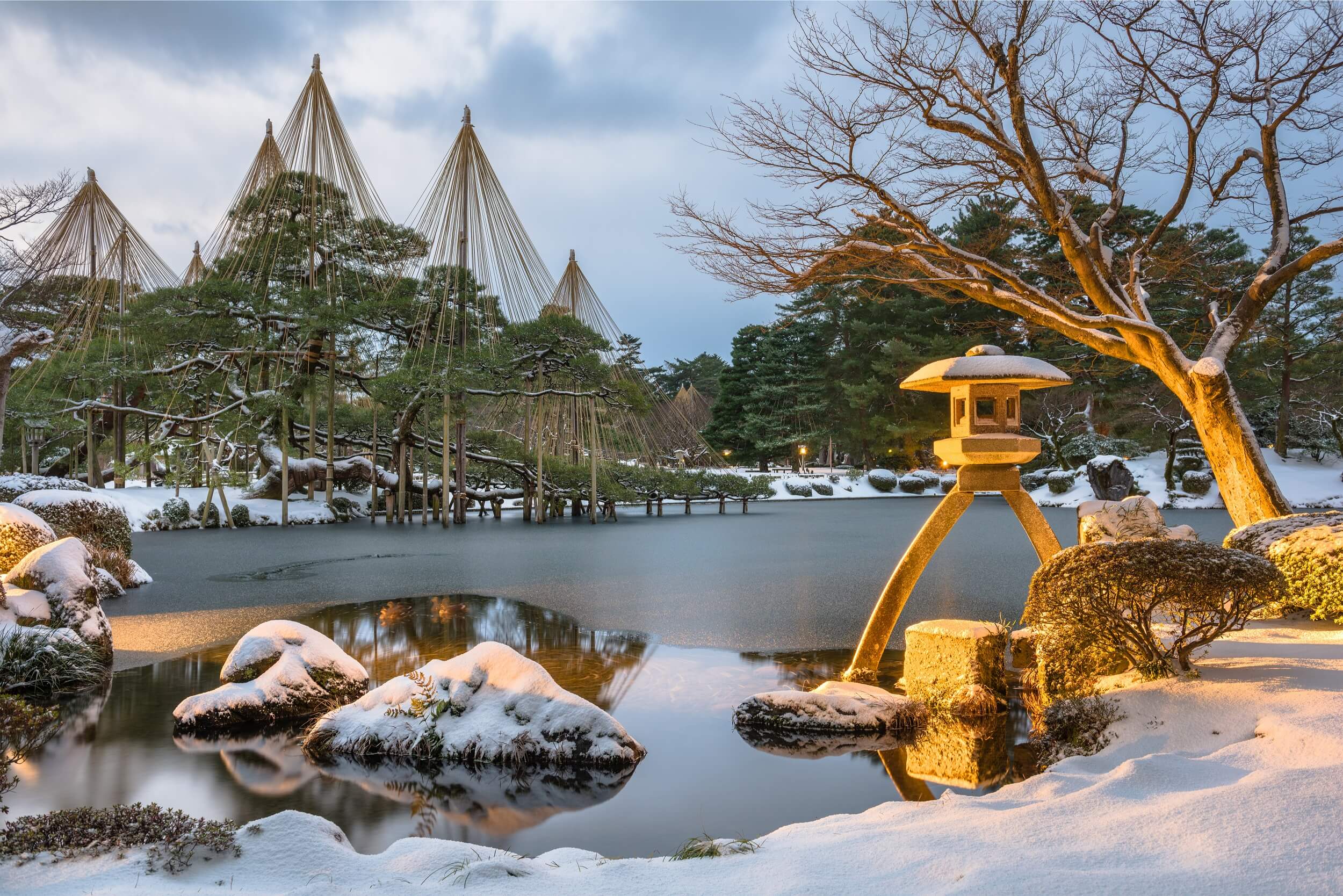 Kotojitoro lantern is one of Kenrokuen's most famous attractions, a tall stone lantern that has two legs instead of just one.
Kenrokuen is a pleasure to visit any time of year.
The gardens are a sprawling yet well-manicured vista of greenery in the summer, and relaxing in Uchihashi-tei tea house with a cool breeze coming off Kasumigaike Pond is a heavenly experience.
In spring, visitors have the chance to walk beneath Kenrokuen's flowering cherry blossom trees, while autumn brings an explosion of colour as tree leaves change to red, orange and yellow.
And while the gardens may look relatively bare in winter, the snow-covered grounds of Kenrokuen offer a sight that is both serene and magical.
Although Kenrokuen is Kanazawa's most popular tourist destination, there are also many other stops in town the Japan Discovery tour takes in – such as the preserved samurai district, the Higashi Chaya tea house district, and Omicho Market, Kanazawa's biggest fresh food market.
The best part about this tour is that you get to spend three nights in this city, so you have plenty of time to soak up Kanazawa's unique culture.
Ready to start exploring all that Japan has to offer? Book the Japan Discovery tour today and get free international return flights.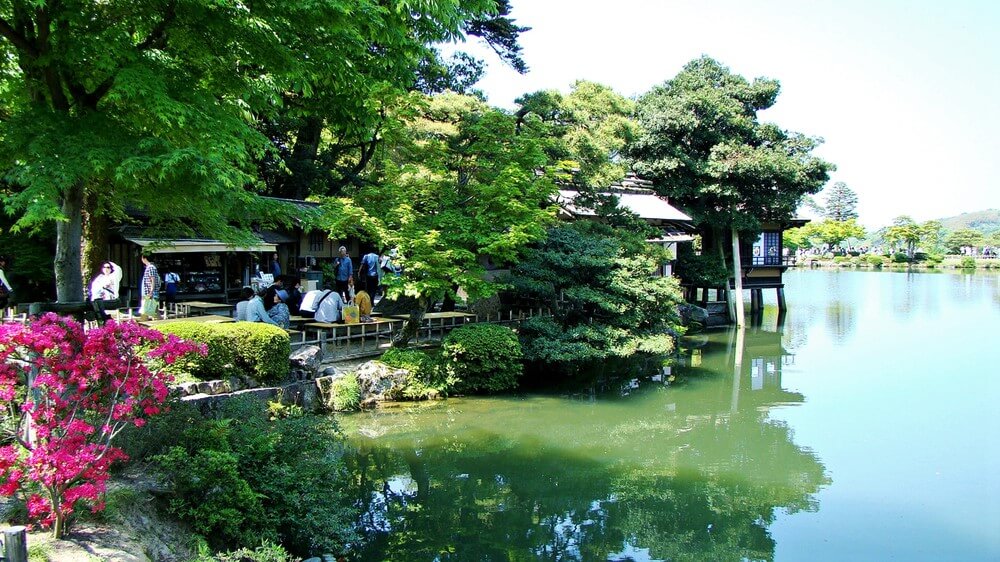 Enjoy Japanese green tea and sweets at Uchihashi-tei tea house in Kenrokuen.
Are you ready to book your Japan getaway?
Take advantage of our best ever travel deal and book one of our three selected tours today to get free return flights to Japan.
But don't wait too long – this special offer is almost finished! Remember, this deal ends at 11.59pm AEST on the 10th of November, 2019.
You can connect with us online or you can call us on 1300-680-057 to talk to one of our helpful reservations agents.
Don't forget to sign up to our newsletter to get the latest news on all our hot offers and promos, and to stay in touch on Instagram and Facebook. For travel agents, feel free to follow us on Linkedin.
Happy travels!
*The promoter is Tomato Travel. Promotion commences on 15th of October and closes at 11.59pm AEST 10 November, 2019, unless sold out prior. Price is per person. Flights depart from Sydney and Melbourne airports. For departures from Brisbane, Adelaide and Perth a surcharge will apply. The airlines of the Fly Free promotion will be decided by Tomato Travel based on availability. Upgrade for premium airlines is per person. Tomato Travel will not be responsible for any additional costs incurred by the customer (including but not limited to airline amendment fees, taxes, and additional hotel accommodation) if the flights are required to be reissued or reticketed after ticketing at the customer's request. In the case of a schedule change, Tomato Travel will not be responsible for any additional costs incurred as a result of the customer's non-compliance to follow the airline's recommendation. For individual airline fees and taxes, please see the airline's website. Tomato Travel will not be responsible for any incorrect, inaccurate or incomplete information communicated in the course of, or in connection with, this promotion if the deficiency is occasioned by a cause outside the reasonable control of Tomato Travel. Deposit must be paid (or booking form must be completed) by the deadline to be entitled to the promotion.