Japan is a vibrant place full of cultural wonders. Tomato Travel has a range of excellent tours that are going to take you through beautiful cities and whether it's your first time to travel to Japan or your tenth time, you're probably aware that Japan customs are different to Western customs. Let's walk through a Japan travel day so you can be prepared for customs you might encounter.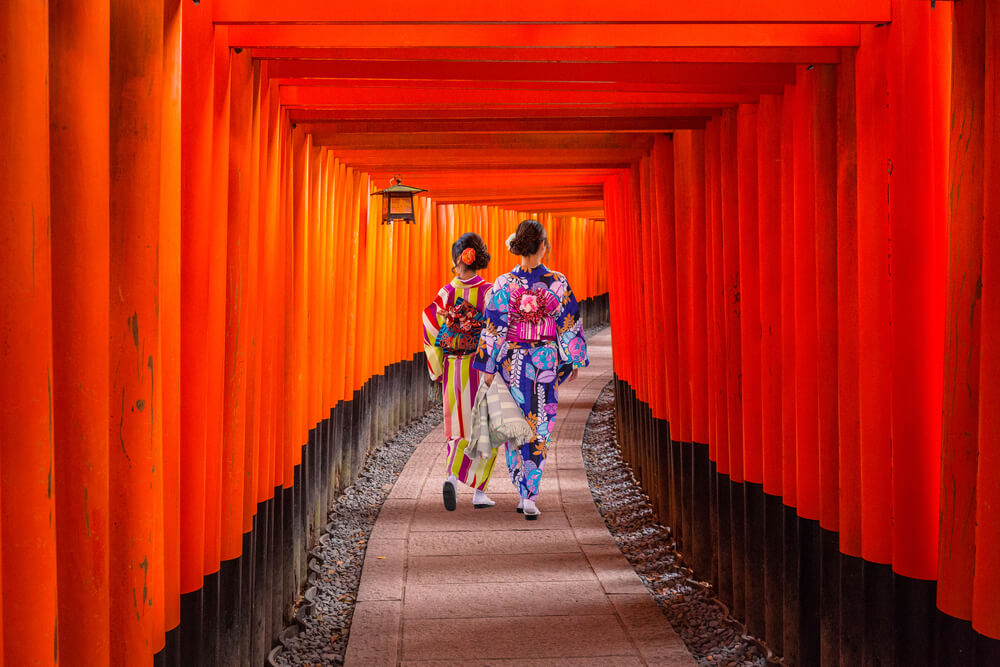 Where to go? Japan is a country full of adventures, with beauty and surprises in every city.
Let's take our first train in Japan. Japan is famous for its excellent public transport, which has become much easier to use in recent years thanks to an increase in English signage. If you need guidance, usually one of the ticket gate staff will be able to help you. As a rule, most Japanese people only speak Japanese. Luckily, they understand that not everybody can speak Japanese and will endeavour to help you as best they can.
On the train, you might notice that many people are wearing facemasks and carrying umbrellas. While this Japanese custom may seem strange, it is to prevent the spreading of illness. Particularly in cities which are densely populated, people are conscious that colds are spread through extra humidity, especially through wet clothes. If you are travelling to Japan during a wet season, it's best to buy yourself an umbrella and keep dry. The benefit is that the Japanese excel at making cute and compact umbrellas, so you're gaining an excellent souvenir in the process. And if you do happen to catch a cold during your travels, it's considered common courtesy to wear a facemask to prevent germs spreading.
If your phone rings while you're on the train, you're going to have to ignore it. Japanese custom is to keep carriages quiet; people on the train are generally silent and talking on your phone may as well be illegal. Occasionally you'll see salary-men (Japanese businessmen) darting to the area between the carriages to take important calls, but never inside the carriage.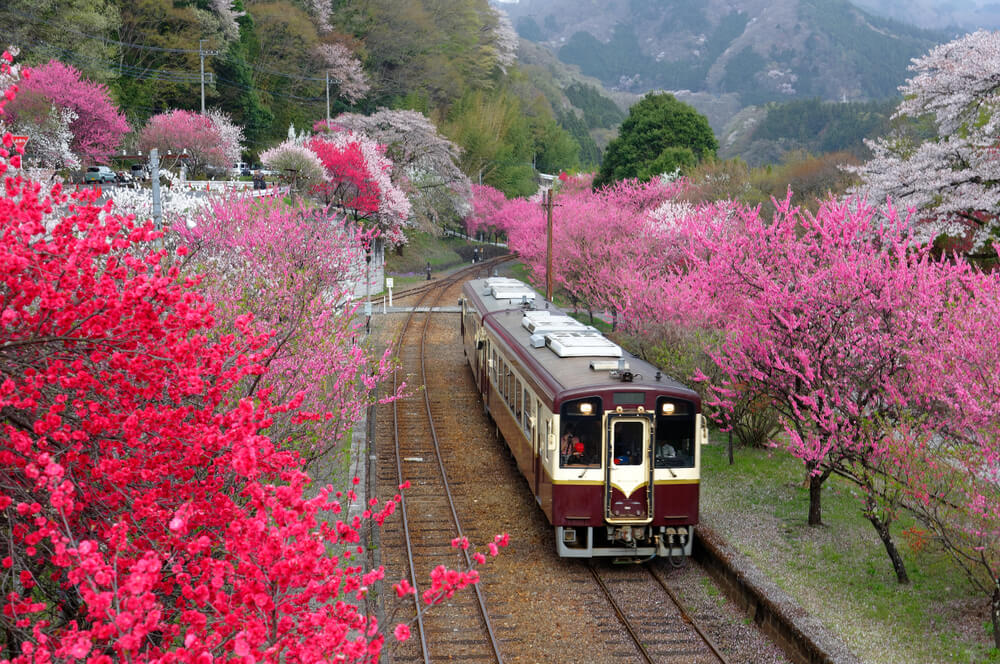 Taking a train through Japan is an experience in its own, as you travel through rolling mountains and rice paddocks. Experience Japan in this unique way on our Taste of Japan by Rail tour.
When you step out of the train station and onto the streets of Japan, take a minute and appreciate the quietness of the street. Usually, the loudest noise is coming from huge TVs attached to buildings, whereas locals talk quietly amongst themselves. The Japanese tend to dislike loud voices, so if you're visiting a temple or a shrine, do your best to control the volume of your voice. Locals will appreciate your efforts.
Before you check into your hotel, let's grab a bite to eat at one of the many amazing restaurants on offer. Better check your wallet and make sure you have cash, as Japan is still largely a cash society and some restaurants and shops won't accept card payments. With cash on hand and an empty belly, let's go to the restaurant!
As soon as the doors open, someone will either be there to greet you or you'll hear a chorus of voices welcoming you. You might find yourself looking at walls full of shoes, or shoe sized lockers. If so, you're standing in a genkan (entrance) and you need to remove your shoes before entering the main restaurant. This is a custom that also applies to hotels and ryokans (traditional Japanese inn). If you are unsure ask a staff member for guidance.
When you sit down in a restaurant you will be given a hot face towel, called an oshibori. This is used to wipe your hands before your meal, and since they are usually warm and nice smelling, it is acceptable to press it to your face. It is not acceptable to wipe your face or body with the oshibori, but thankfully there are many convenience stores where you can buy your own pack of cooling wipes! These are especially handy if you're travelling during summer.
Perhaps the most delicate of all Japanese customs are chopsticks! But they're just a utensil for eating? Not in Japan. Chopsticks play a huge part in Japanese customs, particularly in funeral rites. For example, don't pass food from chopstick to chopstick. This resembles the funeral custom of transferring cremated bones to the urn, and as such is possibly the biggest dining room taboo.
Eating in Japan is magical, and you can experience it on our Aromas of Japan tour.
There are more rules when it comes to chopsticks, but if you stick to the general rule of only using them for eating and leaving them on your chopstick holder, or parallel in front of you, you should be fine. Now, let's enjoy the meal! And remember, it's considered polite to slurp your noodles. People say that the louder the slurping, the better the restaurant. Slurping your noodles also helps get more broth to your taste buds, so slurp slurp slurp!
When you're ready to leave the restaurant, call out "sumimasen" (excuse me) for the waiter. While the service for your meal was fantastic, and the tastes delightful, you shouldn't leave a tip unless there is a tip jar. The style of service in Japan has been dubbed 'Omotenashi' and while the definition is hard to pinpoint, it's basically anticipating the needs of the customer. In Japan, to do something without being asked is the height of good service. As giving you the best service is part of omotenashi, a tip is often considered rude.
After you've eaten, it's time to check into your hotel. Ryokans and some hotels will have either a private or public onsen (hot bath) for you to enjoy. What an excellent way to recuperate after seeing so many wonderful sights on your Japanese tour! Before you enter the onsen, make sure you clean yourself. There will be a little sit-down area where you can wash and put your hair up before entering the bath. This is because the bath doesn't drain after you use it, so it's best to be clean before you enter it.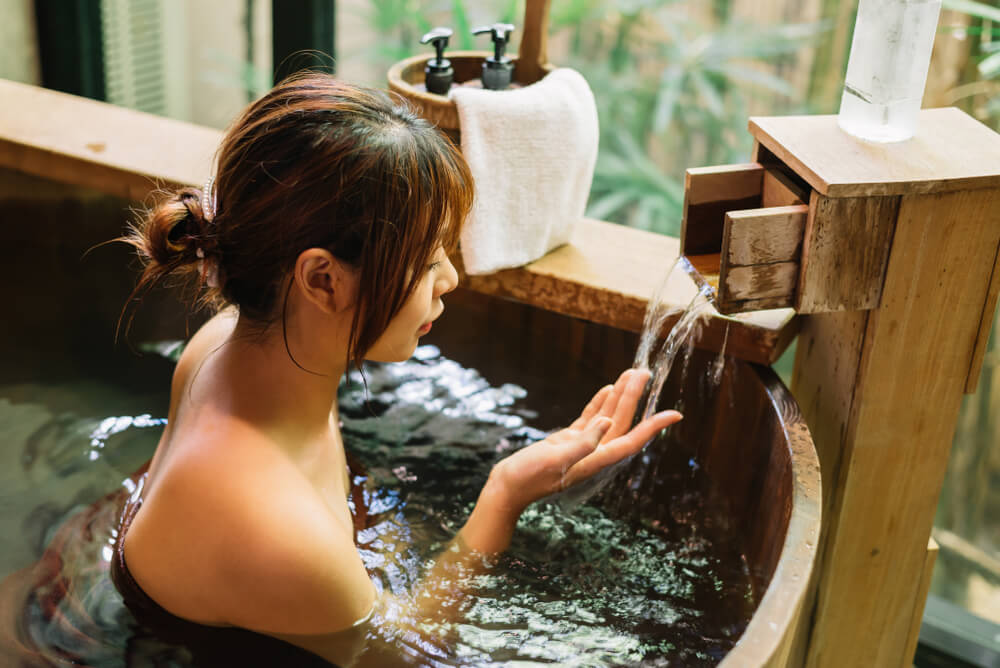 Onsen is a Japanese custom that many travellers to Japan love, as they invoke a truly peaceful setting. Experience a Japanese onsen on our Land of the Rising Sun tour.
With a full belly and the feeling of a warm onsen still fresh in your mind, it's time to fold out your futon and get a good night's rest before your next day of Japan travel. Now, doesn't that sound like the perfect way to end a day of travel? We can make that dream come true! Tomato Travel offers a range of excellent tours that will take you throughout Japan, and to the best sights.
You can connect with us online or you can call us on 1300-680-057 to talk to one of our friendly reservations team members.
Don't forget to sign up to our newsletter to get the latest news on all our hot offers and promos, and to stay in touch on Instagram and Facebook. For travel agents, feel free to follow us on Linkedin.