For some, the name 'Hiroshima' is synonymous with one particular history-changing event.
But look past Hiroshima's dark and tragic recent past, and you'll uncover an incredible city with a unique culture and a love of good food.
Spend a little time here in this beautiful city, and you'll find that there are plenty of things to do and see. Even better, ask a local about the best things to do in Hiroshima. You'll find most Hiroshima locals are laid back, friendly people who love sharing the best bits of their city with visitors, and they'll give you tips on where to eat, drink, shop and sightsee in Hiroshima. They might even be willing to teach you a little Hiroshima slang.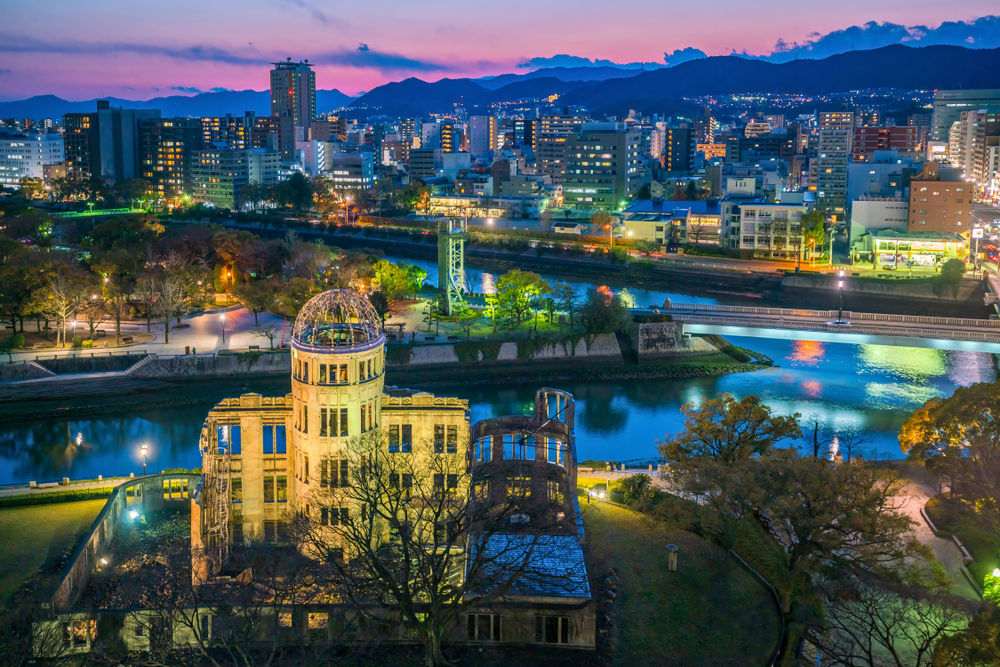 Make Hiroshima one of your stops on your next Japan holiday.
I spent five nights in Hiroshima city in October 2019 during my ten-month Japan trip, and while most travellers only have time to take in Hiroshima as a day tour from Osaka or Kyoto, it's definitely worth staying overnight during your Japan holiday.
So, where are the best places to go in Hiroshima?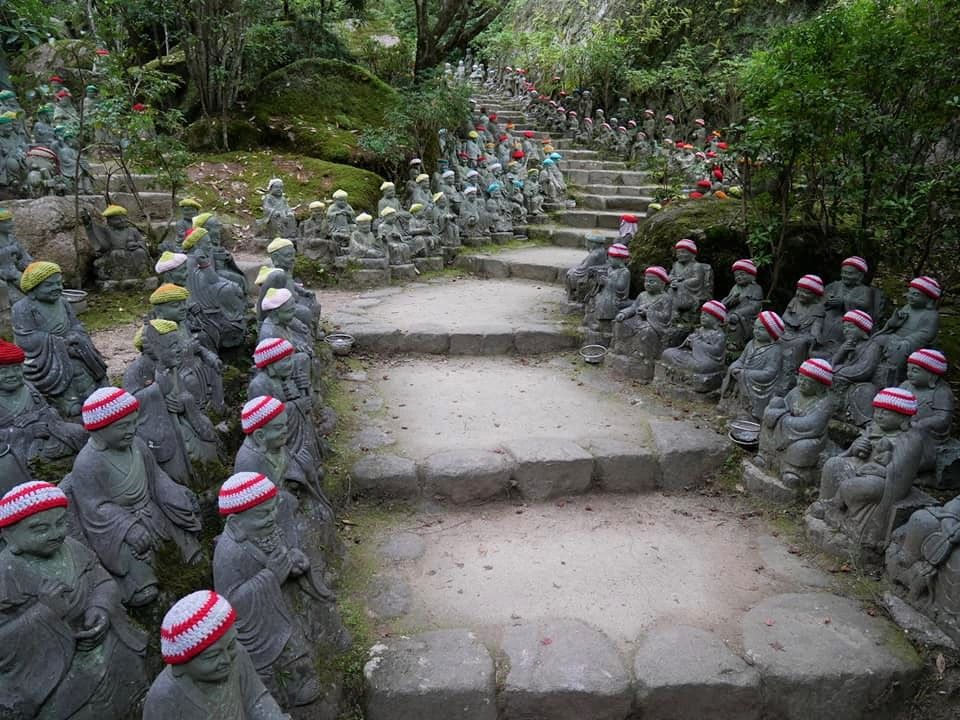 Uncover some of Hiroshima's hidden treasures on your next Japan trip! Like Daisho-In Temple in Miyajima.
1. Miyajima
Miyajima is most famous for Itsukushima Shrine and its floating torii gate. The torii gate itself is one of Japan's "three best views".
As well as being a Shinto place of worship for hundreds of years, Miyajima also has important ties to Buddhism.
It was on Miyajima's Mount Misen that Kobo Daishi, the father of Shingon Esoteric Buddhism in Japan, first began practicing Shingon Buddhism way back in 806 CE. Kobo Daishi founded the temple of Daisho-in at Miyajima, and if you hike up Mount Misen you'll find Reikado Hall, where a sacred fire is tended to by dutiful monks. This fire was said to have been lit by Kobo Daishi himself over 1200 years ago, and has never once been extinguished.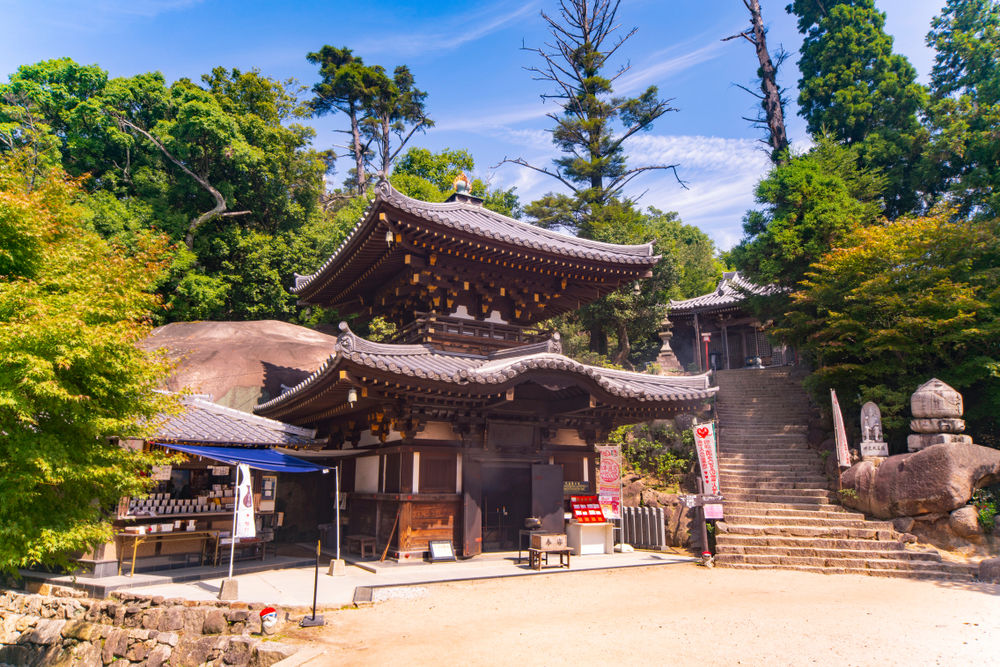 The sacred flame found in Reikado Hall is said to have been burning for 1200 years.
Keep hiking past Reikado Hall for about fifteen minutes and you will reach the summit of Mount Misen, which offers incredible views of Miyajima and the surrounding area.
Miyajima attracts around 4 million tourists a year, and its little surprise why. But if you have the chance to stay overnight, the island is transformed into a calm, peaceful refuge, where the only sounds that can be heard are chirping crickets, the somewhat eerie calls of wild deer, and the sounds of waves lapping against the shore.
Miyajima is believed to be one of Japan's mystical "power spots". That is, a place so special and sacred that its spiritual essence can be felt by those willing to open themselves up to it.
Some people might laugh at the idea, especially on those days when the spring-time crowds reach fever pitch. But if you stop for just a few moments, you might get a sense of what those Shinto priests and Buddhist monks felt all those hundreds of years ago.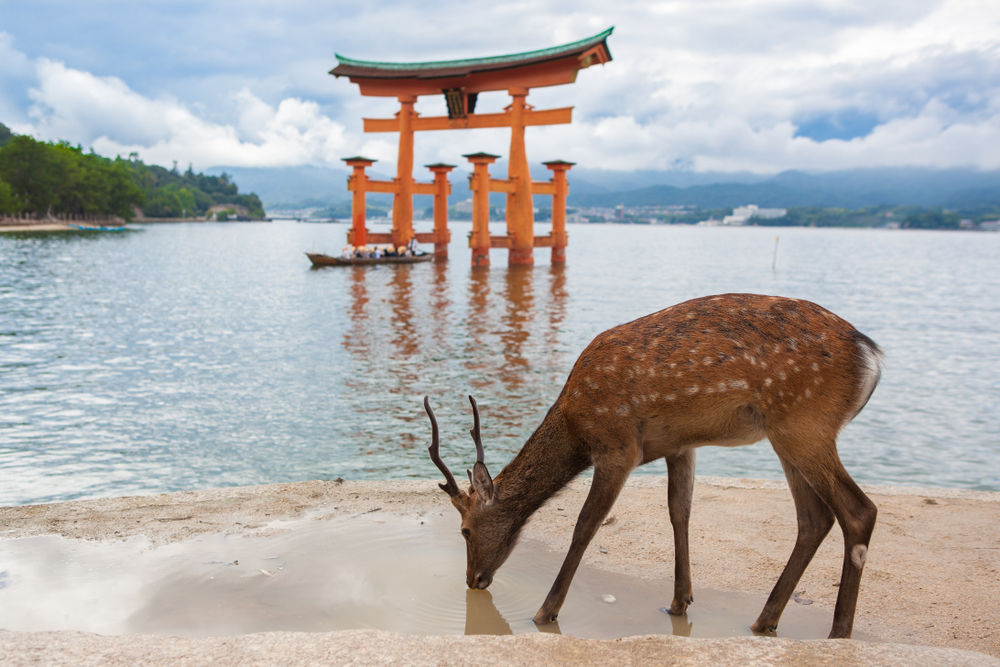 See Itsukushima Shrine for yourself on our Signature Aromas of Japan tour.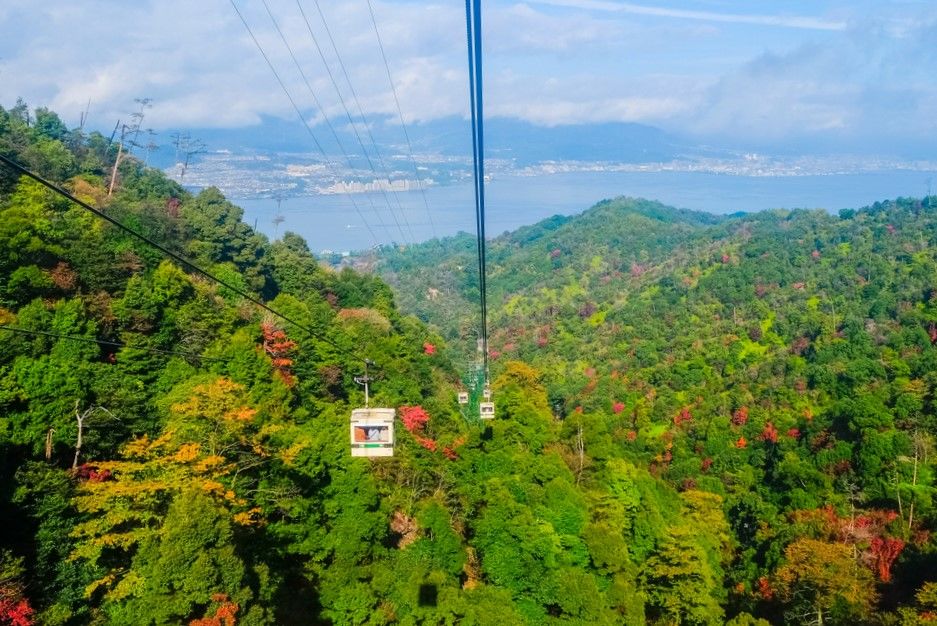 While Miyajima does offer some beautiful hiking trails, it is possible to take the cable car from town to about three-quarters up Mount Misen, which is its own kind of fun.
2. Hiroshima Castle
The reconstructed Hiroshima Castle is a truly impressive sight.
It commands views of Hiroshima city, and offers visitors fantastic views from the fifth floor. You can also take a boat ride around the moat, which gives you different views of the castle from the water.
In the expansive castle park, visitors will also be surprised to find three trees that somehow managed to survive the atomic bomb blast which destroyed the original castle and most of the city: a holly tree, a willow, and a eucalyptus.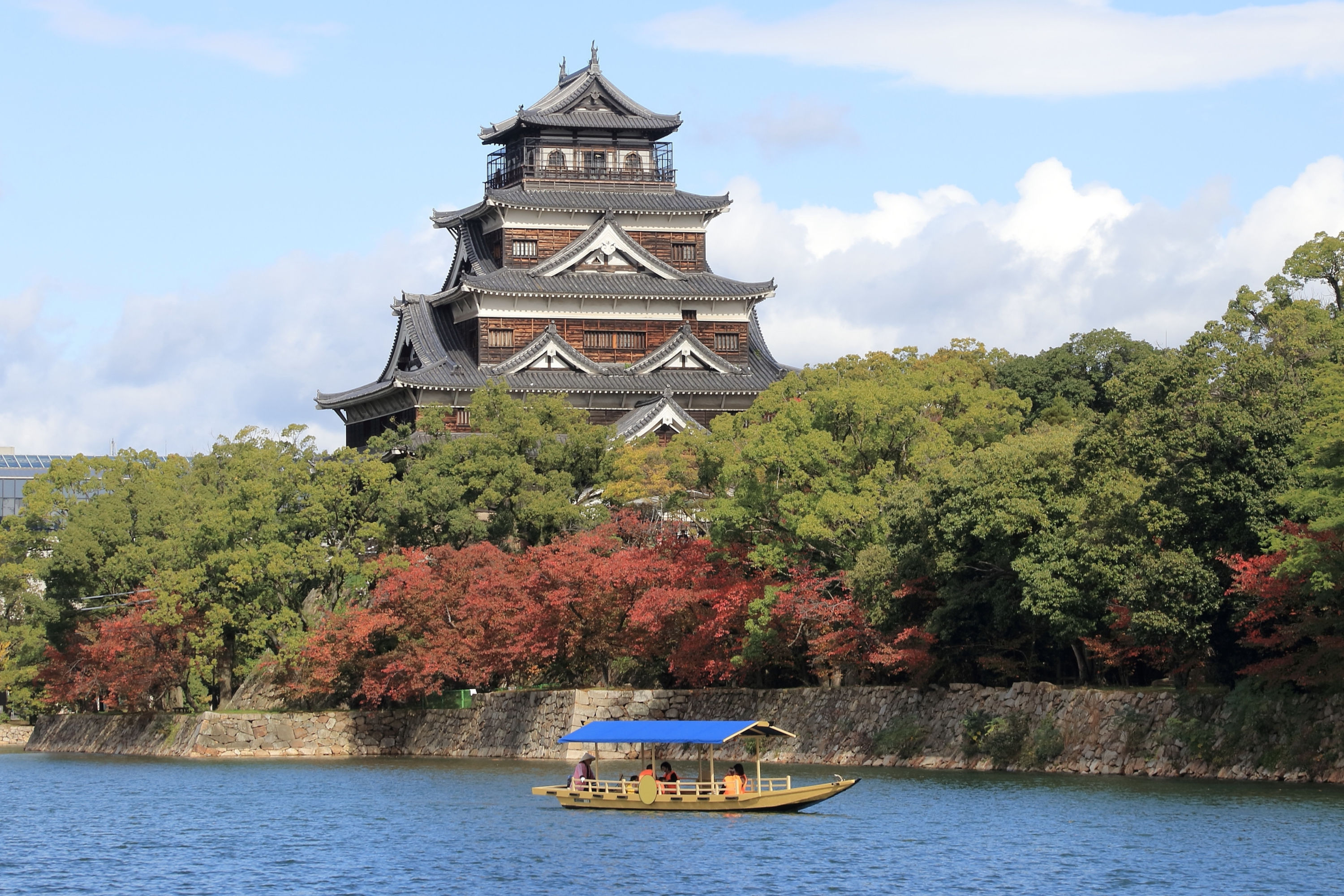 Hiroshima Castle is also known as the 'carp castle' for its large population of carp that live in the moat (and where the local baseball team gets its name from).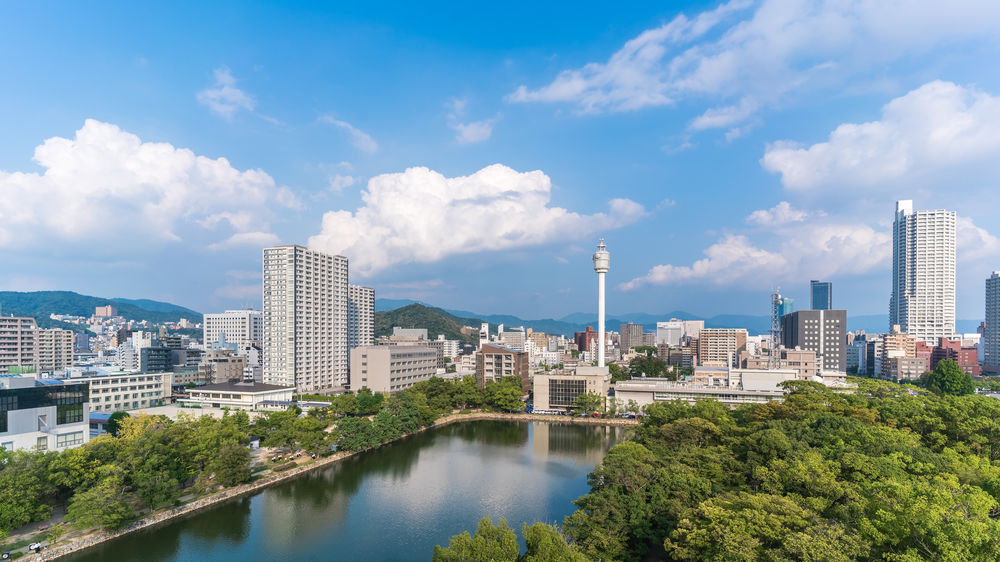 View from the fifth storey of Hiroshima Castle.
3. The Atomic Bomb Dome and Peace Park
Wandering through the colourful streets of downtown Hiroshima and taking in the city's leafy parks, it's shockingly easy to forget that the entire city was completely destroyed on August 6, 1945.
This is in part because the city of Hiroshima has been so resiliently determined to build a future for itself out of the rubble. The people here will never forget what happened to their city. But rather than clinging to its tragic past, the city of Hiroshima seeks to commemorate the event in a way that reminds us all the importance of peace.
A trip to the Atomic Bomb Dome and the Peace Park is a moving affair. Even thinking about my visit to the Atomic Bomb Dome brings tears to my eyes.
The Peace Park itself is an expansive and very beautiful area, where you'll find locals relaxing and tourists taking in the scenery, and you'll probably see at least one group of Japanese school kids on a history excursion.
Our Traditional Japan Small Group with Hiroshima tour takes in this historical monument before travelling to Miyajima.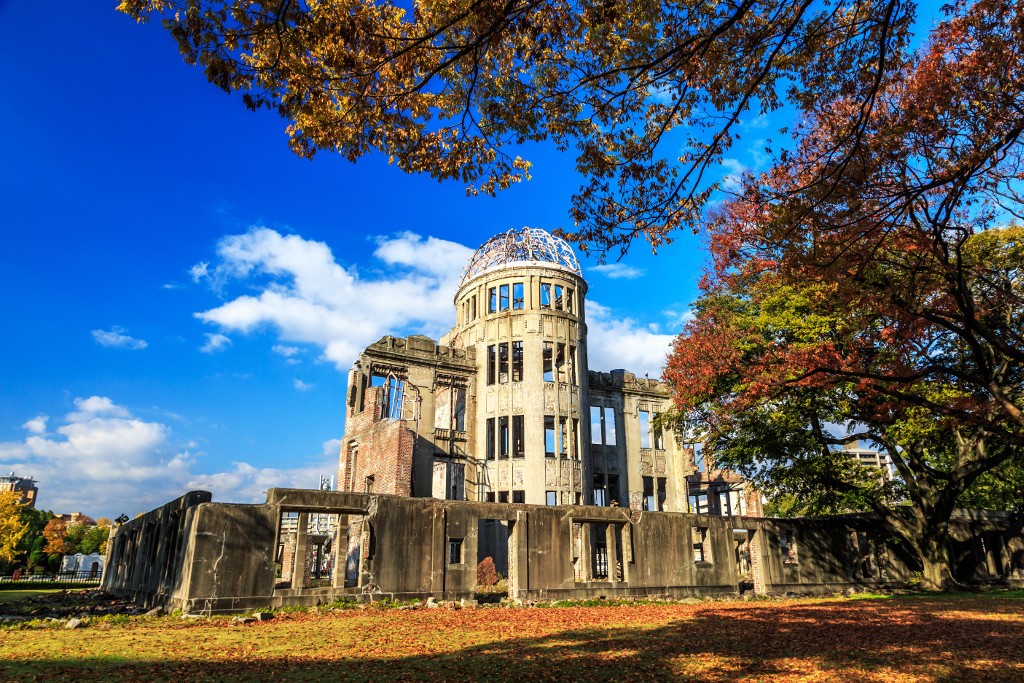 The Atomic Bomb Dome was one of the only buildings left standing in Hiroshima when the atomic bomb was dropped on August 6, 1945. Now, it's a UNESCO World Heritage Site.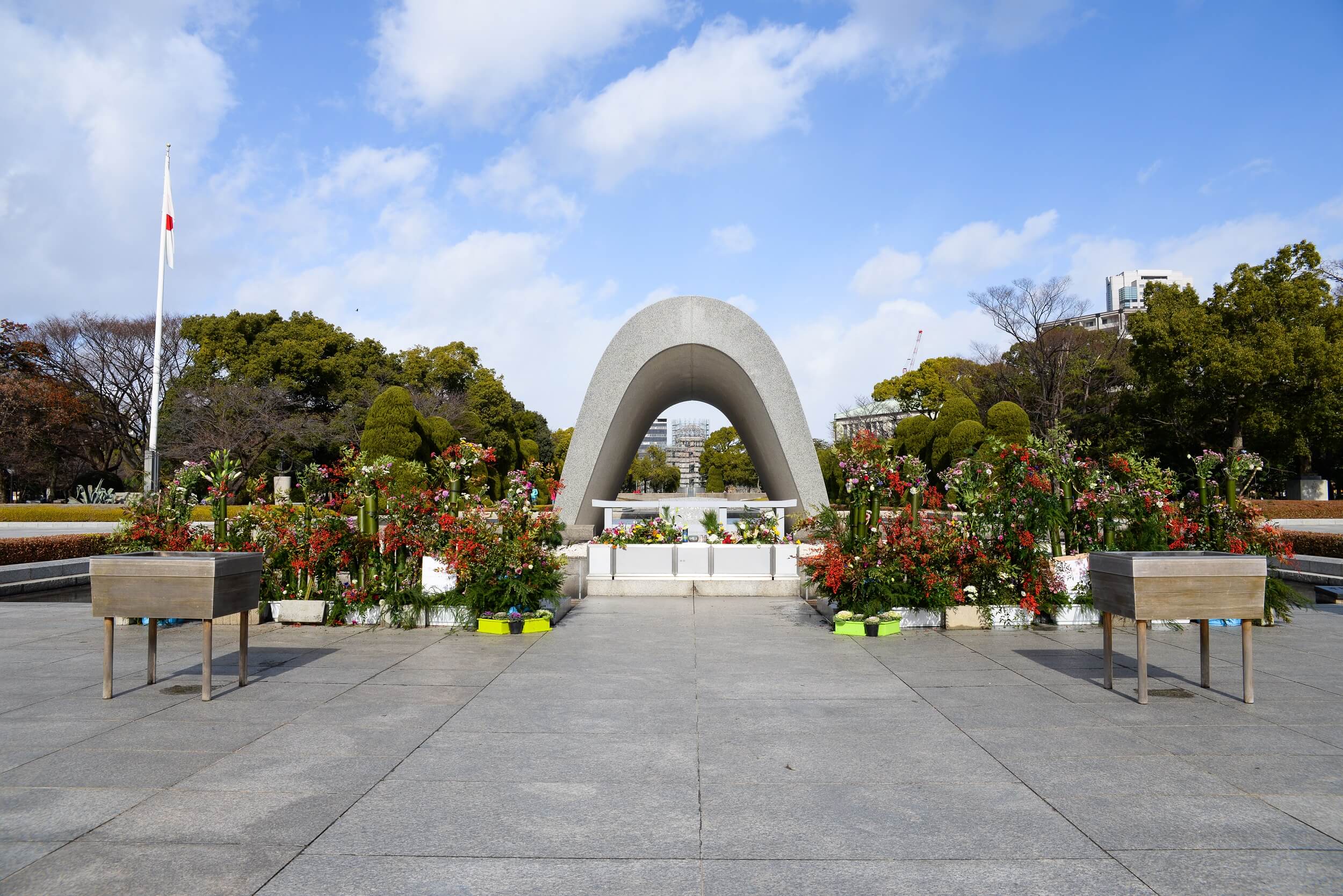 The flame that burns in the Peace Park was lit from the eternal flame of Reikado Hall on Miyajima.
4. Okonmiyaki Village (Okonomimura)
Downtown Hiroshima is a bustling, lively area crowded with shops and restaurants. If you're looking for some retail therapy, the place to do your shopping is in the Hondori Street arcade or along Aioi Street, which is home to a number of large department stores.
However, if you're more excited to sample some of Hiroshima's local cuisine (or just need a break after hours of shopping), the best place to do that is in Okonomiyaki Village, near the eastern end of Hondori Street.
Here you'll find dozens of restaurants all specialising in that famous Hiroshima cuisine: okonmiyaki. So pull up a chair at the bar, choose your ingredients, and watch your chef work their magic!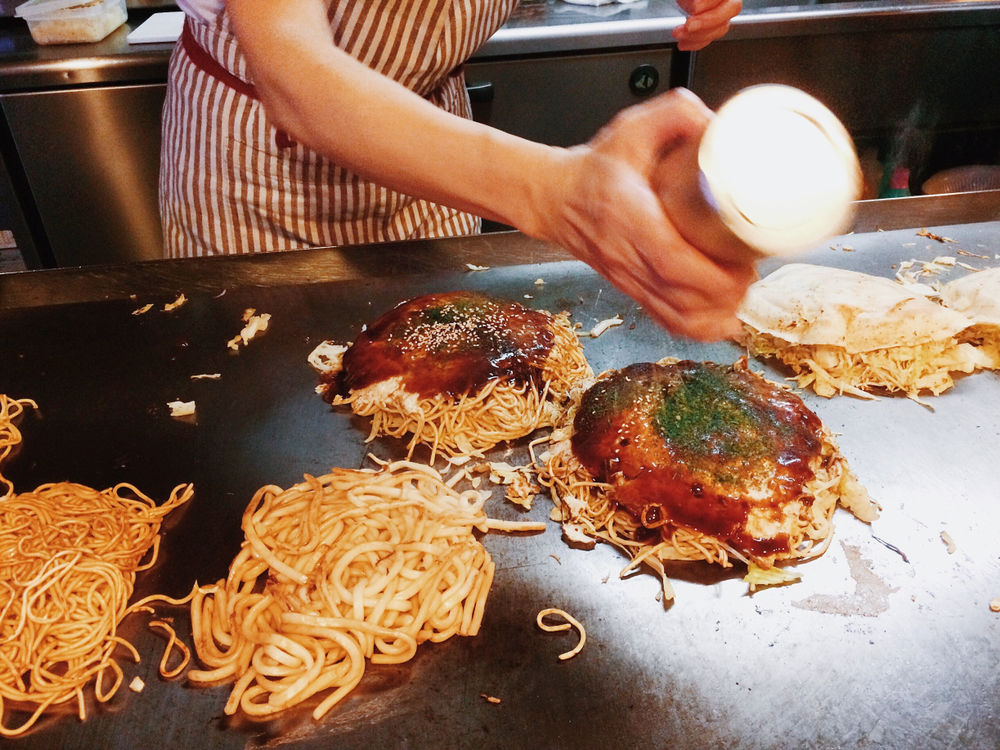 Eat like a local and try a Hiroshima staple – okonomiyaki. Do you know the difference between Hiroshima-style and Osaka-style okonomiyaki?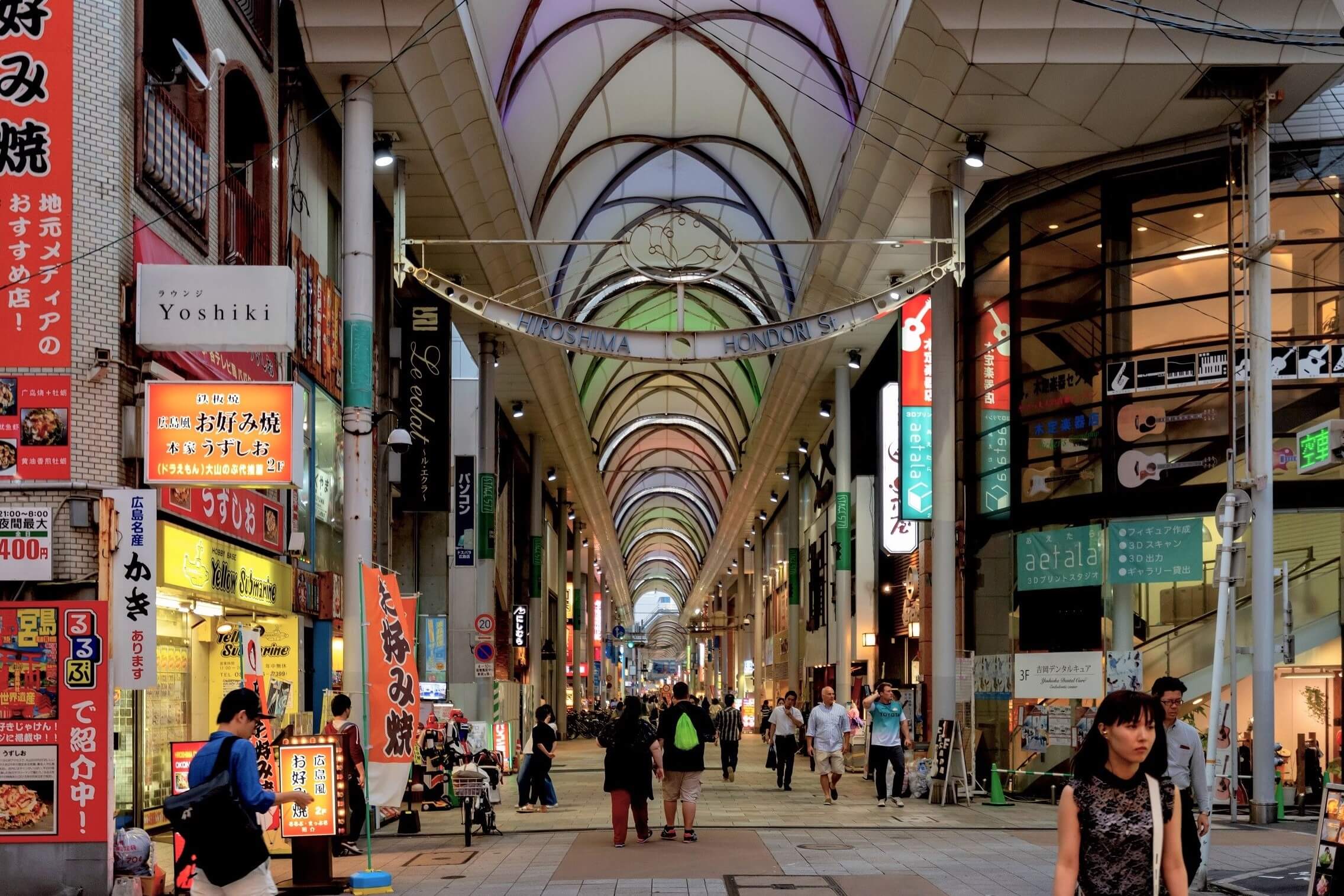 Hondori Street is a 500m pedestrian-only arcade where you can find shops, cafes and restaurants.
5. Saijo
A leisurely 40-minute train ride through Hiroshima's beautiful countryside will take you to Saijo, a town famous for sake and its unique take on karaage chicken. The countryside here is so mesmerizingly beautiful, the train trip to Saijo is a sightseeing experience itself.
A number of Saijo's sake breweries have been operating since the 1600s, and some have a shop that is open to the public where you can try samples and buy sake. Some of the sake sold here can only be purchased direct from the breweries, so it makes for a very special Japanese souvenir.
If you're in the area during the second weekend of October, there's also an annual sake festival that's held in Saijo every year.
Even if you're not much into sake, walking around this picturesque town is still a fun half-day trip from Hiroshima. And don't forget to try some special karaage chicken while you're here, the batter of which is made from rice flour for a subtle yet unique taste only found in Saijo.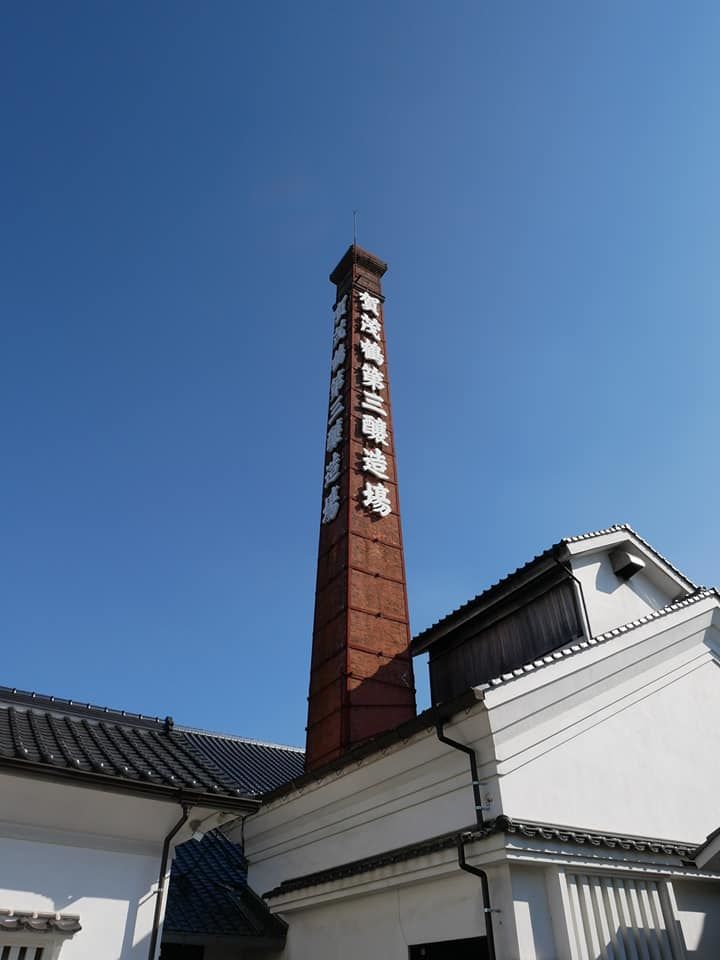 The red brick chimneys of Saijo's sake breweries are symbols of the town.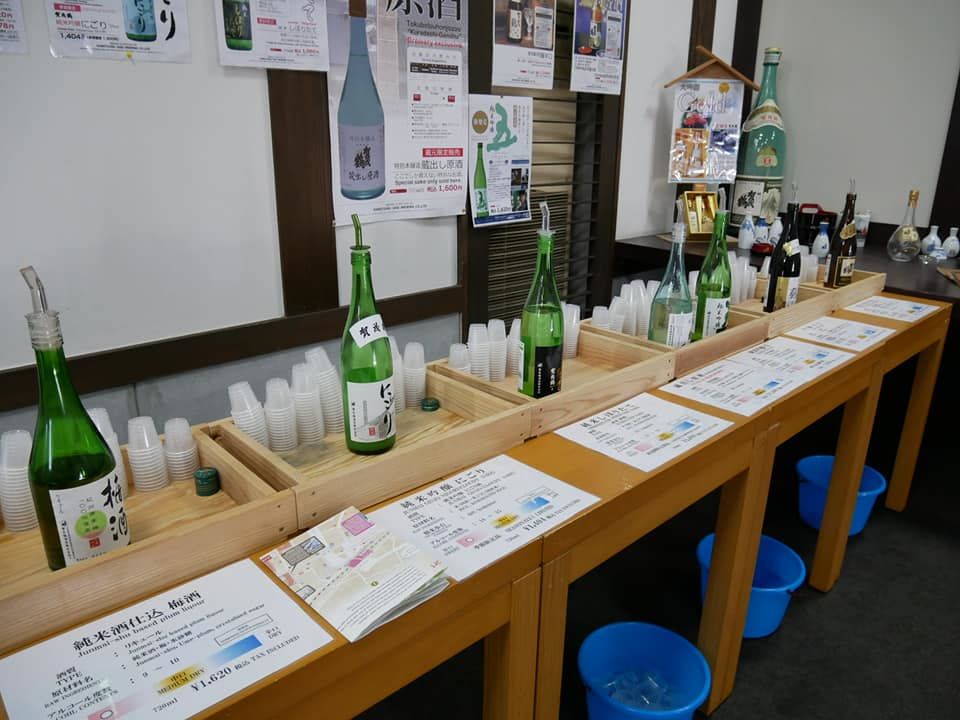 Sample different kinds of sake at some of Saijo's breweries.
There are loads of other amazing things you can do in Hiroshima, both in the city and in the surrounding areas. But don't just take our word for it – visit Hiroshima for yourself and enjoy everything this incredible place has to offer.
Tomato Travel offer a number of tours that include Hiroshima in their itinerary, but you can also choose to add a Hiroshima extension to your Japan holiday.
You can book any of our tours through your local travel agent.
Otherwise, feel free to can connect with us online or you can call us on 1300-680-057 to talk to one of our Japan experts.
Don't forget to sign up to our newsletter to get the latest news on all our hot offers and promos, and to stay in touch on Instagram and Facebook. For travel agents, feel free to follow us on Linkedin.
Happy travels!