Japan's landscape changes dramatically with the seasons.
Spring is the most popular travel time for many visitors who want to see the famous cherry blossoms. Autumn is also popular, with travellers hoping to see the country's spectacular autumn leaves. Summer is an explosion of greenery and flowers, encouraged by plenty of rainfall and hot, humid weather.
What a lot of travellers don't always realise is that winter can be just as rewarding a time to travel to Japan, even if you're not a powder hound.
During winter, there are generally a lot fewer tourists which means less crowds and shorter lines. And while the bare trees and empty gardens might not be as spectacular sight as the koyo colours or sakura blossoms, Japan has other ways of brightening up those long, cold, winter nights.
Enter the world of Japan's stunning winter illuminations!
Add the Ashigaka Flower Fantasy Illumination to your Japan holiday plans.
What are winter illuminations?
Japan's winter illuminations range from the marvellously elaborate to the beautifully simple. It might be some coloured lights intricately wound around the bare branches of a group of cherry trees near a train station. Other times, it will be an all-out, dedicated event like the Nagoya Nabana no Sato.
There's no doubt about it – Japan's winter illuminations are guaranteed to brighten up any winter night.
Read on below to find out just where the best places to see Japan's winter illuminations are.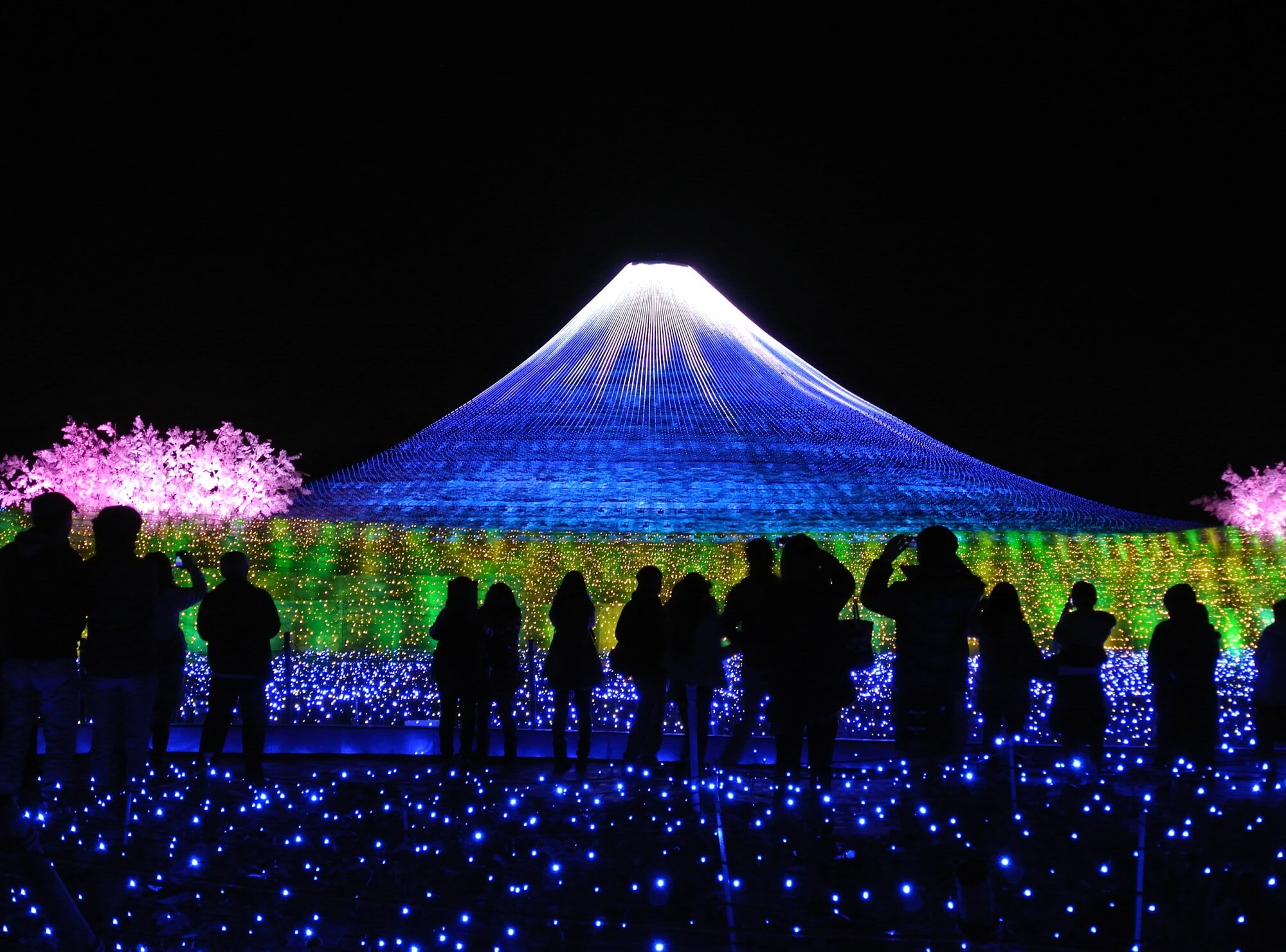 The Nagoya Nabana no Sato Illumination attracts tourists from all over Japan and the world. Make it a stop on your Japan trip.
1. Ashigaka Flower Fantasy, Tochigi prefecture
A flower park wouldn't be the most popular destination for tourists during Japan's chilly winter season.
So, how to attract visitors even in the depths of winter? By staging a fabulous winter illumination, of course!
The Ashigaka Flower Park illumination, known as Flower Fantasy, is one of Japan's top 3 biggest illuminations. People flock from across Japan and the world to see this absolutely stunning display for themselves.
There are over 5 million LED lights used in the display to replicate the park's flowers, including a mesmerizingly beautiful display of hanging wisteria.
Located about 2 hours by train from Tokyo, it makes for a pleasant side trip during your Japan holiday.
Visit Tokyo on our Highlights of Japan tour.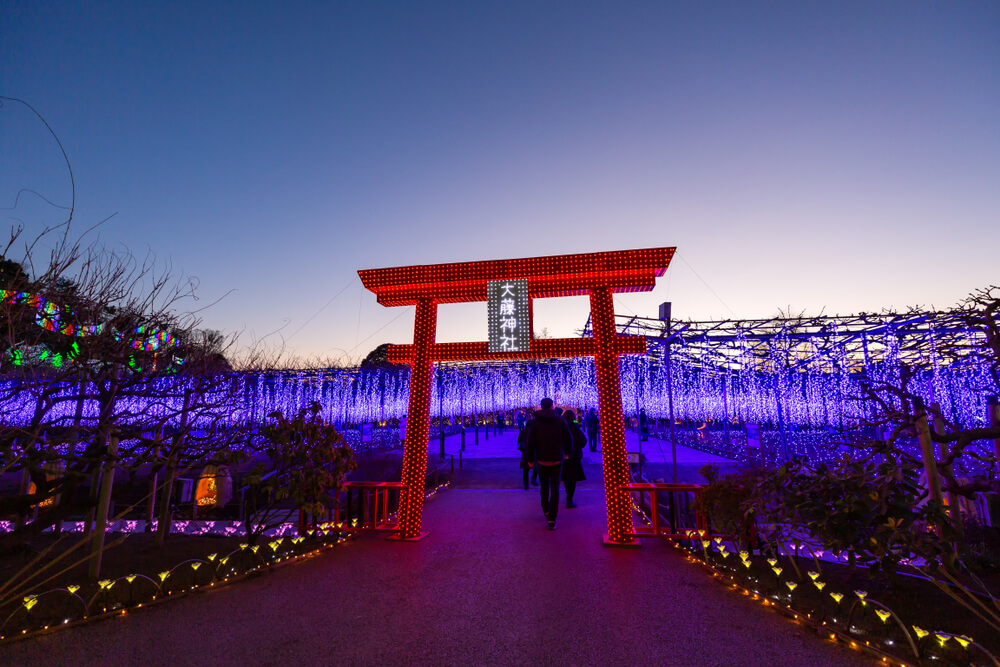 Walk beneath bright wisteria 'blooms' at the Ashigaka Flower Fantasy Illumination.
2. Hakodate Winter Festival, Hokkaido
Hakodate is one of Japan's most picturesque cities, with a stunning night view from the top of Mount Hakodate.
Every winter, the city displays a number of illuminations across town, the most prominent feature being Goryokaku Fort. The star-shaped fort is Hakodate's most popular tourist attraction, and was Japan's first ever western-style fort.
During spring, the park is a riot of gorgeous pink cherry blossoms.
However, during the winter time, its unique star shape is shown to best advantage by clever winter illuminations.
Viewed from the Goyokaku Tower, it's a sight worth seeing.
Visit Hakodate on our Tsugaru and Shimokita Trail tour.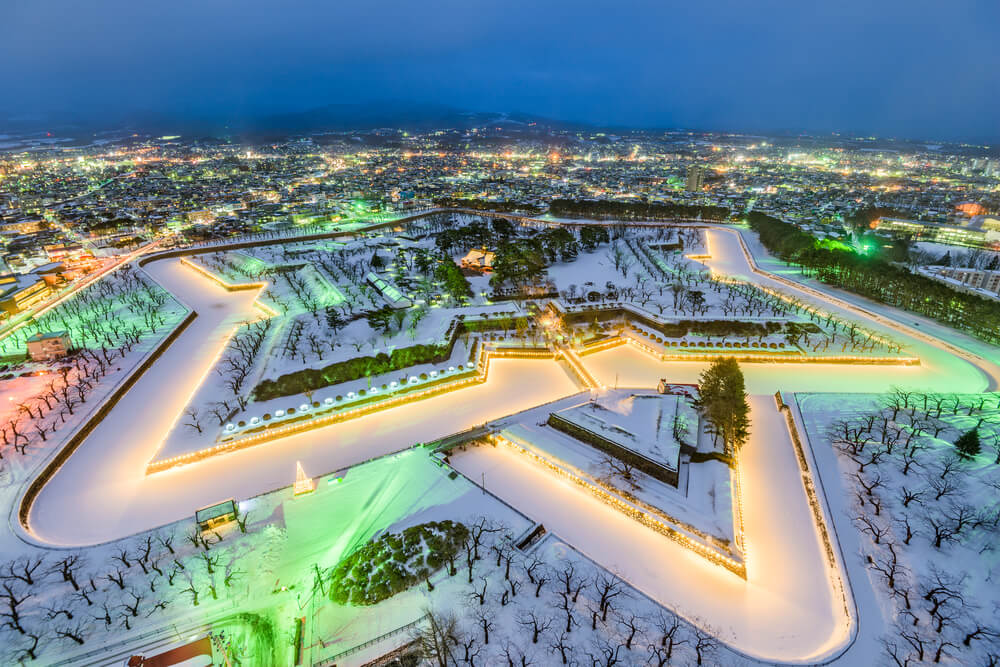 Fort Goyokaku is one of the best places to go in Hakodate, and is lit up beautifully during the Hakodate Winter Festival.
3. Caretta Shiodome Illumination, Tokyo
As Japan's largest city, you can expect to see stunning winter illuminations everywhere you go in Tokyo.
However, one of the most popular is the Caretta Shiodome Illumination.
The Caretta Shiodome itself is a huge 40-something storey shopping complex, with easy access from Ginza or Tsukiji stations.
Each year the display is held in front of the complex, and is usually in collaboration with a Disney film (2018-19 saw Frozen and Tangled both featured) for extra fun and sparkle. In 2020, the Disney film of choice will be Aladdin, so be prepared for a truly magical winter illumination display!
Another display worth visiting is the 2km-long Meguro-gawa Minna no Illumination, where pink LED lights strung across the bare branches of cherry trees are used to resemble blossoms. So even in winter you can still find beautiful cherry blossoms!
Start and finish your holiday in Tokyo with our Traditional Japan by Rail tour.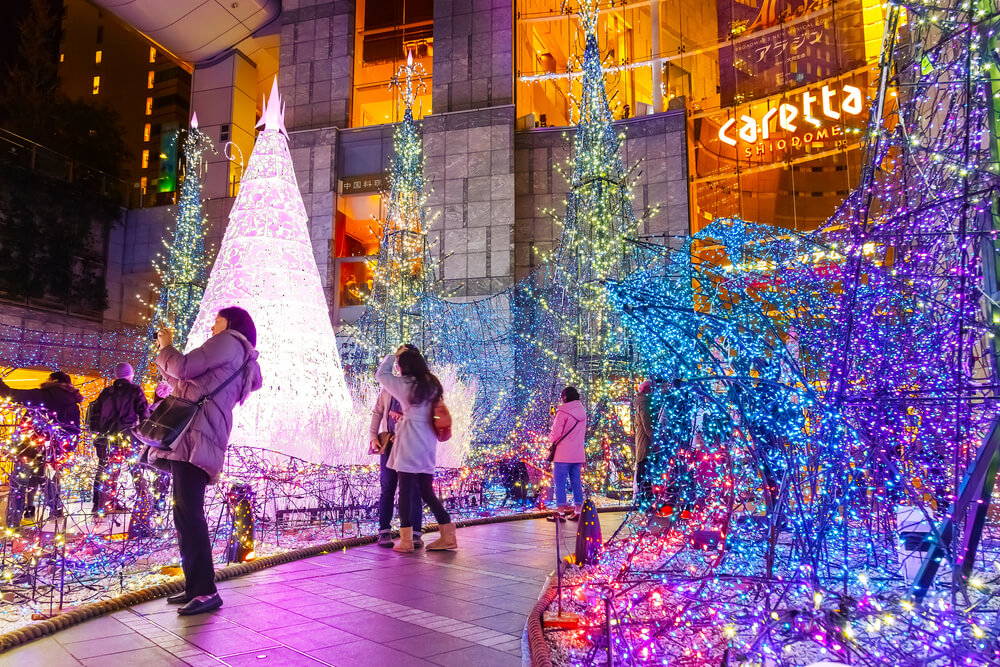 Wondering what to do in Tokyo? The Caretta Shiodome Illumination is one of Tokyo's most popular illumination events.
4. Nabana no Sato, Nagoya
This is one of Japan's most photogenic light festivals. In fact, you've probably seen images of the Nabana no Sato on your Insta feed, joyful tourists standing in a long, illuminated tunnel.
There are seven different displays at the Nabana no Sato, and there are a whopping 8 million LED lights used throughout the entire illumination.
There are two separate light tunnels, each over 100m long, and walking through these tunnels is an enchanting experience all on its own.
One of the other great things about the Nabana no Sato is its relatively long season, which lasts from October to the first week of May, giving you plenty of time to see these stunning light installations for yourself.
Visit Nagoya on our Aromas of Japan tour.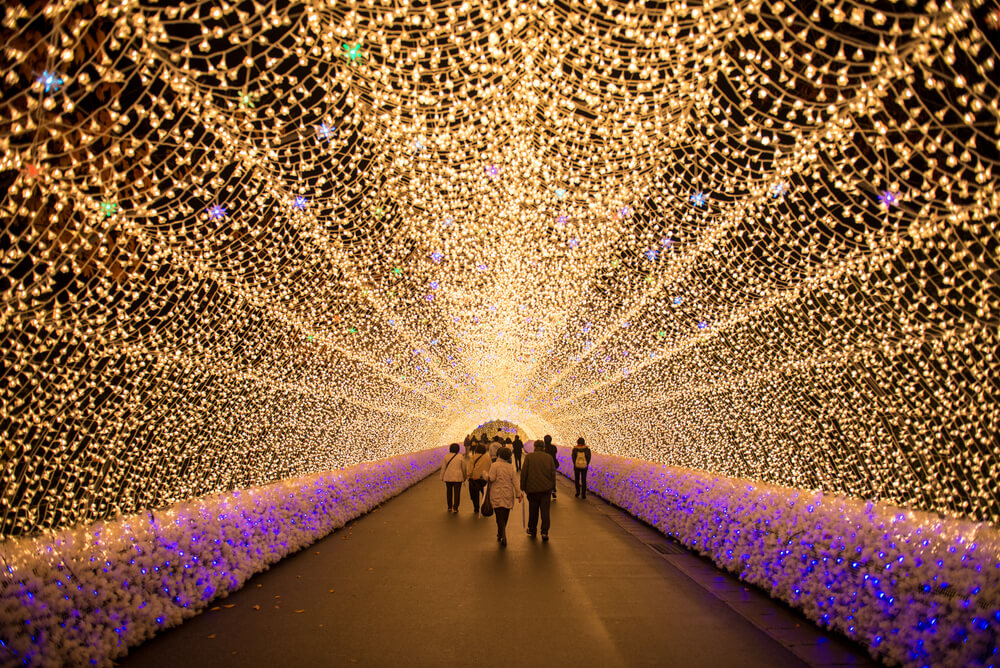 One of Nabana no Sato's famous tunnels of light.
Kobe Luminarie, Kobe
Did you know that this famous light festival actually began as a commemorative event for the victims of the 1995 Great Hanshin earthquake?
The lights were donated by the Italian government, and each year, the hand-painted lights are displayed for a period of 2 weeks near Motomachi Station.
After the 1995 earthquake, many people were without electricity and gas. So the lights came to symbolise hope and recovery.
Originally, it was meant to be a one-off event to raise money and give people hope; but the event proved so popular that it has continued to run for the last 25 years.
It is one of Japan's most beautiful, and touching, winter illuminations.
Visit Kobe with our Kobe Sightseeing and Nada Brewery day tour.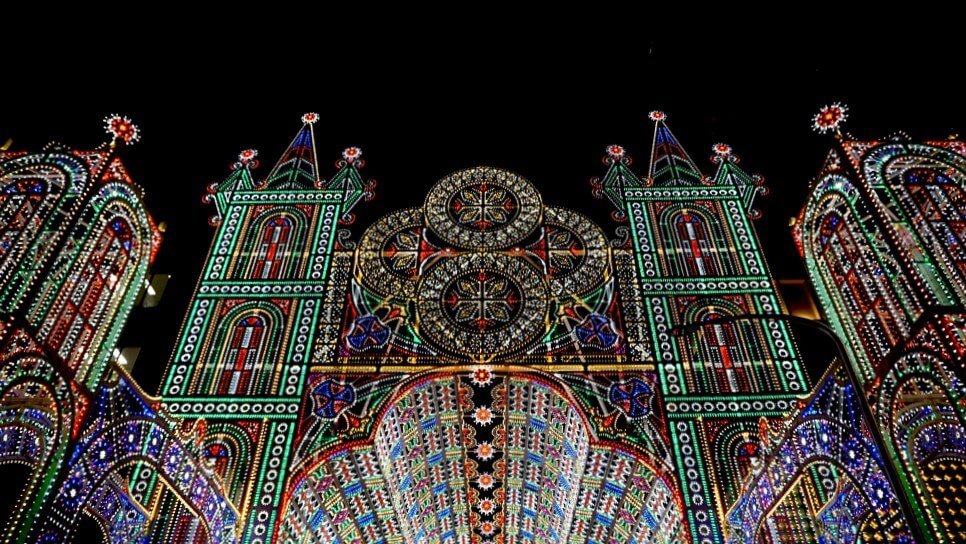 The Kobe Luminarie is Japan's longest-running illumination event, having been started in 1995.
Have these stunning winter illuminations got you inspired to plan your own Japan winter holiday? Are you ready to fill your own Insta feed with stunning winter illuminations?
You can book any of our tours through your local travel agent.
Otherwise, feel free to connect with us online or you can call us on 1300-680-057 to talk to one of our Japan experts.
Don't forget to sign up to our newsletter to get the latest news on all our hot offers and promos, and to stay in touch on Instagram and Facebook. For travel agents, feel free to follow us on Linkedin.
Happy travels!