Tucked up in the most Northern part of Japan is the winter wonderland of Hokkaido! Some of Japan's most famous ski resorts are located in Hokkaido as well as some truly amazing snow festivals, including the Sapporo Snow Festival and the Otaru Light Festival. With beautiful sights, food and snow, winter truly is the best time to travel to Hokkaido!
From Humble Beginnings to Truckloads of Snow
Although the Sapporo Snow Festival celebrated its 70th anniversary in 2019, the beginnings of this festival were quite humble. Originally, it started with huge snowball fights and 6 sculptures built by junior and high school students. In 1953, the first giant sculpture was built by high school students. Previously, the height limitation had been set at 7-metres, but these students constructed a 15-metre structure called shoten (ascension).
Nowadays, the Sapporo Snow Festival has 3 different sites, approximately 200 sculptures to see, and about 2000 people are involved – including volunteers and the Ground Self Defence Force. Being a part of the Sapporo Snow Festival is considered a part of the strength and endurance training for the Ground Self Defence Force. The three sites of the festival are Odori Park, Susukino and Tsudome. The Odori and Susukino sites only operate for one week, whereas the Tsudome is a two-week family fun snow park.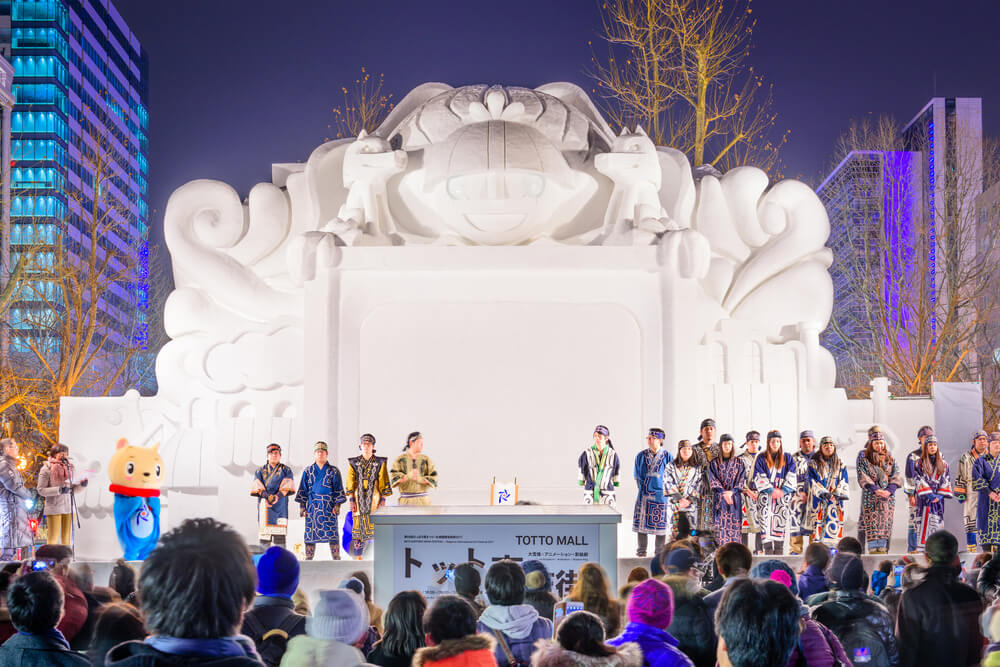 These sculptures are truly impressive and highly detailed, they're definitely with a visit.
Where does the snow come from? When the festival first began, people would throw snow they shovelled from the streets and houses into Odori park, and that's what the students used to create the first snowy masterpieces. As the Sapporo Snow festival grew more popular and the sculptures increased in size, they had to change the snow that they used. The snow off the streets contains too much dirt and falls apart easily, which isn't ideal in sculptures of 15 metres.
Nowadays, approximately 6,000 five-tonne trucks drive from all over Sapporo to deliver about 30,000 tonnes of pure snow. Large sculptures are built by the Ground Defence Force and are roughly 15 metres tall, and use 500 five-tonne truckloads of snow to create. These sculptures can be anything; from pop culture characters to buildings from around the world. They are truly amazing and full of detail.
Medium sculptures are made by citizen groups and are under 10 metres in height, using about 300 five-tonne trucks of snow while the smaller sculptures are 2 metres and use 2 five-tonne loads of snow. The largest sculpture the festival has seen so far was a 25-metre statue of Gulliver in 1972, just in time for the Winter Olympics.
Regardless of the size, when you're looking up at these masterpieces it's easy to see why the festival is considered one of the best things to do in Sapporo.
The sculptures are crafted using a variety of materials, including scaffolding, shovels, machetes, saws, chisels, scrapers and water. That's right! They use water to spray these monuments and prevent them from freezing. Unfortunately, due to safety, if a structure starts to melt, they will have to deconstruct it, even if that happens during the middle of the festival!
Apart from these truly remarkable sculptures, the Sapporo Snow Festival has a lot of events on offer, including performances, ice skating and snow sport competitions. The Odori site is where you will find the large sculptures, along a 1.5-kilometre walk with entertainment along the way.
The Susukino site is located in the party hub of Sapporo and contains ice sculptures, which are illuminated at night.
Tsudome is a family fun park with snow slides, rafts and more. Tsudome isn't centrally located, so you will need to catch a bus to visit it.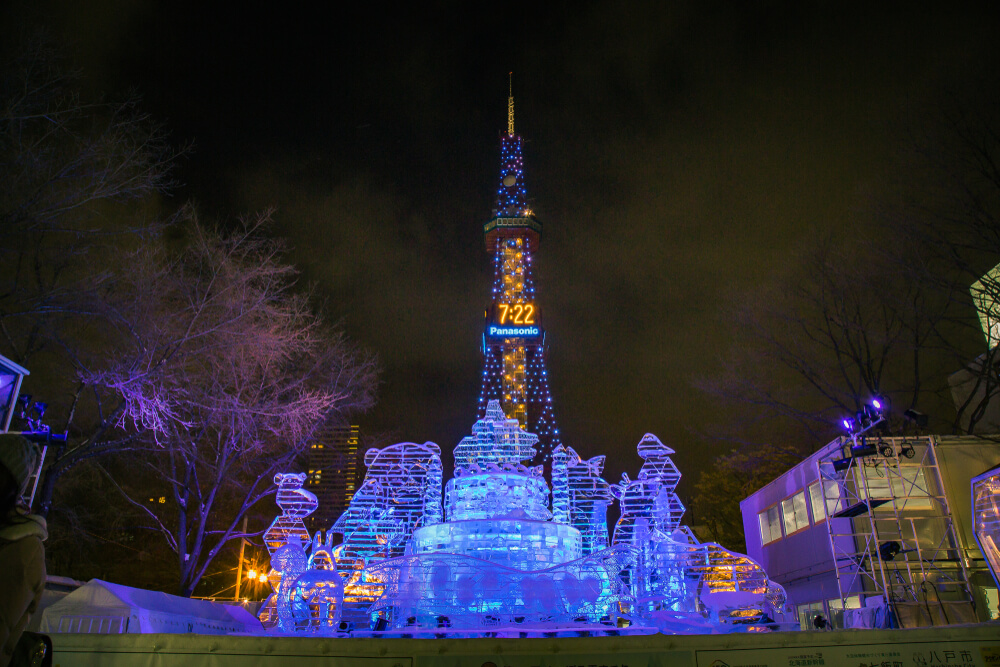 The Sapporo TV Tower is the perfect place to look out over the Odori site.
A Time to Reconnect
Around the same time is the Otaru Light Festival. Although the Otaru Light Festival is considerably smaller than the Sapporo Snow Festival, it's not a festival to overlook. Held in the romantic town of Otaru, this festival started in 1999 and features over 100,000 brightly lit candles throughout the city. The festival attracts around 500,000 people every year and is a great addition to any Japan trip.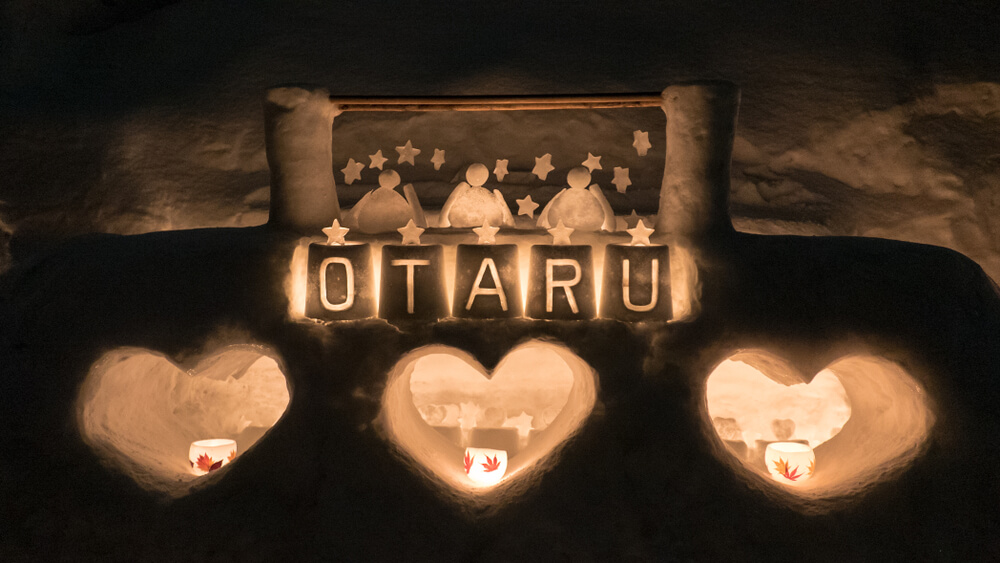 The Otaru Light Festival is truly well kept by visitors and volunteers alike.
There are two main areas of the Otaru Light Festival: The Otaru Canal and the Temiya Railway Line, although don't be surprised to find more. All around the city locals take to making their own little nooks to fill with candles or snow art. The Otaru Canal is 300 meters long and is an absolutely stunning view at night. Candles in handmade holders float down the canal, which you can enjoy while walking on a pathway full of heart-warming sculptures
The old Temiya Railway line was first built in 1880 as part of the first railway line in Hokkaido. It was closed in 1985, but during the Otaru Light Festival the 500-metre-long walkway is decorated with beautiful statues and lights. While walking amongst these artworks, take your time and enjoy the peace and serenity.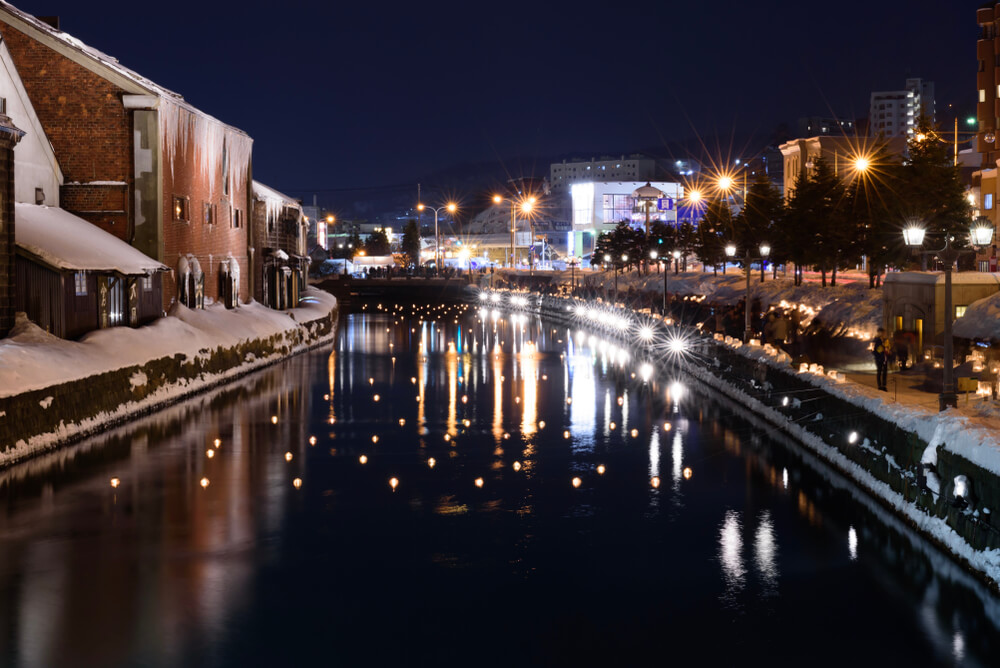 The Otaru canal is a particularly beautiful sight during the Otaru Light Festival.
Volunteers from Japan and the rest of the world help keep this little festival alive, and when a big gust blows out all the candles, those volunteers will make sure they are relit. All of the snow art is made by hand, and an aspect of this festival is to reflect, forget about our daily lives, and get lost in the candlelight.
Our advice to best enjoy Hokkaido's climate
Hokkaido is terrifically chilly, with temperatures in Sapporo often falling below zero during the day, so pack your best winter clothes. If you find that even your warmest clothes aren't doing the trick, there are many stores to buy functional and fashionable winter wear for your Japan trip.
As Hokkaido has a lot of snow, the streets are generally icy. Slipping is a very common event to experience during both festivals, so investing in snow boots or snow spikes that attach to the bottom of your shoes might prove to be a worthwhile investment. Many locals tend to walk by shuffling their feet, especially on the slippery parts.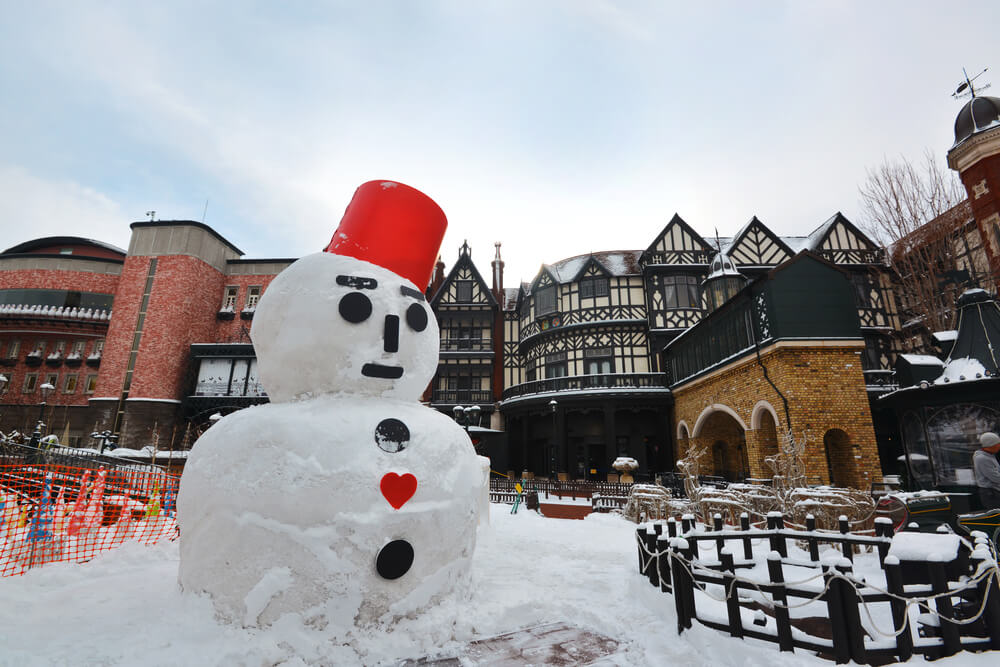 Dress warm and avoid turning into our snowy friend!
When you're feeling the chill in your bones, jump into one of the many amazing restaurants. Otaru is famous for its fresh, local seafood, whereas Hokkaido is famous for soup curry. Packed with vegetables and delicious flavours, make sure you grab a bowl of this tummy-warming goodness during your visit.
This year the Sapporo Snow Festival is on from January 31st to February 11th, while the Otaru Light Festival is from the 8th to 16th of February. Booking your flights and accommodation early is recommended, so feel free to call us on 1300-680-057 or connect with us online to chat with one of our great travel specialists.
Don't forget to sign up to our newsletter to get the latest news on all our hot offers and promos, and to stay in touch on Instagram and Facebook. For travel agents, feel free to follow us on Linkedin.
Happy travels!