When I told my Japanese friends that I was taking a trip to Aomori, the northernmost prefectural city in Honshu, they looked at me with mixed expressions of confusion.
"But, why?" was the question my Japan travel plans were met with. "What is there to do in Aomori?"
Because even for local Japanese tourists, Aomori isn't on a lot of peoples' travel bucket lists.
But Aomori's apparent obscurity is what makes it such a great destination to visit. The fact that it's a relatively mysterious little town compared to the big names of Tokyo, Kyoto and Osaka makes it an even more desirable travel destination; especially for those wanting to get off the tourist trail to see a different side of Japan beyond the big cities and the hordes of tourists. It's a laid-back, friendly, easy-going place that is filled with unending surprises and unexpected treasures.
Aomori is bursting with history, there's more fresh seafood than you can poke a fishing rod at, and it's here where you'll find some of Japan's most breathtakingly beautiful landscapes.
So, where are the best places to go in Aomori?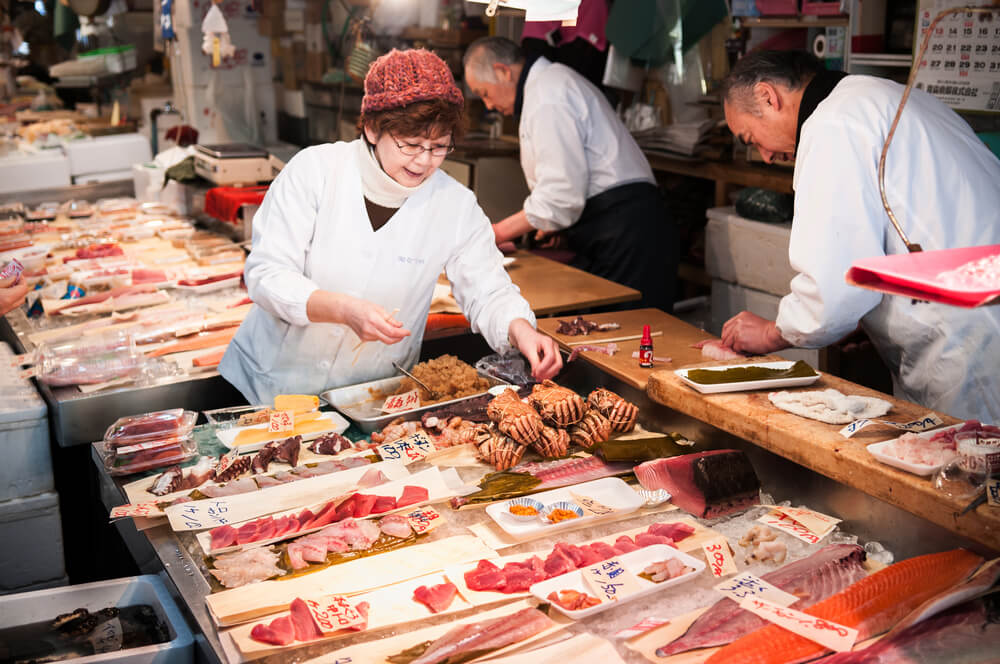 Love fresh seafood? Then you'll love Aomori. Furukawa Fish Market in Aomori city has fresh-caught seafood aplenty.
1. Nebuta Warasse
If you're wondering where to go in Japan, Aomori is a great addition to your Japan holiday for a number of reasons.
The Aomori Nebuta Matsuri (Nebuta Festival) is one of Japan's best summer festivals, and is a great reason to book a Japan trip on its own! Held in August every year, the festival features a parade of hand-made floats that are made from washi paper and lit from within. Their vibrant colours and incredibly intricate designs come alive after dark, and they're a truly spectacular sight.
But if you can't make the festival a part of your Japan tour, then make sure you check out the Nebuta Warasse festival museum.
The museum features a number of floats on display, and has information about the history of the parade. There are also a number of displays that show how the floats are painstakingly designed and created.
If you're lucky, you'll be able to watch and take part in a demonstration of traditional festival music and dances.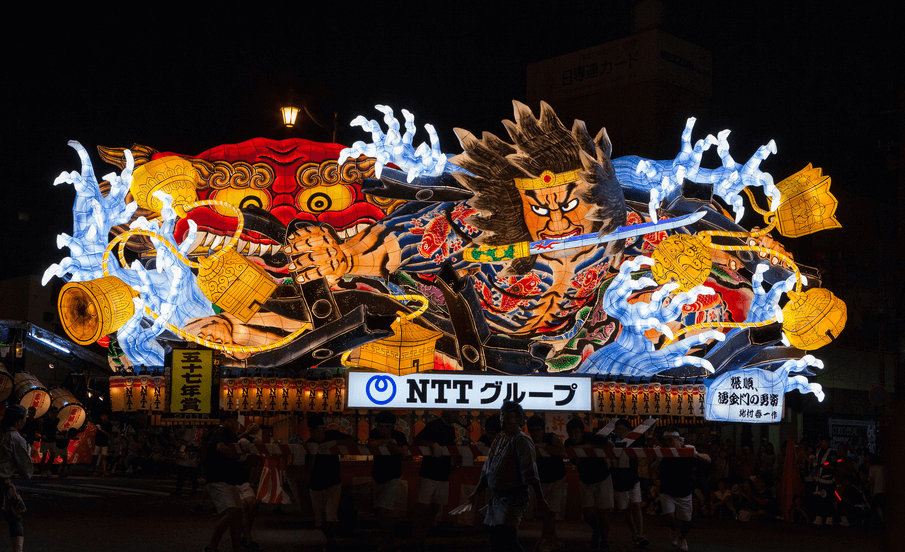 The scale of the Nebuta floats is what makes their skill and craftsmanship that much more incredible. If you can't make the festival, make sure you include the festival museum as part of your Aomori travel plans.
2. Sannai Maruyama Archaeological Site
Attention all history buffs: if you love Japanese history, or just ancient history in general, make sure you visit the Sannai Maruyama site.
This is an archaeological dig site just outside of Aomori city which features reconstructed 'pit dwellings' from the Jomon era, which you can actually enter.
The most enthralling part of a visit to Sannai Maruyama is that you can actually see the original archaeological dig sites. Protected by metal housing, you can enter these sites to see just what the archaeological teams discovered during their excavations. Seeing ancient artefacts like this in such a setting lets you imagine just how thrilling it would have been to be a part of the excavation process, uncovering artefacts and structures that date all the way back to 3900BCE.
Next to the site there is also a fascinating museum that features hundreds of excavated items, as well as tableaus of what Jomon life would have been like for ancient Japanese people.
There's also a restaurant that serves Jomon-style food – with the addition of soft serve ice creams, of course (this is still Japan, after all!).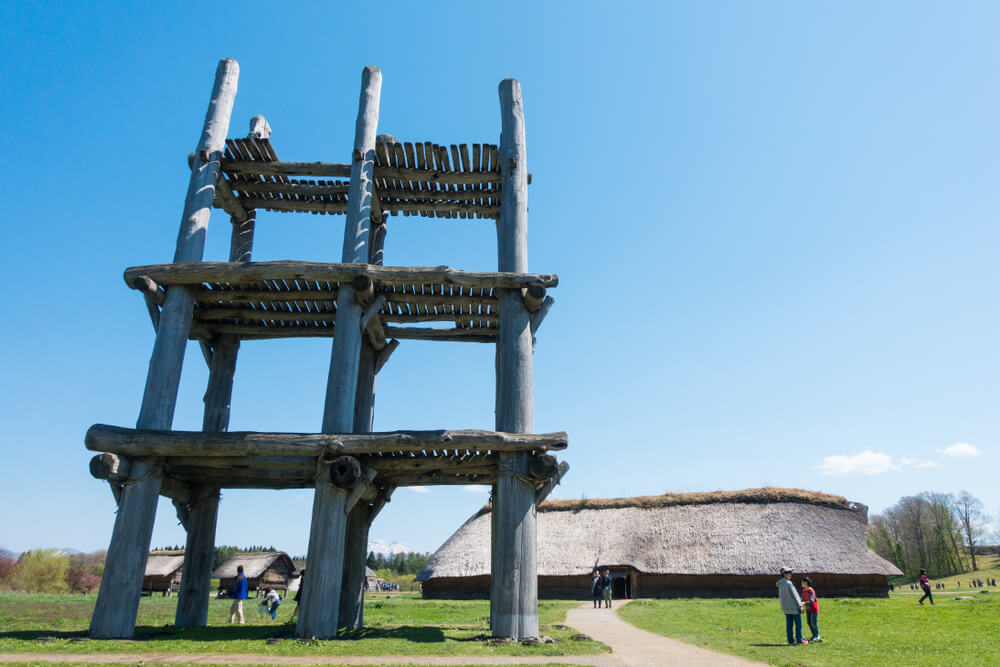 There is no clear indication of what this massive structure at the Sannai Maruyama site may once have been used for. Its massive size only adds to its mystery!
3. Lake Towada and Oirase Stream
Oirase Stream in Aomori prefecture is one of Japan's most picturesque nature spots, and is known throughout the country for its absolutely spectacular autumn colours.
Oirase Stream is the only drainage outlet of Lake Towada, which happens to be Honshu's largest caldera lake.
You can hike to and from the lake along the Oirase Stream, and there are sightseeing boats that offer pleasant, scenic cruises across the lake – a great excuse for a rest after a long hike!
If you prefer hiking trails to poolside cocktails, then consider booking our Tsugaru and Shimokita Trail tour to see Oirase Stream (among other amazing spots in Aomori prefecture) for yourself.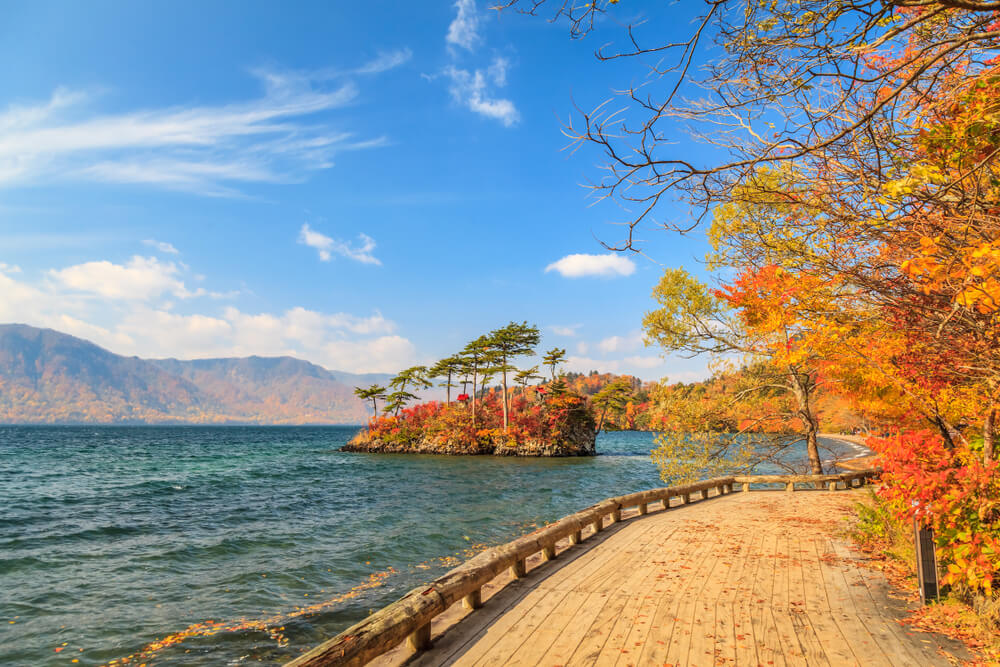 Wondering where to go in Japan? Lake Towada is Honshu's largest caldera lake, and is a truly spectacular sight during autumn. Add this spot to your Japan travel plans!
4. Hirosaki
During the Edo period (1603 – 1868), this castle town was a political and cultural hub. Today, Hirosaki is a quiet little town steeped in history that makes for a great day trip from Aomori city.
Hirosaki is most famous for its original, and very picturesque, feudal age castle. Japan has only twelve remaining original medieval castles; and though Hirosaki Castle is relatively small, there is something humbly elegant in this three-storied castle's design. During cherry blossom season, the castle grounds attract massive crowds year after year, and the castle moat turns pink with fallen blossoms.
On your Hirosaki day trip, don't forget to check out the preserved samurai district, the Zen temple area, and the Saishoin Five-Storied Pagoda.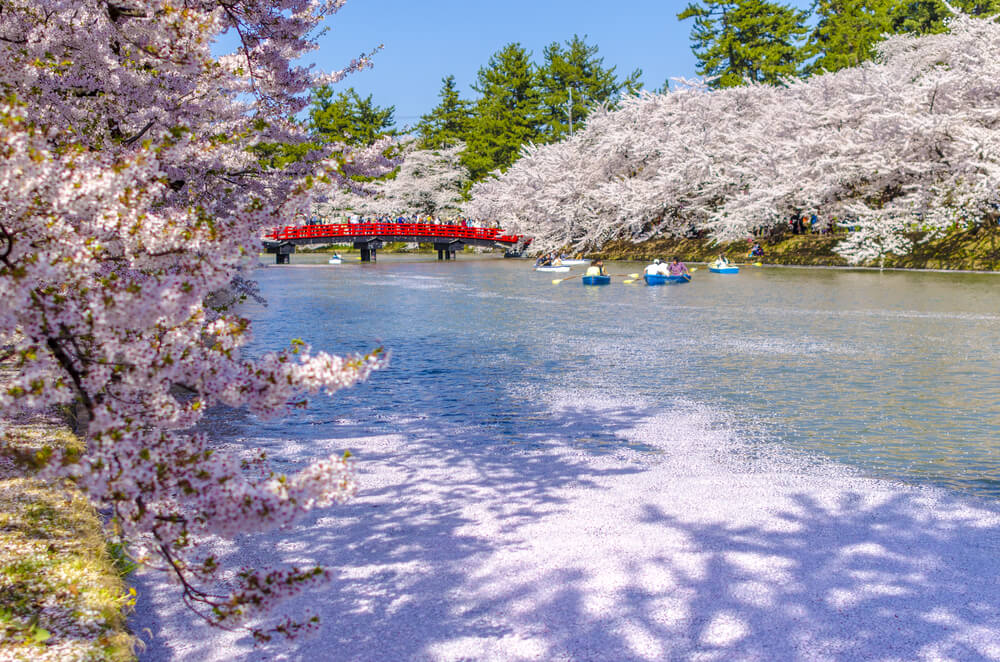 Hirosaki is especially popular during cherry blossom season, but is equally beautiful in autumn and summer. During winter, you can see the Snow Lantern festival held in the castle park grounds.
5. Shimokita Peninsula, Cape Oma and Osorezan
Another fantastic day trip from Aomori is the Shimokita Peninsula (Shimokita Hanto). This is the northernmost tip of the island of Honshu, and it's here where you'll find the fishing town of Cape Oma (Omasaki), famous across the country for its exceptionally high-quality tuna. On a clear day, you can see the island of Hokkaido from Cape Oma.
Along the Shimokita Peninsula you'll also find Osorezan, which is a name that translate as 'Fear Mountain'. As if the name itself wasn't a worthwhile reason to visit, the landscape here is bound to strike you speechless. This untamed, extraordinarily surreal place is one of Japan's tree most sacred places, as it is thought to look like Buddhist hell.
Here, the intense volcanic activity means that where the ground is not lush and green, it's barren and grey, and boiling hot water bursts from holes in the ground.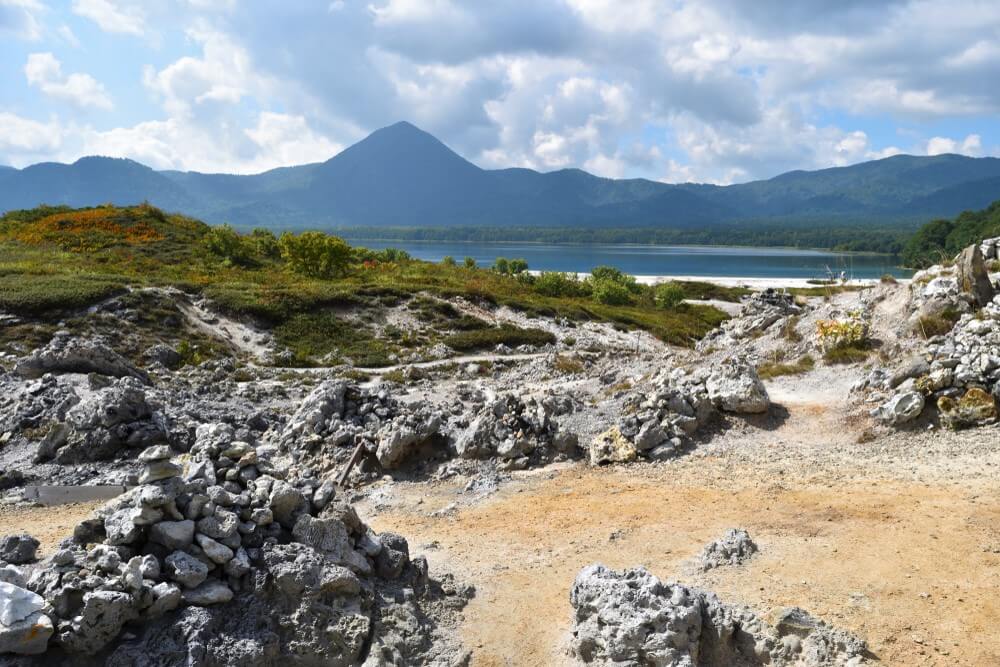 Osorezan is a juxtaposed landscape of lush greenery, startlingly blue sulfuric waters, and barren, rocky cliffs.
There are so many other places for you to explore in Aomori prefecture, and it's impossible for us to list all of them here; though we hope we've managed to inspire you to start planning your next Japan holiday!
Our popular Japan Explorer tour takes you all the way from Kyushu to South Korea to Aomori, where you have an entire day to explore Aomori city at leisure. But if you want more time to discover what Aomori prefecture has to offer, then think about joining our Tsugaru and Shimokita Trail tour, which also takes in Osorezan, Cape Oma and Hakodate in Hokkaido.
Otherwise, you can always visit our website to see what other Japan tours we have available, or contact our friendly staff to chat to them about the places they recommend.
Don't forget to sign up to our newsletter to stay in the loop with upcoming Japan holiday specials, and keep in touch with us on Facebook and Instagram.
Happy travels!