As Christmas approaches, our thoughts turn to loved ones and spending time with our nearest and dearest. It's a time for celebrating, sharing, gift giving and catching up with the people we love most.
Tomato Travel's way of celebrating the spirit of Christmas is by offering you, your friends and family a special travel promotion: the more people you book with us, the more you'll all save.
Book 1 – 3 people and save $100 per person.* Book 4 – 7 people and save $200 per person.* Book 8 or more people and save $400 per person.*
Sound good? Read on to find out more about our travel deal recommended Japan tours and the best places to go in Japan.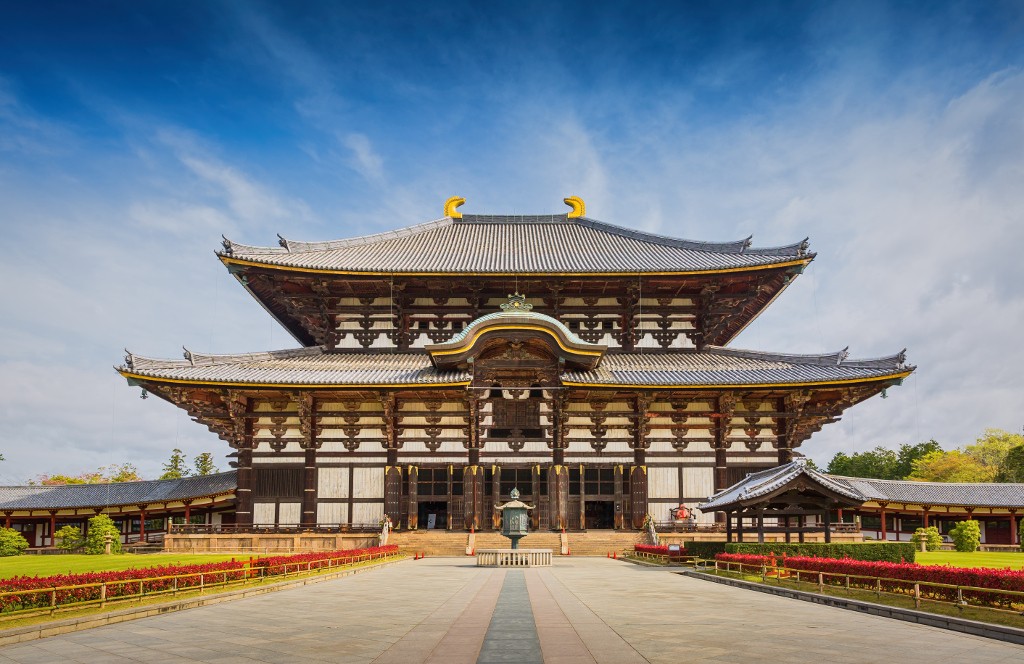 Visit Todaiji Temple in Nara, one of our top recommendations on where to go in Japan.
Days: 13
Cities: Tokyo, Mount Fuji area, Kyoto, Osaka, Nara, Hiroshima, Nagoya, Kanazawa.
Highlights: Views of Mount Fuji from Lake Kawaguchiko, strolling through the bamboo forest of Arashiyama, visiting Himeji Castle, and exploring the village of Shirakawa-go.
Perfect for: Travellers who are looking for an inclusive experience that offers some of the best sightseeing in Japan. A great Japan holiday for families and friends who are a after a high quality, value for money tour.
Stay in the Mount Fuji area and enjoy views of Mount Fuji from the shores of Lake Kawaguchiko.
Our Aromas of Japan tour is one of our signature Japan tours, and includes a wealth of cultural experiences that will leave you with unforgettable memories.
It is also one of our small group Japan tours, meaning there is a maximum of 20 guests on this tour. This gives you all of the benefits of a small group tour, which means a more personal relationship with your knowledgeable tour guide, the chance to meet like-minded people, and more intimate cultural experiences.
This trip takes in some of the most famous Japanese landmarks, as well as some destinations that are a little off the regular tourist trail – such as Takayama, Iga, and Kanazawa.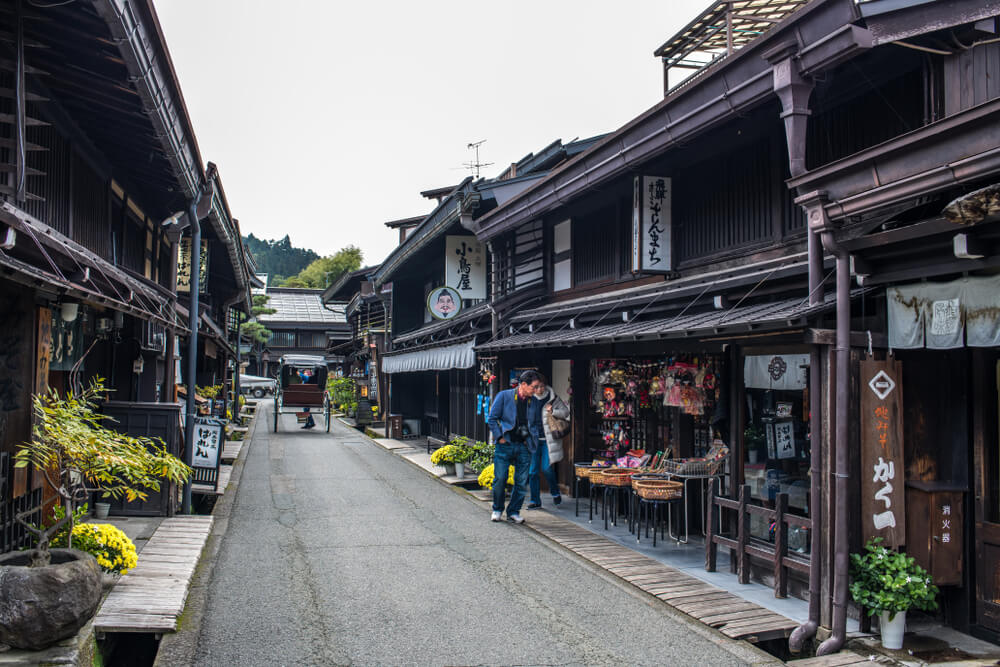 Stroll the streets of Takayama's Old Town and enjoy a trip back in time to the Edo period!
This tour isn't called 'Aromas of Japan' for nothing. It includes breakfast daily, as well as two lunches and four special dinners. You'll experience true Japanese hospitality at a Japanese ryokan (traditional inn) and enjoy a special Japanese meal. In Kyoto, you'll have the enviable chance to watch a maiko performance while you enjoy your dinner. You'll also get to experience a Japanese-style BBQ in Nagoya, and a kaiseki ryori (multi-course Japanese haute cuisine) farewell dinner in Kanazawa.
Plus, we've also included some very special tasting experiences on this tour, including a sake tasting in Takayama and a tour through the exclusive Suntory Yamazaki Distillery in Kyoto.
Does this sound like a great way to see Japan with the whole family? Book our Aromas of Japan tour and save up to $400 per person.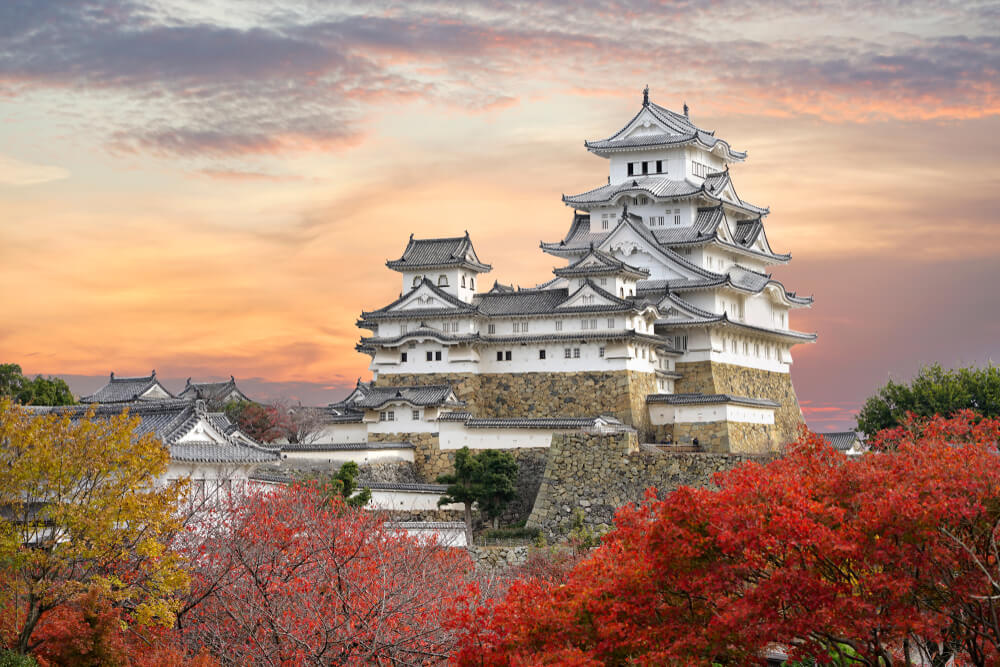 Visit an iconic Japanese landmark and the most famous of Japan's original feudal era castles, Himeji Castle.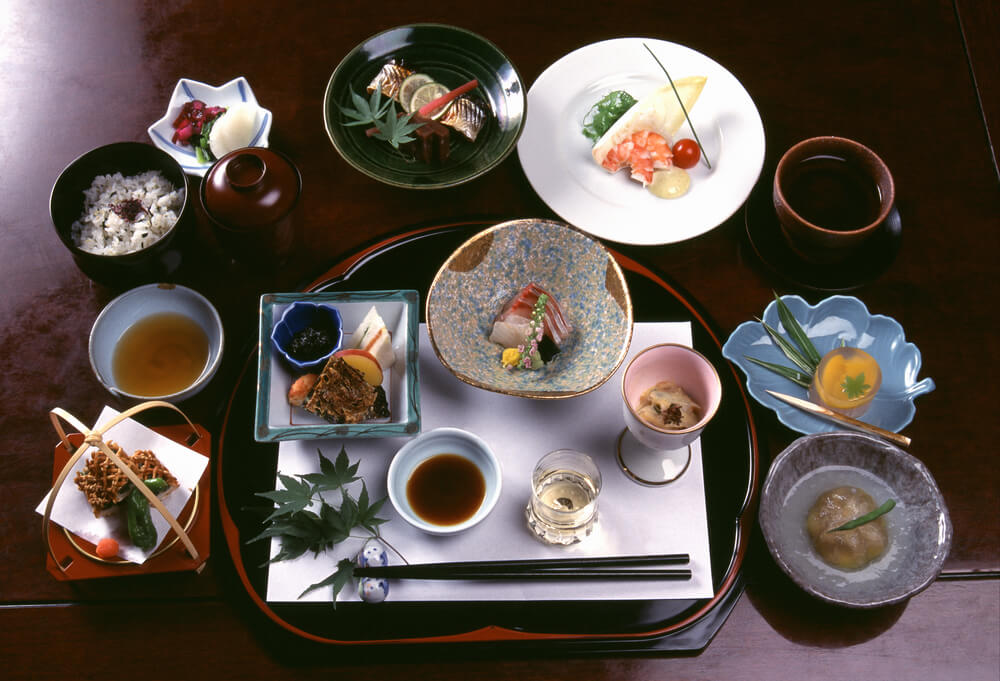 Enjoy a traditional kaiseki ryori meal and gain an appreciation for Japanese fine dining on our Aromas of Japan tour.
Days: 10
Cities: Kyoto, Tokyo.
Highlights: Hiking Mount Hiei, cycling through the ancient town of Uji, enjoying a local sake tasting experience, and visiting iconic Kyoto landmarks such as Fushimi Inari Taisha and Kinkakuji.
Perfect for: Friends or families who love the great outdoors and sharing adventurous holidays together.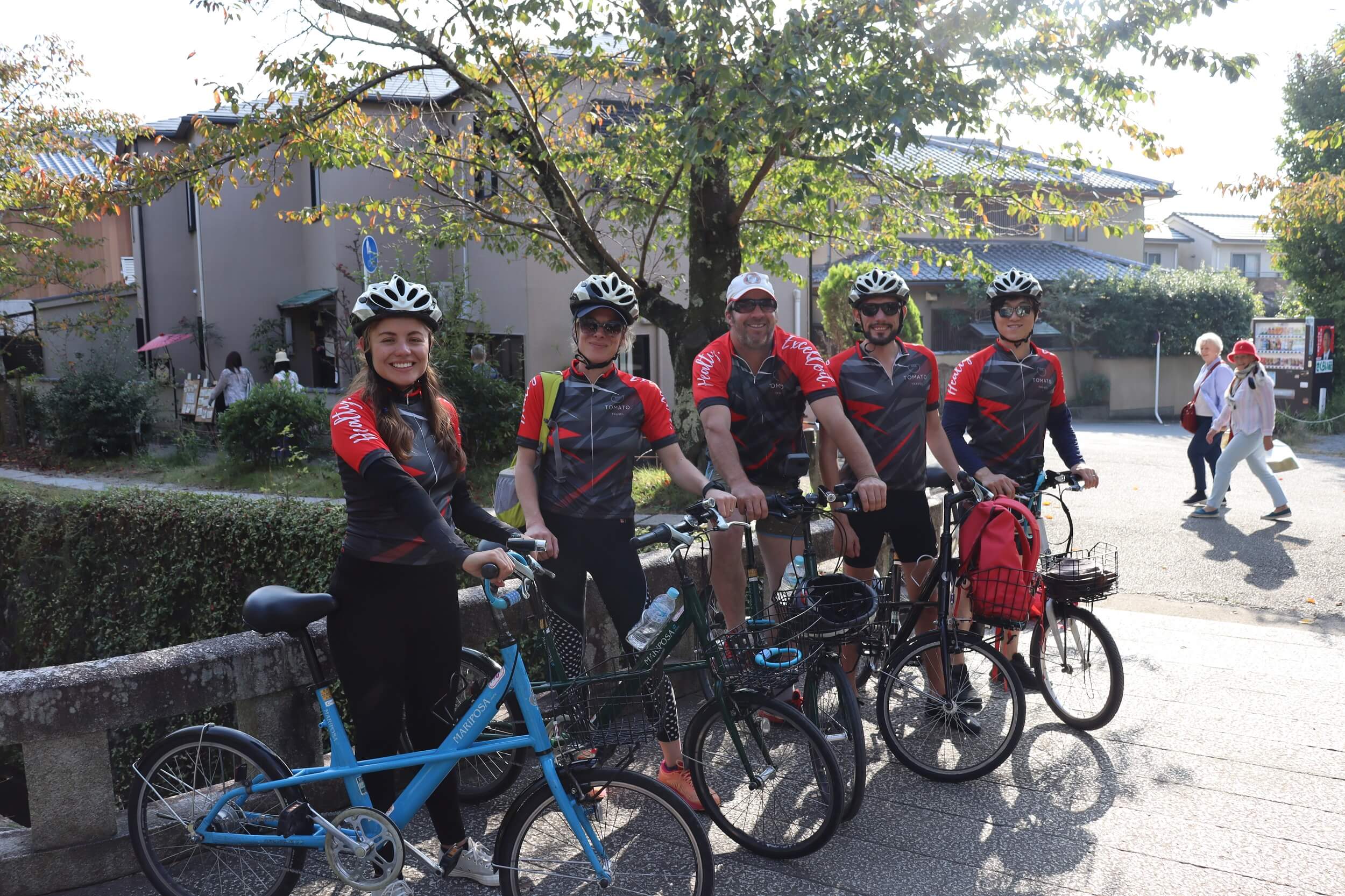 Our customers agree that seeing Kyoto by bike is one of the best ways to travel.
While some people might dream of a relaxing vacation spent at an all-inclusive resort, others are much happier with the idea of a family holiday that entertains as much as it educates.
It's not like your kids will ever remember their best day of video games and telly, right?
What they will definitely remember is the family holiday in Japan where you were able to cycle through Kyoto's beautifully preserved city streets and through its lush, enchanting countryside.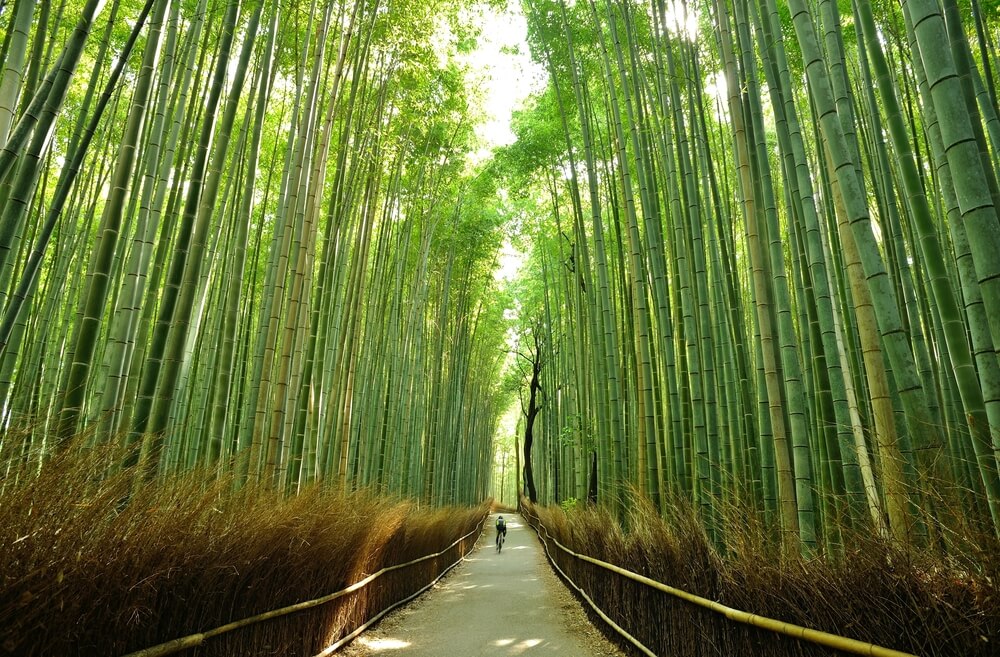 Go cycling in Japan and visit Arashiyama's famous bamboo grove
For those of us who don't have kids but are still keen to get out and about, why not gather your best buds and book an unforgettable Japan cycling holiday together?
Cycling through Kyoto is one of the best ways to see the area. It gives you the opportunity to really experience the landscape up close, and will help give you a better understanding of the local culture.
Our Tour de Kyoto includes some truly memorable experiences – such as a hike up Mount Hiei for stunning views of Kyoto city, a sake tasting at the Gekkeikan Sake Museum and a bike ride through the historic town of Uji.
This tour also has a maximum group size of 12 people, so you'll be able to enjoy all the benefits of a small group tour.
Please note that the minimum age for this tour is 14 years old.
Does this sound like your perfect Japan escape? Book our Tour de Kyoto tour and save up to $400 per person.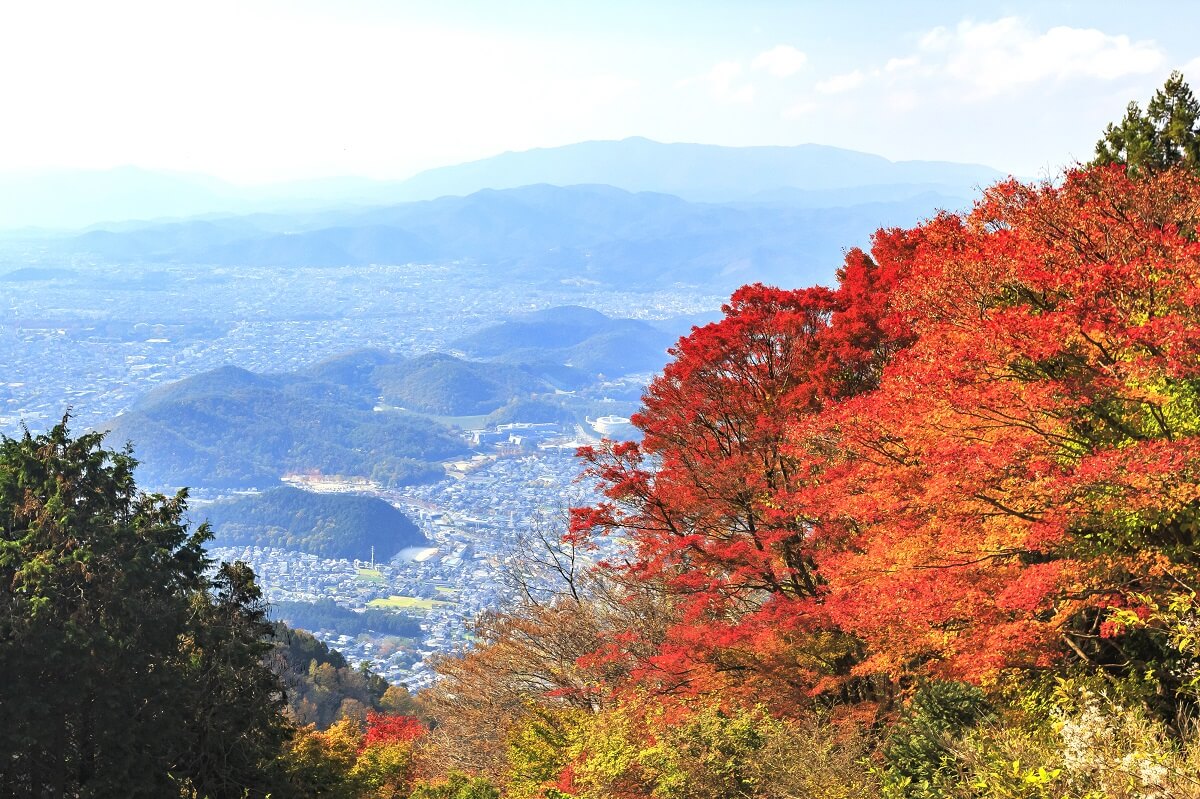 Ever dreamed of going hiking in Japan? Hike Mount Hiei for incredible views of Kyoto.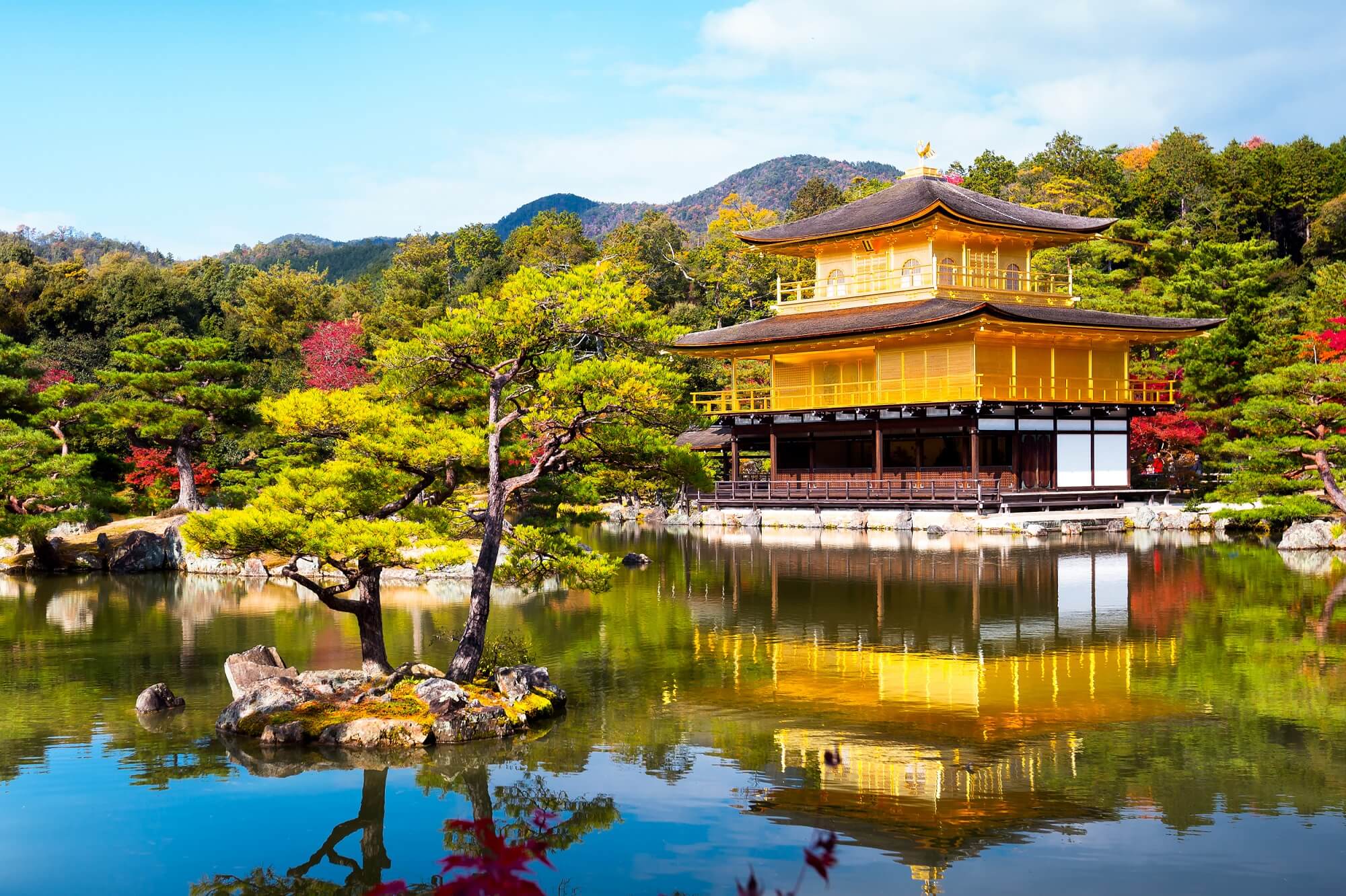 See one of the most famous tourist destinations in Kyoto, Kinkakuji, otherwise known as the Golden Pavilion.
Days: 19
Cities: Osaka, Nara, Kyoto, Tokyo, Mount Fuji area, Kobe, Kochi, Kagoshima, Busan (South Korea), Aomori, Yokohama.
Highlights: Cruising in style on the fabulous Celebrity Millennium, enjoying different views of Mount Fuji, seeing the active Sakurajima volcano in Kagoshima, and taking in some of Japan's most famous landmarks.
Perfect for: Families or couples who want to get the absolute most out of their Japan holiday.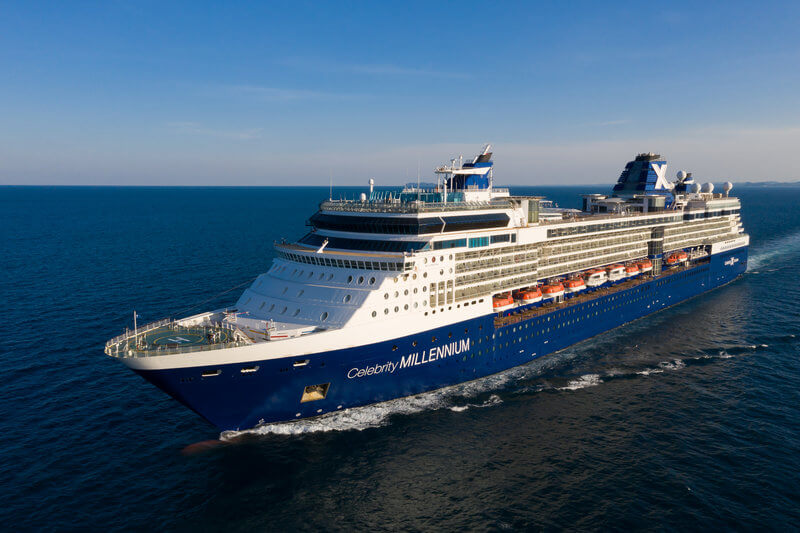 Cruise in style on the luxurious Millennium Celebrity cruise ship!
This is the tour that has it all.
Our Japan Grand Tour and Cruising package allows you to see Japan in a totally new way, and gives you plenty of time to do it.
Begin your trip by coach with stops in Osaka, Kyoto, Nara, Mount Fuji and Tokyo and take in some of Japan's most iconic sites. Then, you'll board your ship for a leisurely cruise down the coast of Japan.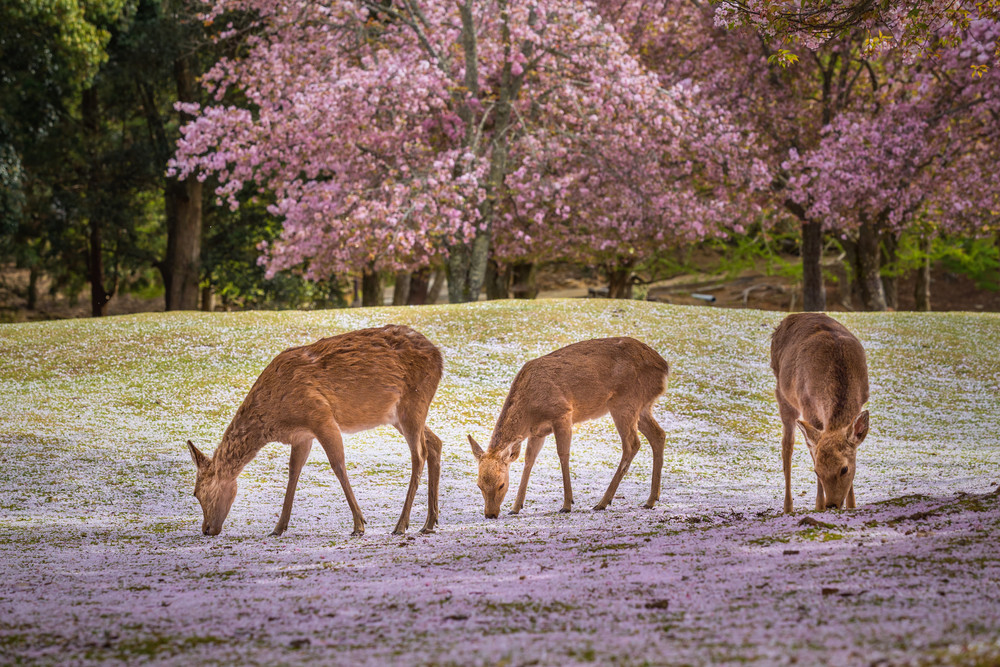 Feed the deer in Nara Park and see the famous Todaiji Temple.
There are a lot of benefits to cruising:
You only have to unpack your bag once
The ship travels from point to point at night, so you'll wake up in a new destination each morning
You get an entire day to explore each new port of call
Meals are included
There are loads of activities on board to keep kids occupied during those days at sea.
Your cruise ship will also be able to take you effortlessly to some of Japan's lesser-known destinations, such as Kochi and Kagoshima, as well as take you all the way to Busan in South Korea.
Then, it's a leisurely cruise back to Northern Japan, where you'll dock in Aomori. After this, you'll have a few more relaxing days at sea as you cruise back to Yokohama before your homeward flight.
This is another reason why cruising is such a great option – driving or even taking the (admittedly fantastic) Japanese public transport system would not allow you to see all these sights in a reasonable amount of time, and with as little hassle!
Does a tour of Japan's most famous sights and a relaxing cruise sound like the perfect Japan holiday? Book our Japan Grand Tour and Cruise and save up to $400 per person.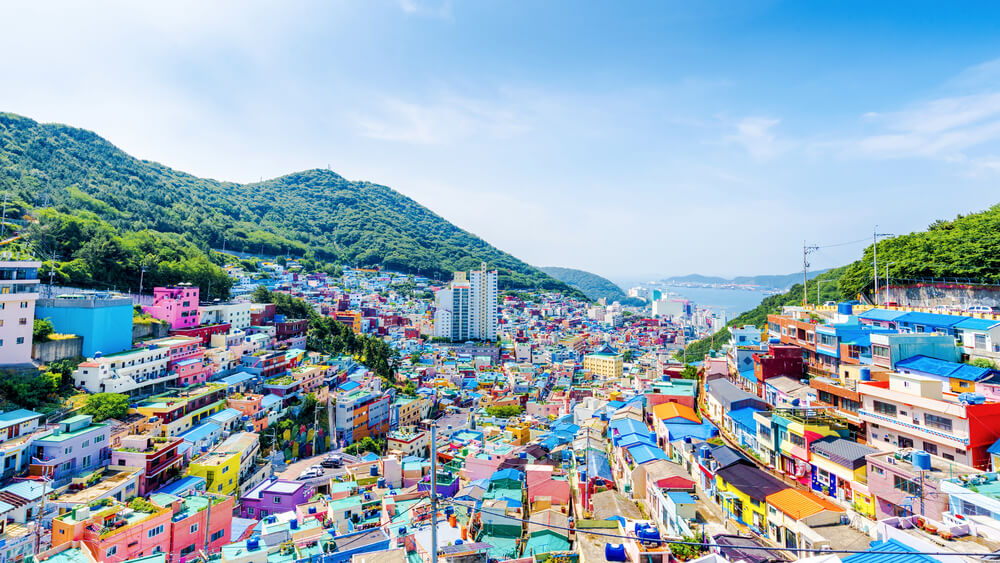 Busan Culture Village is a vibrant, colourful district in Busan known for cosy cafes and art galleries.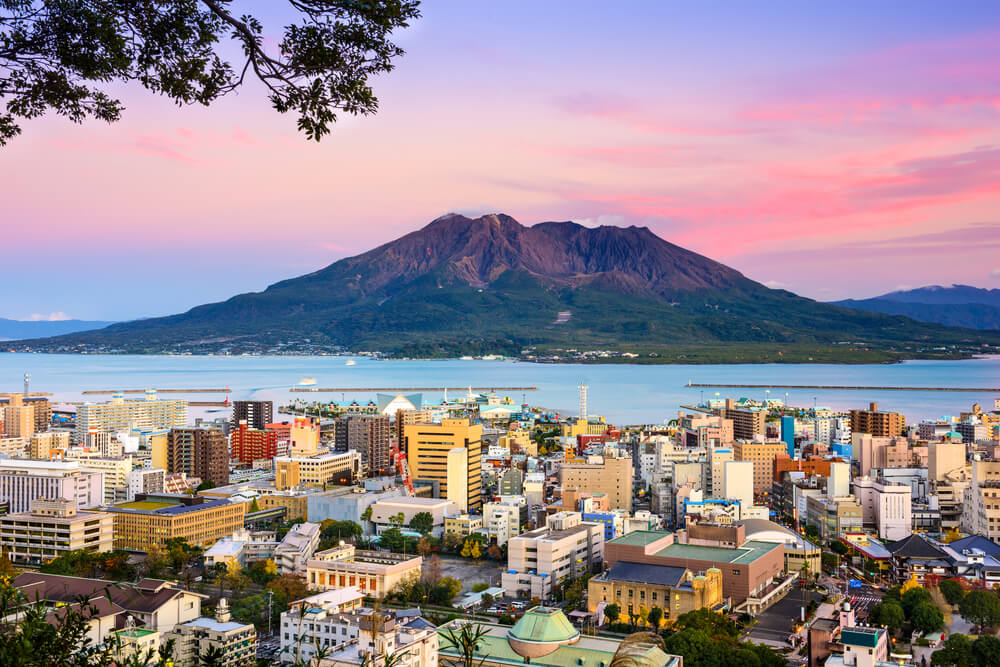 Sakurajima, an active volcano, is the icon of Kagoshima, Kyushu's southernmost major city.
Has this got you keen to gather the gang and book a holiday to Japan?
Take advantage of our special Christmas travel offer now until the 5th of January, 2020, and you could save up to $400 per person!
You can book any of our tours through your local travel agent.
Otherwise, feel free to can connect with us online or you can call us on 1300-680-057 to talk to one of our Japan experts.
Don't forget to sign up to our newsletter to get the latest news on all our hot offers and promos, and to stay in touch on Instagram and Facebook. For travel agents, feel free to follow us on Linkedin.
Happy travels!
*The promoter is Tomato Travel. Promotion commences on 2nd of December, 2019, and closes at 11.59pm AEST 5th January, 2020, unless sold out prior. The tours applicable for this promotion are any Tomato Travel tour package that includes airfares. Products that do not include airfares are not applicable. Price is per person. Flights depart from Sydney and Melbourne airports. For departures from Brisbane, Adelaide and Perth a surcharge will apply. The airlines will be decided by Tomato Travel based on availability. Upgrade for premium airlines is per person.
The promotional discount is as follows: book 1 to 3 passengers and receive a discount of $100 off per person; book 4 to 7 passengers and receive a discount of $200 off per person; and book 8 passengers or more and receive $400 off per person. Please note that all passengers must be on the same booking, but may be departing on different tours, different dates and from different departure cities within Australia. Deposit must be paid (or booking form must be completed) by the deadline to be entitled to the promotion.
Additional passengers may be added to the booking at any time during the promotional period to be applicable for the discount. If the number of passengers added to the booking increases the numbers so that a higher rate of discount applies, this discount will be applied to both new and previous customers provided they are all under the same booking. This may result in a refund for passengers already booked who have paid in full. Passengers added to the booking outside of the promotional period will not be entitled to a discount, and no further discount will apply to existing passengers. If passengers wish to cancel after being confirmed on a booking, the normal cancellation fees will apply. If only some, not all, of the passengers cancel after being confirmed and the number of passengers on the booking decreases so that a lower rate of discount applies, that discount will be applied to the remaining passengers, even if it is outside of the promotional period. This may result in an outstanding balance to be paid by the remaining passengers.
Tomato Travel will not be responsible for any incorrect, inaccurate or incomplete information communicated in the course of, or in connection with, this promotion if the deficiency is occasioned by a cause outside the reasonable control of Tomato Travel.