Have you ever stepped inside an original Japanese castle?
If you're planning on booking a Japan holiday, a visit to one of Japan's surviving feudal era castles is a must, and will make you feel as if you've really stepped back in time.
There are only twelve original castles in Japan that have survived into the modern era, and four of these have been designated the status of National Treasure.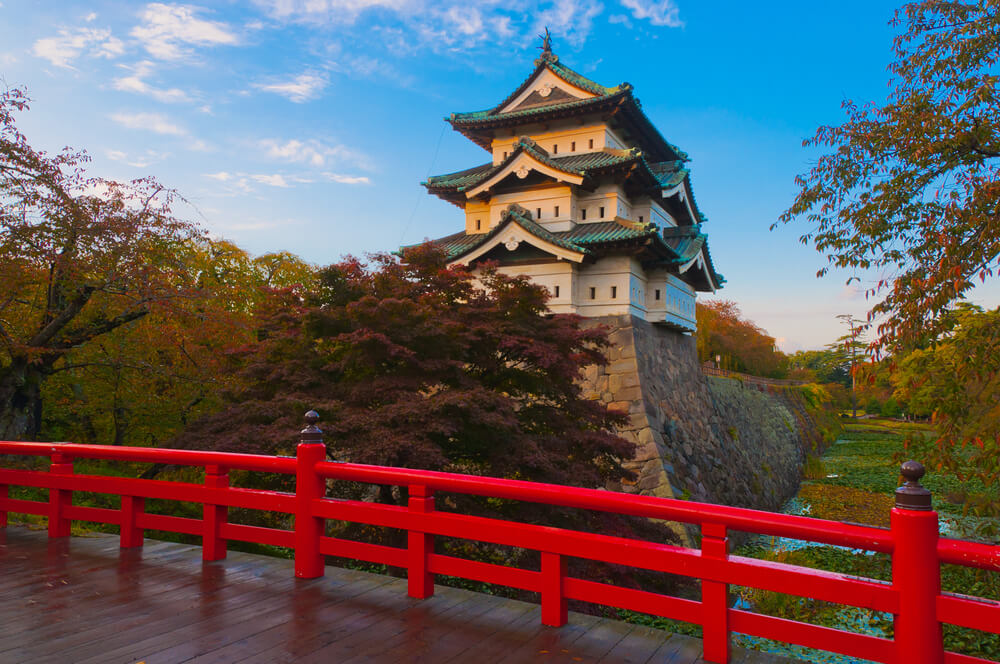 Where are Japan's 12 original castles? Read on to find out!
Some, like Osaka Castle, were destroyed multiple times during Japan's turbulent feudal era, but also fell victim to natural disasters.
In the late 1800s, the restored Meiji Government sought to eliminate traces of the Tokugawa Shogunate's regime by dismantling dozens of castles, which were seen as symbols of the samurai era.
However, some of the castles that had survived the fervour of the Meiji Restoration, like Nagoya Castle and Hiroshima Castle, were razed in the air raids of World War II.
The last remaining original castles of Japan are today carefully maintained in order to preserve Japan's history and culture.
Read on to find out which original Japanese castles Tomato Travel can take you to on our Japan tours.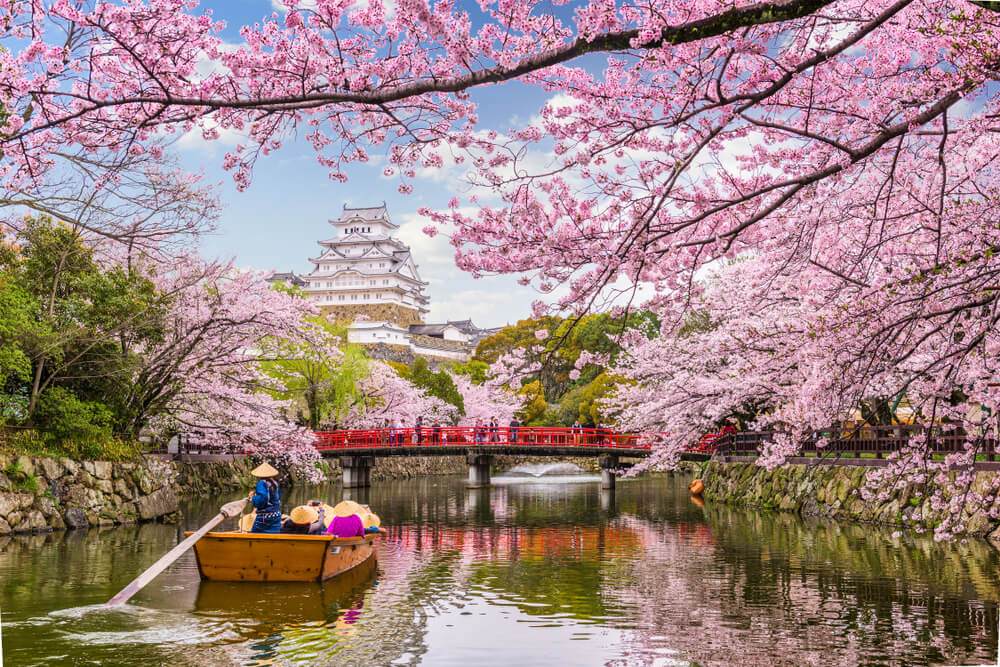 Visiting Himeji Castle in spring is one of the best times to trave to Japan. Himeji Castle is one of the original castles of Japan.
1. Matsumoto Castle, Nagano prefecture
See it on Traditional Japan Small Group Tour with Hiroshima and Japan Discovery
Matsumoto Castle is one of the most striking of Japan's last surviving castles. It makes for a fantastic stop on your Japan holiday, with its imposing silhouette against the blue sky, surrounded by a wide moat.
One of the most interesting features about Matsumoto Castle is its 'moon viewing room'. This is exactly what it sounds like – a room in which samurai could sit, relax, and watch the moon rise, perhaps with a cup of sake in hand. This unique feature was added in 1635, after peace had finally been accomplished across the nation. This was a luxury that could not otherwise be afforded in more turbulent times.
It is one of the ony original Japanese castles listed as a National Treasure.
You can visit Matsumoto Castle on our 16-day Japan Discovery tour, and visit both Matsumoto Castle and Himeji Castle on our Traditional Japan Small Group Tour with Hiroshima.
Matsumoto Castle is also known as the 'crow castle', due to its striking black wainscoting.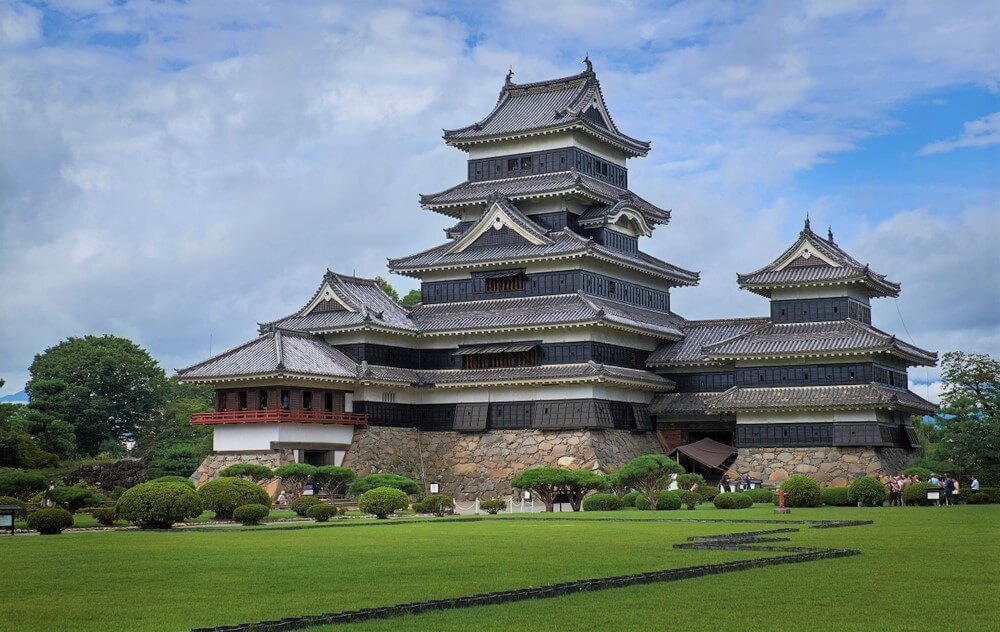 In times of peace, samurai could sit in the moon viewing room (on the left, with the red veranda) and watch the moon rise over the castle grounds.
2. Maruoka Castle, Fukui prefecture
See it on Land of the Rising Sun
Maruoka Castle is associated with a mysterious myth… it is said that whenever enemies approached the castle, a thick mist would obscure the castle from view and protect it.
The castle is nicknamed 'the mist castle' due to this urban legend.
Though small, stopping by Maruoka Castle on your Japan travel trip is an excellent experience you won't forget. The three-storeyed castle displays a humble, rustic elegance that many visitors find very attractive; while the surrounding views of the area from the castle's top floor balcony are also definitely worth seeing.
See this little-known original castle for yourself on our Land of the Rising Sun tour, which also includes a visit to Ikaho Onsen and a one-of-a-kind special dinner at a shrine.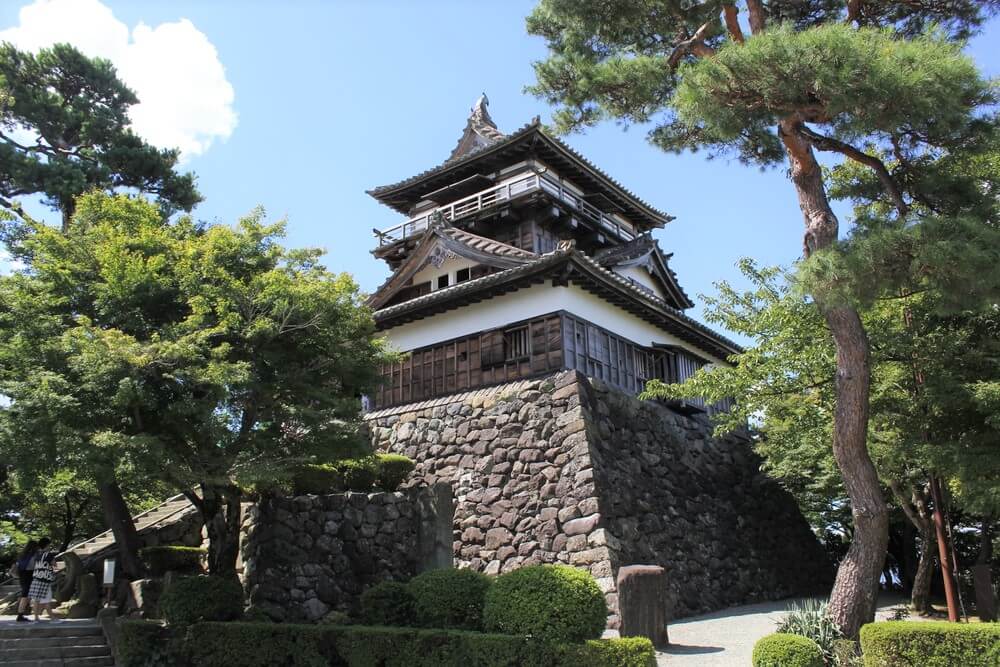 It is said that a mist will descend upon Maruoka Castle to protect it from enemies.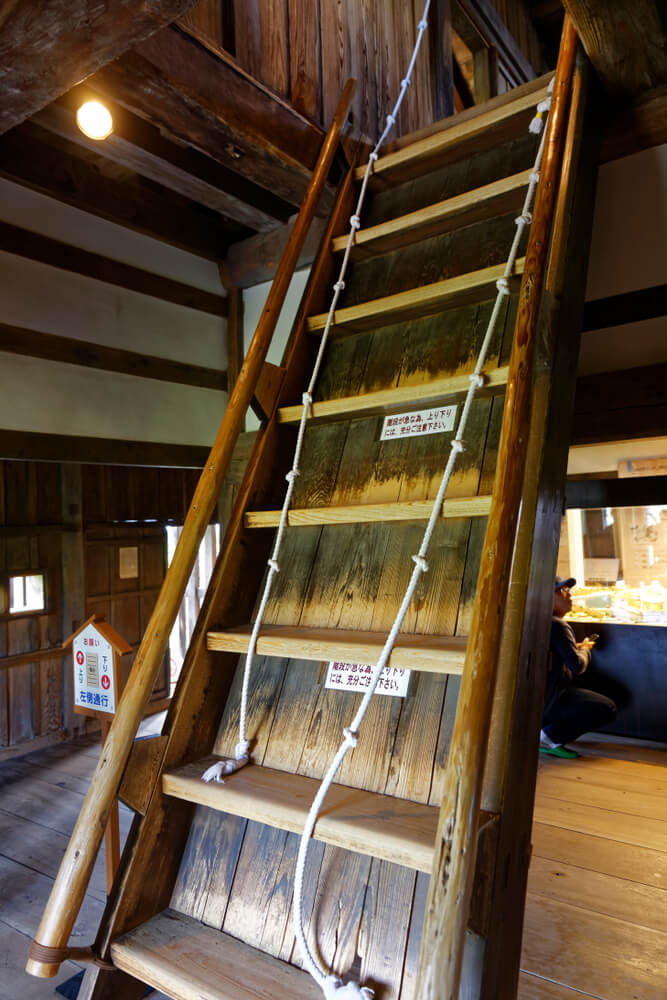 Japan's reconstructed castles have all the latest modern conveniences (such as elevators and air conditioning), but the original castles, like Maruoka, have been painstakingly preserved just as they were. Staircases are often exceedingly steep!
3. Kochi Castle, Kochi prefecture
See it on Japan Explorer, Touring and Luxury Cruising
Cruising down Japan's coastline from Kobe, you'll come across the beautiful Kochi city in Kochi prefecture, on the island of Shikoku.
Almost half the city was destroyed during World War II during air raids, but, miraculously, Kochi Castle survived the bombing.
What is even more remarkable about Kochi Castle is that it is the only castle in Japan to not only have its main castle keep intact, but also the residence of the local feudal lord.
A visit to Kochi Castle really is a step back in time to Japan's bygone Edo period.
Our Japan Explorer, Touring and Luxury Cruising tour stops off for the day in Kochi. Here, you have the entire day to explore the city at your own pace. After visiting the castle, why not cool down with a Kochi local speciality: "aisukurin"?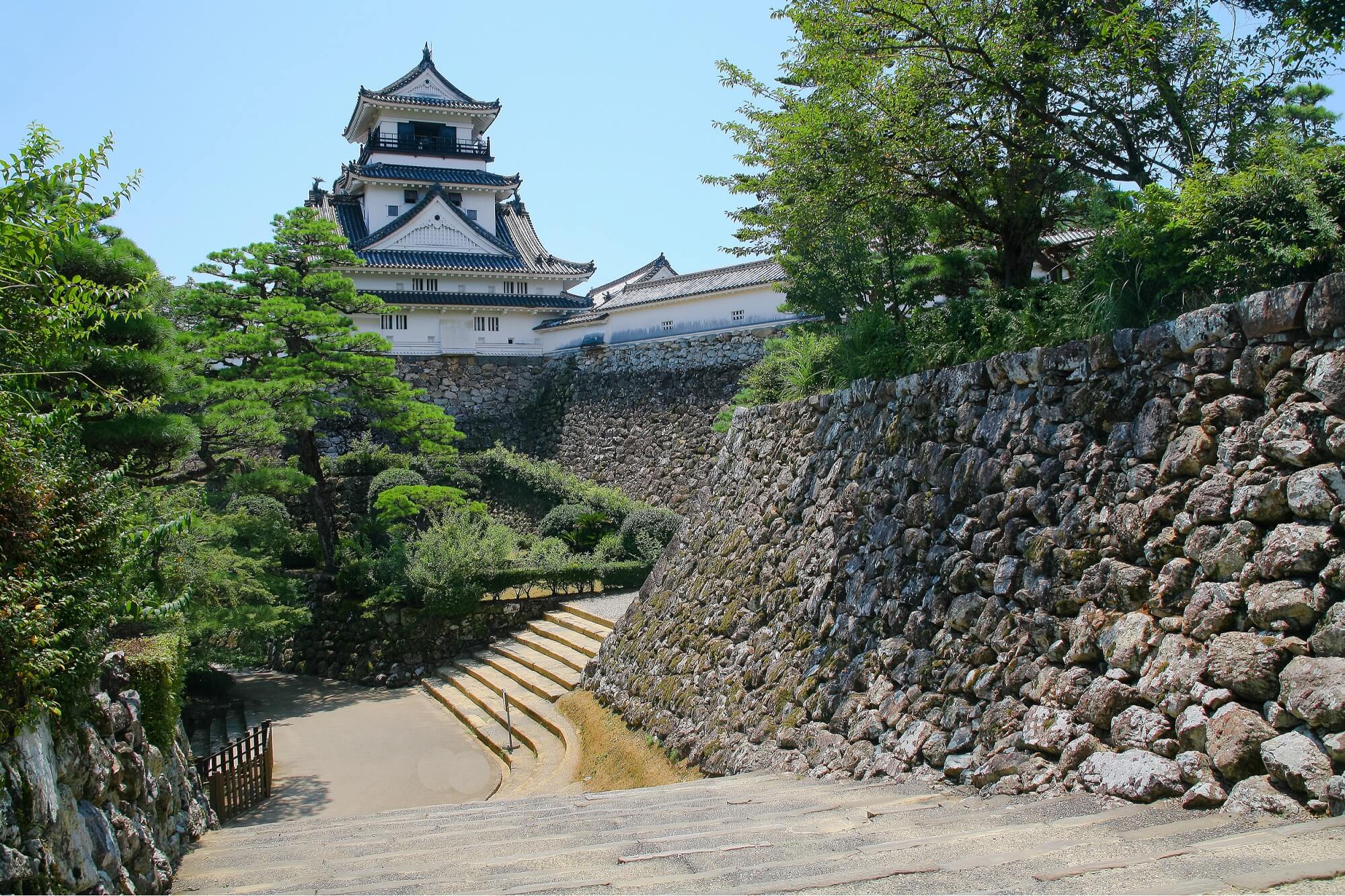 Kochi Castle is one of four original castles found in the Shikoku region.
Kochi Castle was built on a hill overlooking the city, and visitors to the castle can enjoy fantastic panoramic views of Kochi city.
4. Hirosaki Castle, Aomori prefecture
See it on Japan Explorer, Touring and Luxury Cruising
Just over an hour by train from Aomori city is the castle town of Hirosaki.
The three-storeyed Hirosaki Castle is the main attraction of the town, which was once a political and cultural hub for the Tsugaru region.
The original five-storeyed castle was destroyed in 1627 when a lightning strike ignited a store of gunpowder being kept inside the castle. The results were exactly as you would imagine, and the castle, as it stands today, was not rebuilt until 1810.
There are a staggering 2,500 cherry blossom trees planted around the castle's moat and throughout its extensive grounds, and the explosion of pink blossoms every spring draws huge numbers of tourists.
In addition to making a stop at Kochi, our Japan Explorer, Touring and Luxury Cruising tour also stops in Aomori for the day, just long enough for intrepid travellers to take a day trip out to Hirosaki and still be back in time to set sail once more.
No, it's not a pink footpath, but the Hirosaki Castle moat filled with pink cherry blossoms! Hirosaki Castle Park is the most popular place in the Tohoku region for cherry blossom viewing.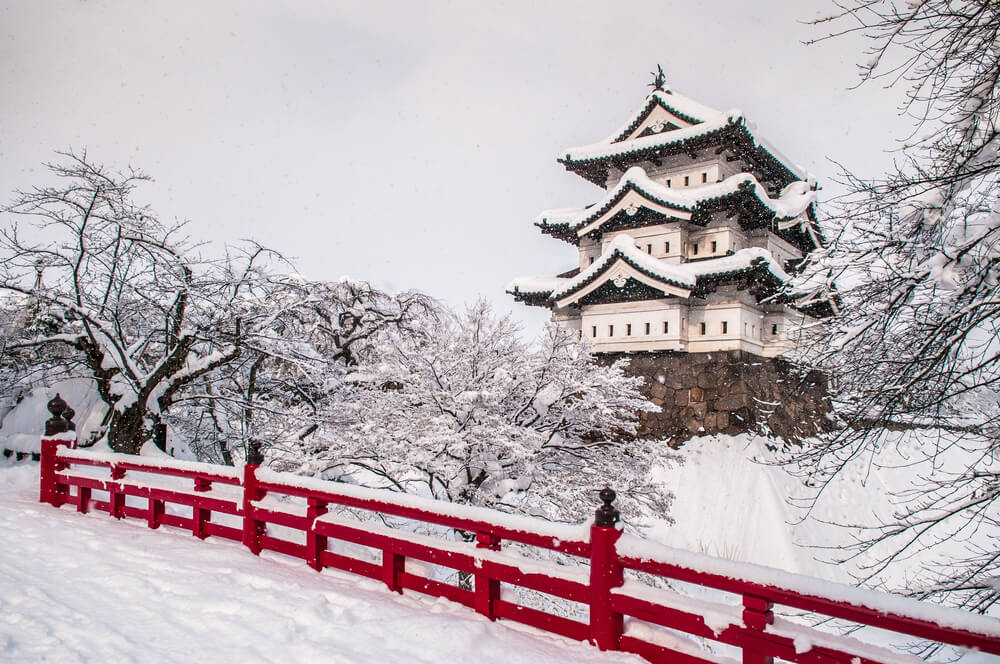 Though the castle grounds attract crowds of visitors in spring, Hirosaki Castle is a postcard-perfect place to visit all year round.
5. Inuyama Castle, Aichi prefecture
See it on Traditional Japan by Rail
In our last blog, we talked to Tomato Travel's terrific tour co-ordinator, Tomoyo. She spent time touring through central Japan and, in particular, through Aichi prefecture.
Aichi's capital is Nagoya, Japan's fourth largest city. Nagoya Castle is the symbol of the city, a stunning, six storey castle with huge, golden ornamental guardians adorning its rooftop.
Nagoya Castle was sadly destroyed during World War II, having stood since 1610. However, Inuyama Castle in the nearby town of Inuyama luckily escaped the same fate, and still stands today. Which is exceedinly fortunate, as Inuyama Castle is thought to be the oldest surviving castle in Japan, its original construction having been completed in 1440.
Though relatively small compared to the neck-straining heights of the accurately rebuilt Nagoya Castle, Inuyama Castle has an undeniable nostalgic charm about it.
Our Traditional Japan by Rail tour spends one night in Nagoya city, and from here it's a short train trip to Inuyama where you can see Inuyama Castle for yourself.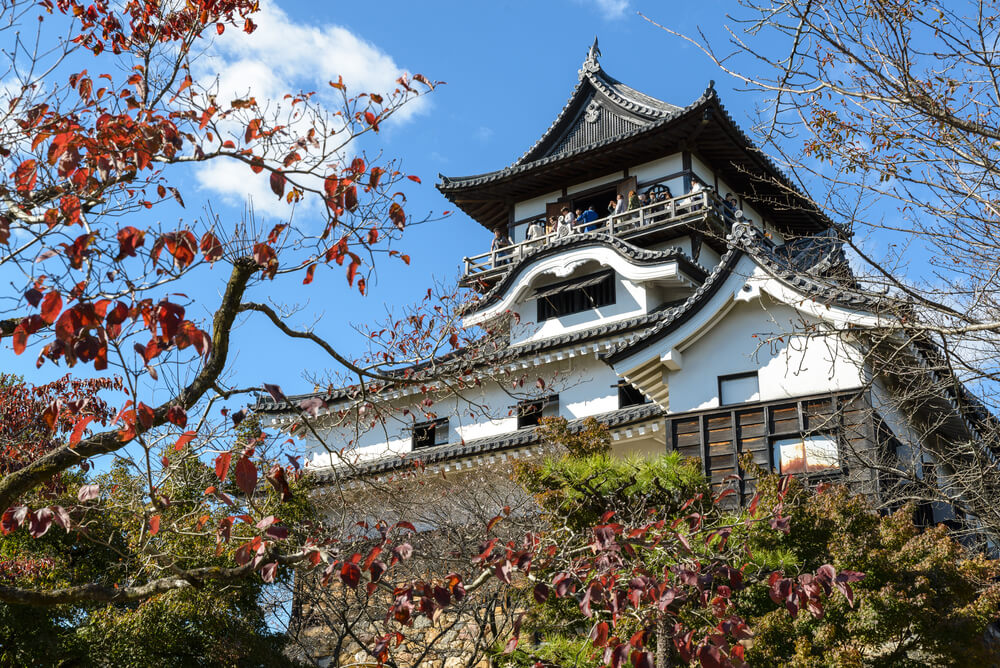 People take in the views of the surrounding rivers and mountains from Inuayama Castle's top floor balcony.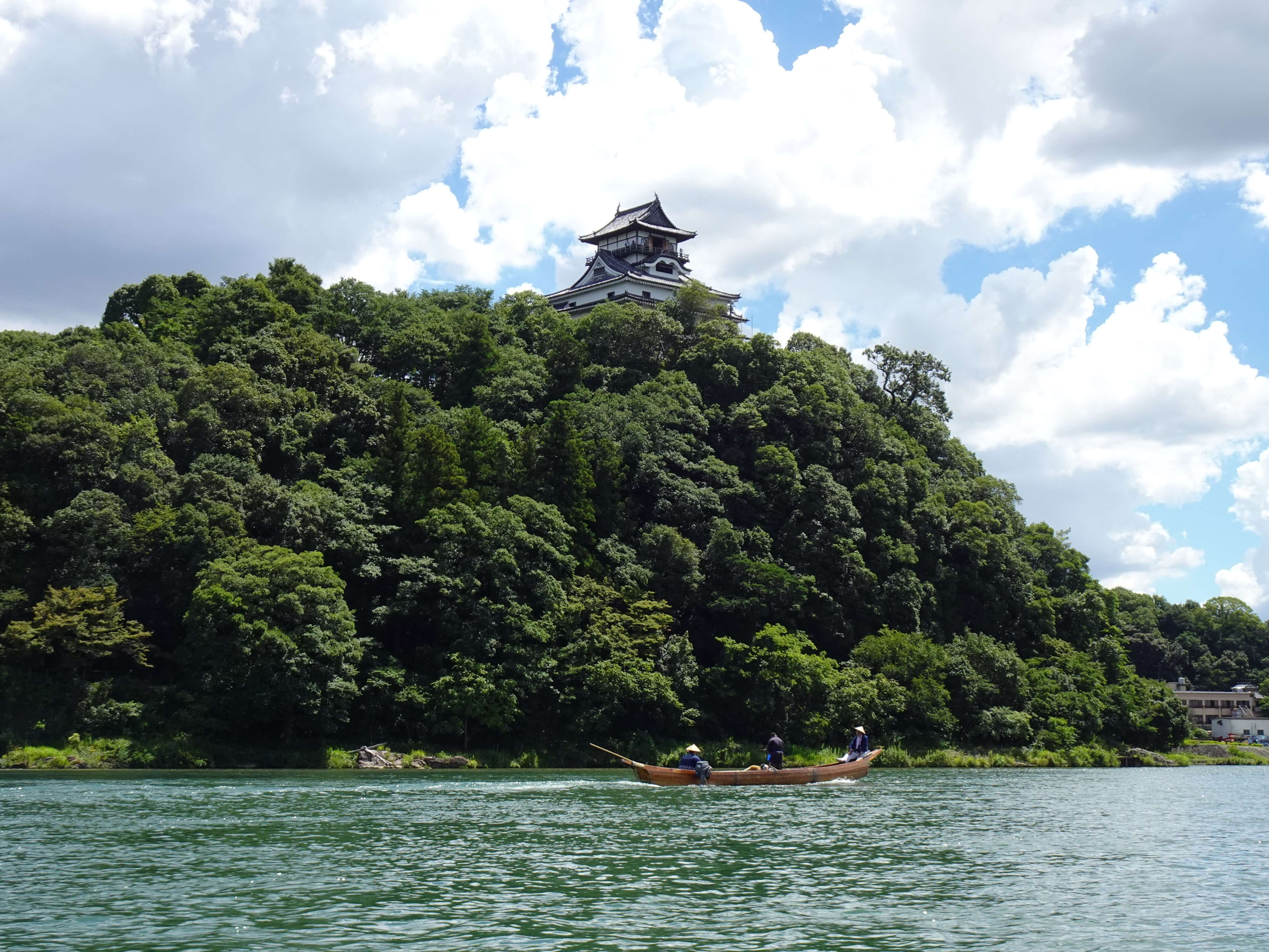 Inuyama Castle snapped from the Kiso River by Tomoyo during her trip through central Japan.
6. Himeji Castle
See it on Aromas of Japan and Traditional Japan Small Group Tour with Hiroshima
Of course, we had to save the best 'til last!
Himeji Castle is undoubtedly the jewel in the crown when it comes to Japan's original castles.
With its elegantly sloping rooves, ivory walls and awe-inspiring height, it's easy to see why Himeji Castle is nicknamed 'the heron castle'.
As Himeji was a strategic point along the approach to the old capital, Kyoto, it was deemed necessary to build a military base in the area. Original fortifications were first constructed in the 1400s, and then expanded upon over the years. Himeji Castle as it stands today has remained unchanged (repairs not withstanding) since 1609.
You can visit this Japanese icon for yourself on our Aromas of Japan andTraditional Japan Small Group Tour with Hiroshima tours. You can also add our Guided Hiroshima Extension on to the beginning or end of your trip to see Himeji Castle, Hiroshima and Miyajima.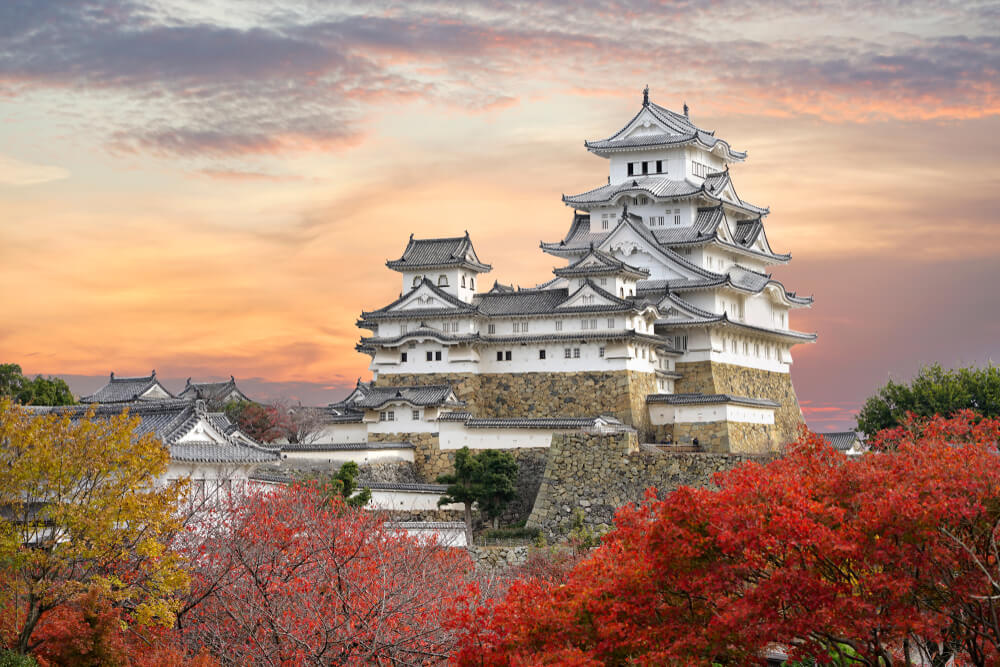 Himeji Castle is one of Japan's most iconic landmarks, and is accessible by train from Osaka, Kobe or Kyoto.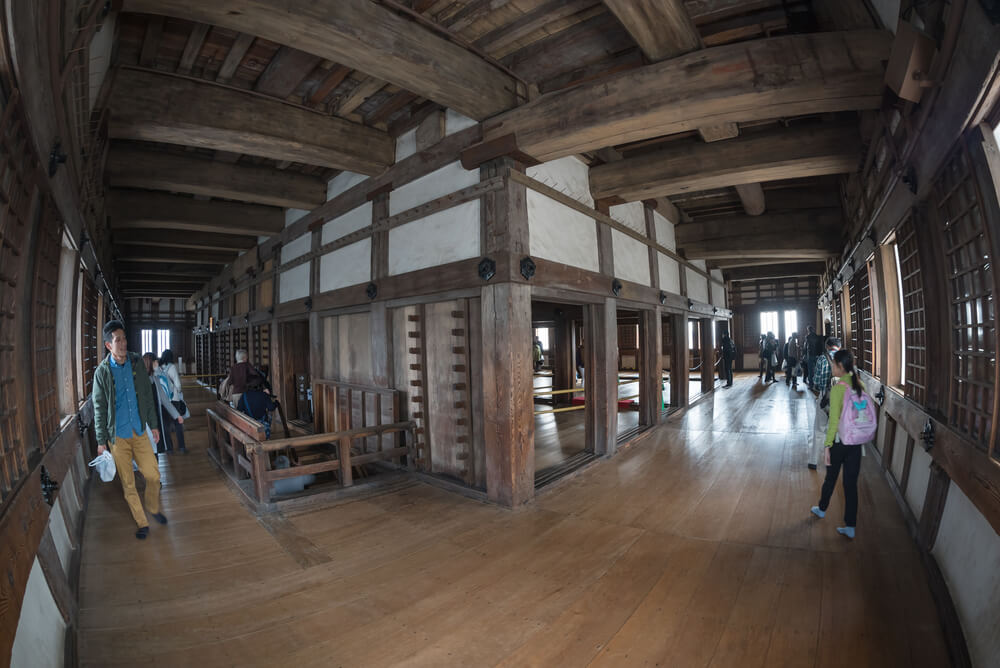 The interior of Himeji Castle, like all other original feudal-era castles, remains as it was, with modest wooden floors and exposed beams.
Are you ready to take a step back in time to the samurai era to explore Japan's castles for yourself?
You can book any Tomato Travel tour through your local travel agent.
Otherwise, connect with us online or call us on 1300-680-057 to talk to one of our Japan experts.
Don't forget to sign up to our newsletter to get the latest news on all our hot offers and promos, and to stay in touch on Instagram and Facebook. For travel agents, feel free to follow us on Linkedin.
Happy travels!